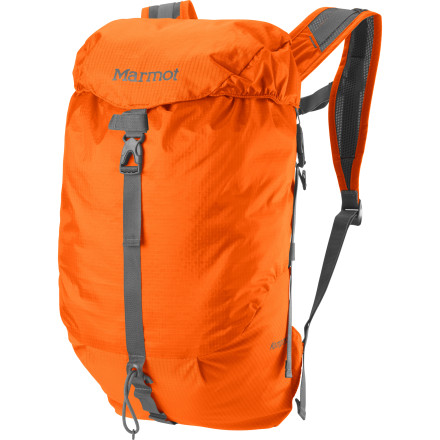 Like magic, the Marmot Kompressor Backpack stuffs inside its own lid for easy storage. You can toss this ten-ounce daypack inside your expedition-sized backpacking bag or stash it inside your luggage for easy traveling. Ultralight nylon material, air mesh straps, and a removable backpanel give the Kompressor its fast-and-light capabilities, while features like a hydration sleeve, light clip, and ice axe attachment point extend its capabilities in the wild. At the core of its design, the Kompressor Backpack is exactly what you need, and nothing more.
Airmesh shoulder straps are lightweight, breathable, and durable
Removable foam back panel provides support for moderately sized loads
Top access makes loading and unloading easy
Nylon ripstop shell material is tough, lightweight, and it dries quickly
Hydration-compatible sleeve makes it easy to use your favorite water reservoir with this pack (reservoir not included)
External compression strap runs the full length of the pack
Other features include a single ice axe attachment point, a daisy chain, light clip attachment point, and sternum strap
Packs inside itself
Familiarity:

I've put it through the wringer
This little pack is great for small excursions from camp or short day hikes. The little foam insert works great for popping a squat on jagged rocks. The reservoir pocket fits my 3L Osprey Hydraulics bladder no problem. Also, when not in use, it can be packed inside itself using the top pocket. Love it!
Backpack/Hydration Pack Combo
Familiarity:

I've used it several times
Pretty neat idea and great for short trips when I need to carry a bunch of things. Pretty much a basic backpack with a sleeve for a hydration bladder. The foam insert doesn't really do too much except to hold the shape in the back of the pack. Without the pad, the bag quickly loses shape and becomes uncomfortable to wear. Also, while the compression straps are a nice idea, since the bag is a weird asymmetrical shape, tightening the straps makes the bag awkward and lopsided. I usually use this to carry my harness, climbing shoes, chalk bag, and a change of clothes. That pretty much fills it without much room to spare. It's been very useful and durable, but I probably will look for a different pack if it ever needs to be replaced.
Best day pack ever
Familiarity:

I've put it through the wringer
I have used this for hiking, travel, etc. It's amazing - super light weight, easy to pack, stain resistant, easy to spot (I got the orange one), and comfortable. Couldn't be happier. Worth every penny.
Perfect for my needs
Familiarity:

I've used it several times
This is a great little day pack. It's simple in construction, can be compressed down, and holds a surprisingly large amount of stuff. The extra pocket on the top of the bag easily holds my wallet, phone, keys, and glasses case. I generally use this to carry my climbing gear, which includes nalgene bottle, climbing shoes, harness, and chalk bag. It could easily hold a small jacket and a few other items as well. The little back support pad is removable enabling you to pack the bag with you on longer trips, but serves as a little structure for the bag when carrying it (when it's removed, you could probably put a reservoir here, but I've never tried it). The straps have a nice padding to them without adding bulk. Most of the time I don't even feel like I'm wearing it. All around great bag, really couldn't recommend it highly enough especially if you're looking for something light but sturdy.
More peakbagging please
Familiarity:

I've put it through the wringer
My favorite weight saving piece of gear. And it is orange! I use a -10 degree down sleeping bag that refuses to fit in a regular stuff sack, so this handy daypack takes over to squish it to the size of a coffee can. When I set up camp and use the pack as my peakbagging daypack, it is light as a feather, which matters when scrambling up and down in time for sunset. I like the bright color since I'm easy to spot anywhere. The fabric is a little more fragile than I expected but I didn't expect it to survive a 60 foot slide down a granite face without any marks. If you're considering a compression sack, get this instead.
Awesome pack!
Familiarity:

I gave it as a gift but have feedback to share
I bought this pack as a gift for my mom and its awesome. She is a big day hiker and uses my sisters old school backpack on her hikes so I figured she could use a lightweight pack to take hiking. She is going to hawaii for three weeks here soon and so she is stoked to take it there. She is especially stoked about easy it will fit into her suitcase. I will definitely get one of these for myself here soon. Also, love the fact that it is hydration compatible. Totally recommended.
Great Pack
Familiarity:

I've used it once or twice and have initial impressions
I used this for my honeymoon to Hawaii. It was great to have something small I could stow in my suitcase that also held up when we did some hiking. It is very light weight and packs into the top. I am glad I bought it.
Liz Oakes Smart reviews the Kompressor
Awesome pack
Familiarity:

I've put it through the wringer
I've had this thing for a few months and I love it. I bought it as a general use backpack and have used it for biking, hiking, and climbing and its held up like a champ. It's got a decent amount of storage in the main compartment and the shoulder straps are pretty comfy too. My favorite thing about this though is the fact that you can fold it up inside the top pocket and stash it away in a larger pack to use as a day pack on longer hikes. It folds up to about the size of a small water bottle. If you're looking for an all around backpack that's super versatile, this is the one.
One item, 3 distinct uses. S-W-E-E-T!
Familiarity:

I've used it several times
I like to establish a base camp and explore on dayhikes, and bought this pack with that specific use in mind. However, I've found that this is a true multi-use piece of gear.

1. This is a perfect compression stuff sack for my 4 season Mountain Hardwear down sleeping bag. The Kompressor has 3 straps on the lid pocket - equidistantly spaced - that make this a very effective compression stuff sack.

2. Of course, I use the Kompressor as dayhiking pack. I put some clothing (typically a shirt) in the hydration-compatible sleeve to cushion my back from sharp objects.

3. At night I stuff the Kompressor with all my contingency clothing (rain jacket and pants, spare socks, puffy down hoody) and it makes a great pillow.

It gets even better. Gear often weighs more than the manufacturer's claimed weight but in this case, the Kompressor only weighs 9.2 ounces verses the 10 ounce claimed weight. Since it has allowed me to leave out a compression stuff sack and blow-up backpacking pillow, I've effectively added the Kompressor to my pack with virtually no increase in the weight I am carrying.
Great Bag for Backpacking Trips
Familiarity:

I've used it once or twice and have initial impressions
This bag is awesome! I used this bag to hit the summit of Mt.Whitney two weeks ago and it is very comfortable. I carried a 3L Camelback, a rain jacket and some snacks. This bag is very lightweight and can be used also as a sleeping bag compression bag.
A solid bag!
Familiarity:

I've put it through the wringer
I took this as my day pack to the windrivers and it is really light and really durable!
what's the dimension of this bag?
what's the dimension of this bag?
Hey ligp922805,



Thanks for asking.



The dimensions for this pack are: 18.5 x 9.5 x 8 (Inches L x W x D).



I hope this helps.
Excellent Backpacking Day Pack
Familiarity:

I've used it once or twice and have initial impressions
As the name suggests, this thing compresses down nice and small, but for backpacking it also works great as a stuff sack to keep your gear organized. Very minimal, but there is a pocket inside for a hydration bladder and a spacious zippered top pouch. Rolls up to the diameter of a tall boy and maybe a little bit longer. Weighs next to nothing.
Great Tool
Gender:

Male

Familiarity:

I've put it through the wringer
I must have the previous model because mine looks different. I use this as a summit pack, stuff sack, and travel bag. Great to use as a "personal item" for flying and travel. I usually stuff my book, snacks, ipod, and sweatshirt in it with plenty of room to spare. For climbing I use it as a stuff sack for my sleeping bag, air pad, and extra clothes on the approach, then a summit pack for summit day. Mine has a clip for attaching a hydration bladder and the Ice ax attachment is simple yet works well. The small pad that comes with works great for a sit pad or to provide a little comfort against a pack full of gear. After much use it shows a few punctures and abrasions but nothing major. My scale says 8oz without pad and sternum strap.
I wanted a compact backpack that I could stash in a pocket of my everyday laptop messenger bag. This does the trick perfectly. It's just one perfectly sized big-compartment day-pack, with a small top zipper pouch. I keep some extended day items in the zipper pouch and can access them even when I have this Kompressor folded up inside my messenger bag pocket. Also when not in use, I use it's removable foam back panel to further reinforce my laptop bag. In my day-to-day travels in NYC, my laptop messenger bag goes with me everywhere, and now I can expand this Kompressor on those long days when I've acquired extra stuff to carry.



It definitely takes up some space, but it's proved itself a worthy item to carry on those long out-and-about days in NYC (where you don't have a car to stash stuff throughout the day!)



Also, it proved itself as a useful clothing/day-pack for a recent backpacking trip. During that trip, I thought a side pouch, ala the Kompressor Plus would have been nice.. but, compact and compressible is most important, and this does just that.