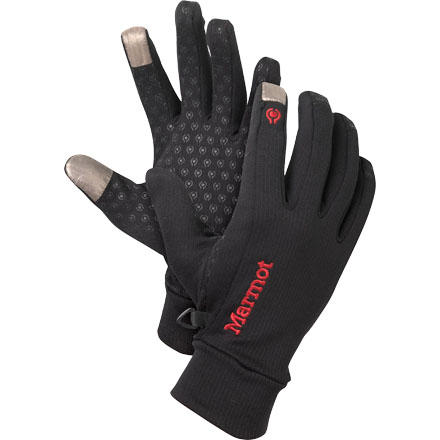 You're on the chairlift enjoying a beautiful powder day when a song that doesn't fit the mood starts playing through your earphones. You need to change the song immediately, but your fleece liner gloves are so slick that you may drop it from the chair. Marmot made the iGlove Liner for just such a situation. Its silicone-pattern palm grips an iPod like a sticky vice and the fingertips' special material allows you to adjust your iPod's Click Wheel without exposing your fingers to the frigid air.
What do you think about this product?
Have questions about this product?
Not the greatest for the cost
I had really high hopes for these gloves, I thought they would be great for driving and running (allowing me to adjust my ipod without taking them off). They are really good driving gloves, the grippers stick to the wheel nicely, but the sizing could be better. I got the XS and they are still a bit too big for my female hands. They are the right length, but the fingers are too wide and get bunchy. I am also SHOCKED at how quickly they are wearing out. I've been wearing them for about two months and the metallic finger bits are starting to fray. They do look cool though and are very soft on the inside.
I bought these gloves with an idea of using them for biking and potentially light scrambling becasue I like the fact that they're lightweight and have grippy pattern on the palms. Well - just after week of using them the material started pilling pretty badly and they show heavy signs of wear. Fair, I am not using them for what the manufacturer made them for but then - who would buy a new pair gloves just to be able to adjust volume on an iPod???