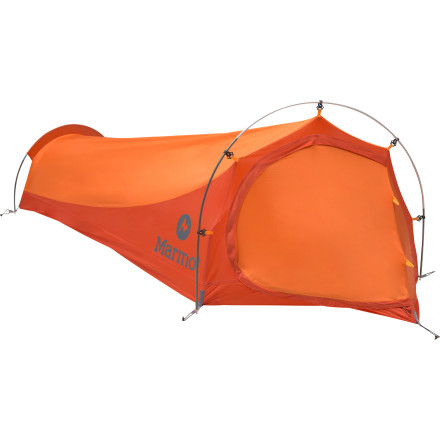 The Marmot Home Alone Bivy weighs well under two pounds and manages to keep you protected from the elements and comfortably covered so you can sleep in peace. Landing somewhere between a roomy bivy and a solo tent, this shelter is lightweight and ready-to-move when it's time to cover lots of ground.
Single-wall bivy design saves weight by eliminating the need for a tent canopy and fly; ideal for three-season climbing and trekking applications
Waterproof breathable MemBrain Strata fabric seals out moisture so you stay dry without feeling muggy or moist
DAC NSL poles are sturdy and intensely lightweight
Mesh window circulates air without letting critters in
Structured foot area adds clearance between your feet and your bivy
Internal pockets help you organize your kit at night
Jingle-free zipper pulls won't wake you up every time the wind blows
More than a bivy!
Familiarity:

I've put it through the wringer
I love this bivy/tent from Marmot! It is super lightweight but still gives you room to move around & kinda sit up. Room for shoes & even a pack if it is small enough! A little condensation but nothing unexpected! A+
Does What Its Supposed To
I think this is a nice bivy. All bivy sacks have breathability issues. The home alone comes with a warning printed on the tag that tells you the bivy isn't breathable and to not zip it up all the way. I like that it is more roomy than just a sack, it's nice to be able to keep some clothes dry with you inside the bivy.
Needs some work
Gender:

Male

Familiarity:

I've put it through the wringer
I have one and it will collect moisture. What I did was cut a vent in the foot end about 6"x8" and sewed in some mesh and made a rain cover for the vent, then I fashioned a rain fly for the front end held in place by the pole clips. The vent in the foot end really allows air to move through the tent and I try to set it up to where the tent is pointed into the wind.Also the foot vent allows me to zip it up in heavy weather without running out of air.With those mods, it works great but I understand that is extra work to have to do. BUT, remember that ALL bivies have these problems, so you kind of know that going in. The advantage is that I can and have put this thing anywhere and it takes up barely any more space than my sleeping bag would. Can't do that with a tent.
worst product ever
Gender:

Male

Familiarity:

I've used it once or twice and have initial impressions
The Waterproof breathable MemBrain Strata fabric does not work, it rains inside in your own breath, at a temperture of just 28 degrees it froze and two days later it has not dry up. I will never use this product again.
Whats the height at the foot ?
Whats the height at the foot ?
maybe 1.5 feet tall, good and comfy for foot + bag + wiggle room, but that's it... Not good for putting head down there, head must be at top,,,
Good, but does collect moisture
Gender:

Male

Familiarity:

I've used it once or twice and have initial impressions
This is only after a couple nights use. I removed it from its stuff sack and I put the bivy portion in a small stuff sac that is smaller than a nalgene, and then the poles seperately. It only needs two (correct -- TWO) stakes to stay up including in the wind. You don't need the other stakes and the guy wires unless you really want them.



The big thing is that like all bivyies is that it collects moisture. I'm tall (6'5) and it had plenty of room for me and my gear. It was the least clustraphobic bivy I've every used and about as good as they get. The issue is the bivy itself versus a 1 man tent and how you want to proceed. When raining, you have to close the door and you get in trouble with breath-caused moisture.
Before I left on a 7 day rafting trip, I tried this bivy in my front yard/lawn. I was impressed with the headroom and ease of setup. Then I left for the trip. On the 3rd day it started raining just after we made camp. I quickly set up this bivy. The bivy did not fare well. It accumulated lots of condensation on the ceiling and failed to keep out the water on the floor. My sleeping bag at the foot of the bivy soaked up alot of water even with a thermarest type pad underneath. The door on this tent has to stay open to avoid lack of breathing air and helps prevent condensation buildup inside, but what are you going to do if the rain is coming in sideways? This tent just didn't measure up to my expectations. I will keep it but just for around the area. I was glad I had a backup tent on the trip.
This bivy is great it is really breathable has plenty of room to move around inside and room to even put your pack inside. It holds up really well against the elements its a must for a bivy
It looks like there is a small vestibule...
It looks like there is a small vestibule in the front, is that true? If so is it big enough to hole a pack and boots?
Ther is no vestibule in the front. just more space. you can get in the pack and boots but it will take you a lot of space to sleep well
Does this bivy need a footprint? And, how...
Does this bivy need a footprint? And, how is it for condensation?
Best Answer
It doesn't necessarily need a footprint, but I would use one. As far as condensation goes... it's not the best. I was far more impressed by my friend's OR bivy.
I was thinking the same. I don't know how you guys do the bivys! I went with the golite shangri-la 1. Has a vestibule, more room, no worries of condensation, and it's only a few ounces heavier. Although, you can't beat the pack size of this bivy!
Gary,

I would definitely use a footprint - helped me with condensation + plus it adds an extra level of protection and longevity to the bivy... Plus you can always use the footprint for other stuff like changing, food, etc...

Happy Camping