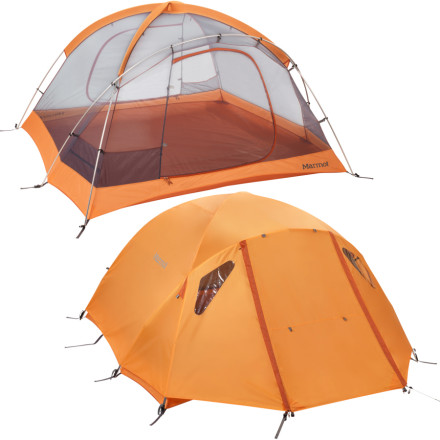 Community Images
this is a great summer tent for a family; it's large with all mesh on top.
the rainfly is bomber if protection/privacy are prioritized over star-gazing.

surprisingly not that light, thought it would be lighter due to all the mesh. At any rate, it's a great car-camping tent and is fine packing in, but if you're gonna mostly be backpacking there are better options.

zipper is one-handable, simple setup.

They stopped making it but if you get it used it's a great tent, and anything similar that Marmot makes is great I'm sure, they make the best tents imo.
Great Tent for three to four people. Really great ventilation. Nice interior pockets and gear loft. Also, enjoy the vestibule the fly creates. Would be fine to backpack with if you split the load between two people. Something to consider, we found this tent to be best for cool to warm camping as it is so well ventilated. Great tent, don't hesitate to buy it.

Marmot also created a demo video that is available on this page or on youtube to watch. Gives you a great picture of this tents features.
Marmot Hideaway 4 person tent
We got this tent for prolonged trips where the 2 man tent couldn't comfortably fit us 2 and all our gear. I couldn't be happier with it! It's lightweight for a 4 person tent and splitting it up into 2 is manageable- it's a great "basecamp" tent. I wouldn't take it backpacking with just one other person- but this is perfect for living in for a month. The rain fly is awesome- I've been caught in some crazy week long rainstorms and we stayed dry, and our neighbors did not. The windows seemed cheesy on the rain fly but they are actually pretty nice. This tent is extremely easy to set up and quick- and the fact it comes with a gear loft and footprint is awesome. The vestibule is really nice because it's easy to get in and out of, and provides a good amount of shelter. Highly recommended.
I love Marmot tents and just want to clear one thing up. The peak height on this tent is 50" and the dimensions of the floor are 90" x 90". This is definitely decently light for a 4 person tent. If you go with a few people and split this up it totally manageable.
Marmot's own Curly takes you through the Hideaway 4P Tent.
Unanswered Question
Good afternoon, I am currently browsing...
Good afternoon,
I am currently browsing to look for a family base camping tent preferably 4 persons and up. I am 6'1 so, height would be a factor. I have a Eureka 3 person backcountry tent, but I need something bigger. What are your thoughts on this product? I am considering the Marmot Halo 4, Marmot Hideway 4, or Sierra Designs Wu Hub 4.