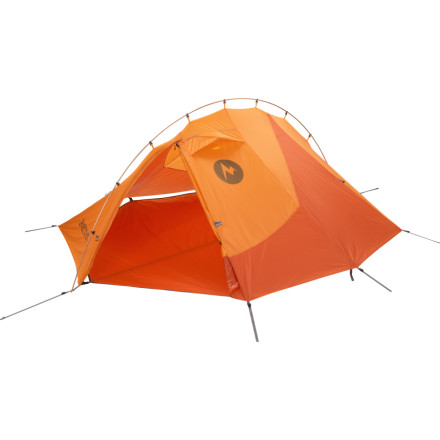 Set up the Marmot Haven 2-Person Shelter and keep the air flowing during warm nights outdoors. Large ceiling zip vents, perimeter vents, and a removable floor provide a constant supply of fresh air to you and your companion, while the water-resistant fly and floor provide shelter from passing summer showers.
Large D-shaped door makes entrance and exit easy
One strong 9mm DAC aluminum pole holds up the 45in (114cm) tall shelter
Floorless pitching allows a lightweight, fast shelter for emergencies or light packing adventures
Are there any kind of loops inside to hang...
Are there any kind of loops inside to hang a bug shelter? Thank you!
I've owned the Haven 2 for about a year and a half, and to quickly answer your question, no, there is no way to hang bug netting. There are no pockets at all. This is essentially a beefed up minimalist shelter.

That being said, it is my favorite shelter I own, and I own a few. It is ideal for the summer, but it has quickly become my shelter for spring through fall. Mind you, I also used a tarp a lot before this, so I am used to the "openness."

I've never had trouble with bugs in the Haven. I'm not sure why. I was afraid it would be an issue because it is with a tarp, but maybe it's because there is only a small space between the dome and the floor.

It is great to have a tent-like shelter that doesn't get wet on the inside -- no condensation, and I've never had rain come in.

I hope this help you out.

Also, it pitches in under 5 minutes.
Seems like a great Dayhike shelter. Can...
Seems like a great Dayhike shelter.

Can you tell me what the single pole weighs in at?

Also since there are loops along the outer fabric for the tent pole, would it be possible to suspend the tent from tree branches ?

This would provide a lighter solution for below treeline trips.

Thank you ,
Erik
You could definitely suspend it from trees, but I think you would find that the hassle of doing so and the weight of the amount of rope needed would not be worth your time.
Marmot's own Curly takes you through the Haven 2P Tent.