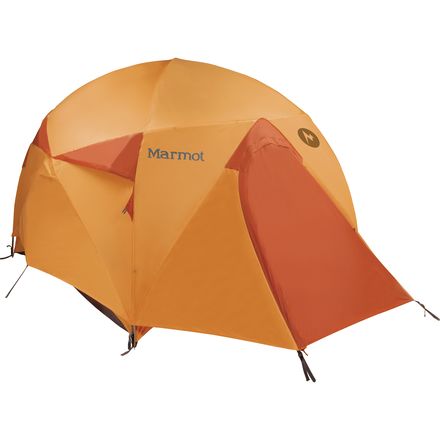 Community Images
Description
When you need more room, pitch the Marmot Halo Tent.
The Marmot Halo Tent's extra-large interior easily holds all six members of your family during a weekend trip, and its four-pole design withstands a stormy day in a remote base camp. Marmot used a double-door, double-vestibule design to allow easy entry as well as provide tons of out-of-the-rain storage space for boots and packs. The 75in interior height allows a six-foot person to stand up straight in the middle. Needless to say, there will be plenty of room for card games when you're stuck in the Halo Tent during a three-day storm.
How does the Halo 6P compare to the Limestone 6P. What are the advantages and disadvantages of the two in comparison?

The main difference between the two is the size and weight, The halo has a larger interior space and vestibule. Its also heavier and has a larger pack size.



The advantage of the limestone is that its smaller and cheaper, plus it is lighter then the halo.



The Halo would be better for car camping with more people/stuff. The limestone would be a better hiking tent because of the size and weight.



The Halo is also orange, so when the natural light comes through the tent the interior will light up orange, where as the limestone will have a more natural light if you get the white walled version.
It just needs a wet bar
Familiarity:

I've used it once or twice and have initial impressions
Easy to set up! Plenty of space for 2 adults and 2 furry kids. All our gear was stowable with room to spare. 6 people can fit when in a crunch but 4-5 would be ideal!
After much research I finally went with my gut and chose this tent for my family of 5. With 3 children ranging from 8 mo to almost 5 yrs we still had plenty of room in this. We love the color and design. We didn't have any issues with poles bending during setup as others have said. I'll definitely be looking for more marmot products in the future.
Best Car Camping Tent
Familiarity:

I've used it once or twice and have initial impressions
This tent is awesome! Hands down my favorite. Took it out first day I had it and its super easy to put up. really stable and you can tell its something durable. Really impressed so far and stoked to use it again. This thing is huge and plenty of room to hang out in if the weather turns south. Also the vestibules are really spacious. We were able to get a large dog crate in the vestibule and there was still a little room to open the door to let them out. If your looking for tent this size look no more. Hands down its the best tent and will not disappoint.
Is a custom fit floor-liner available for...
Is a custom fit floor-liner available for the Halo 6?
Hey there! Thanks for your question. Here is the link for the Halo 6 footprint;



http://www.backcountry.com/marmot-halo-6-footprint?ti=U2VhcmNoIFJlc3VsdHM6aGFsbyA2IGZvb3RwcmludDoxOjE
My first "serious" camping tent (Family)
I haven't yet camped in this, but was excited to set it up for a test run in the backyard. Because I was having trouble visualizing the reality of the floorspace inside the tent, I threw some real-life family camping props into the tent and took some photos. Included were a queen-size sleeping bag, two kiddie-size bags (54"x 22") and the mat from the Pack 'n' Play crib. In the vestibule, I put two 30 gallon totes, and about three 16 gallon totes. (I'm thinking I will actually keep our clothes out here in the totes, as it seems many duffles in the tent will make for some crowded conditions -- let me know if you've tried this). Hope this helps put size in perspective. I may increase my rating once I've actually tried it in the "wilds" of the WI park system.
We have a family of 4 and this works perfectly with 2 kids blow up mattresses and a queen blow up mattress. Were in a massive windstorm in CO and it held up like a beauty!

The extra cover/porch was just big enough for us to put fold out chairs and enjoy the tent while the wind blew everyone to Kansas.
Great headroom for a tall person
Great tent, easy to pitch, hard to fault in any way. The best thing about it is the headroom. I'm 6'3" and I can stand up in the tent without my head touching the roof. Comfortably had 2 adults, 2 kids and a dog in the tent with plenty of room.
I bought as a replacement for a Kelty that was showing it's age. It's main use is family car camping. We're a family of four with a 4 year old and a 6 year old. The tent is intuitive and easy to put up. I can have it up in about 10 minutes by myself. The tent is roomy enough for all four of us(feels larger than a 10x10), the ventilation seems to be ok, but we haven't used it in the summer months, yet. The side ventilation is nice! I love the large double vestibules...the only thing I wish is that at least one of the vestibules had a window. There are lots of storage pockets in the inside of tent, probably more than we'd ever use. It has rained on us twice and it did it's job by keeping us nice and dry...no leaks!. But, on our last trip...we knew a cold front was coming through with possible windy conditions so, I had the tent fully guyed out. In the early morning hours we were awaken when the strong winds and driving rain came in...the side facing the wind collapsed! I would later find out the tent poles facing the wind had bent at almost 90 degree angles and also bending the Halo poles. I was quite disappointed! But, knowing the Marmot brand (i've owned several of their backpacking tents and still have a Limelight2 that I use), I thought perhaps there may have been a defect in the poles or perhaps...it was just too big of storm for a tent this large to handle? Anyway, after pondering whether to replace the tent with another brand...I decided to stick with the Halo 6. We found out, except for that one storm, we were really loving this tent! I was looking into replacing the damaged poles and quickly found out about Backcountry's 100% satisfaction policy. So, instead of replacing the poles...Backcountry sent me a brand new Halo 6. How's that for customer service! We haven't used the new Halo 6 yet but, I'll be glad to update if any issues pop up. But for now, I'm very pleased. I'd recommend the tent. I'm giving it 4 stars eventhough we had one bad event while using it.
Is there a hanging loop in the center of...
Is there a hanging loop in the center of the tent ceiling so we can hang a latern from it?
There are tabs that can be used for setting up a lightweight latern.
So this tent is 10' by 10' correct? How...
So this tent is 10' by 10' correct? How much usable room is in this tent? I have a Double or Queen sized air mattress, will there be room for extras inside? We plan on having a few kids in the near future and don't want to have to replace the tent right away. Just got it and with it being winter can't put it up to check yet.
with any tent, your not going to get the full 10by10, the walls being slanted in cuts of bit of use able space, with a twin and a queen i think you will completely fill the floor of your tent and leave yourself with little to no room for gear etc. a much easier way to go would be you and your wife take the air matress and the kids can sleep on ground pads, which will save alot of room
like the specs say, you will have approx 100+/- Sq.Ft. of "usable space". with this tent you also have the additional storage area in the vestibule area. i have spent time in one however i own mountain hardware and TNF tents. with this tent, it is cool how the poles actually push outward, giving even a bit more room. one thing i would have wanted would be more gear loops inside. hope this helps.
I just received this tent and set it up outside (haven't actually slept in it yet). By my measurements, the interior dimensions seem closer to 9'6" x 9'6". It's 10' x10' if you measure from grommet to grommet on the corner straps. Here's a queen-size sleeping bag, 2 kid sacks, and a pack n play mat. Leaves a little room to walk and maybe some for a dog or your actual luggage. The vestibules are pretty large though.
Finally got to use Our new Marmot Halo 6 tent, and it preformed very well. Set up is simple, but best with 2 people, as the tent is tall, and the fly is difficult to apply alone. We set up in the rain, and 45MPH gusts of wind. Once set up, the tent was stable, and rain proof, through 2 days of gusty wind and rain, while other tents toppled over, or leaked. We are very happy with this tent, and would recommend it to others to buy. The quality seems very high, and the design is very roomy and spacious. 6 people might be a little crowded, but with the 2 large vestibles, there is plenty of extra storage sheltered from the elements mother nature has in mind.
So ginormous. Max height is probably 80 inches plus. Easy set up. Love this bad boy.
Awesome tent...love the vertical sides thanks to the halo. Makes it so much easier in the morning when you are sore or stiff from the day before.

My kids especially love how big the tent is.

Super easy it is to put up even in the wind. I always end up putting it up by myself and letting everybody start exploring.
The tent arrived quickly. The shipping form Backcountry was awesome.

Set it up last night in the yard and per the other posts on this tent, I bent both poles when erecting the tent. The bends are likely not catastrophic (yet), but I am disappointed that this seems to be a common ailment for what looks to be a really nice tent. I don't even mind the bent poles so much as long as they all fold up nice and get back in the bag, but it bothers me the replacement poles are $100. They are aluminum poles. Why isn't a replacement set more like $20+S&H? If these poles end up breaking I will return the entire tent back to Backcountry for a replacement tent, but why even go through the hassle? Unless the cost of the replacement poles comes down significantly, I'd stay away from this tent and the hassle. Don't get me wrong. It is a nice tent. Very roomy, easy to erect, etc., but after spending $500 I'd like to think I am entitled to a little construction quality. The bending poles is just gross oversight on the part of Marmot. Drop the price of replacement poles Marmot or at least send free replacements to those of us that bent them on the first erection of the tent. At this point (after first erection) I am not a strong reference for your products.

Chris H., Gilbert, AZ.
We just spent a week in the GSMNP and used our Halo 6 tent for two people. Let me tell you this is the way to camp. For the first time in years we had all kinds of room for our backpacks and other gear. On this trip we encountered high winds two nights and watched the tents top move side to side, not one time was i worried. The Halo 6 did what it was meant to to do, hold up like a marmot tent should. One of these nights we were under a severe weather warning with winds and rain pounding on us and not a drop of rain inside and again movement at the top, the tent held up great! Guess this is why we own two marmot tents.....

The only problem we had with the tent was when we began the tear down were we discovered two bent poles. We had heard this is a problem just thought it was peoples imaginations, guess not. I would take the chance and buy another and another. I will never own anything but a Marmot tent for front country our Halo 6 and for backcountry camping our trusty marmot limelight.
I live in Houston and do most of my camping...
I live in Houston and do most of my camping in Texas. During the
summer it gets up 100+ degrees. How is the ventilation in this tent? Let me know If you have any other suggestions on other tents that would be good in Texas.
Best Answer
alps mountaineering zephyr 3 person is an all mesh tent i own and like. It's a little old so you may have to shop. But it packs small enough and light enough for me.