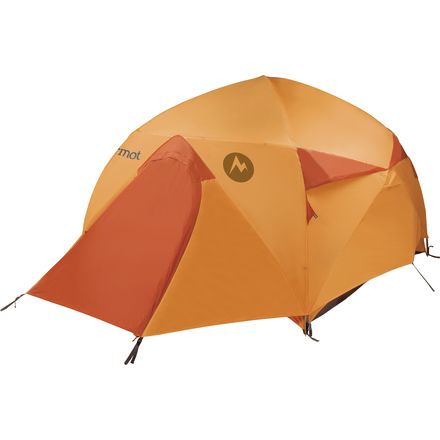 Description
Marmot gives families expedition-level performance with the Halo Tent.
Marmot designed a unique pole design to steepen the Halo 4-Person Tent's walls and increase usable living space for you and the rest of your family. This spacious tent includes several wall pockets to keep things organized, and the double vestibules provide shelter for anything that doesn't fit inside. Though Marmot designed this tent for family camping, they also included tough DAC press-fit poles, floor-level vents, and other features that you usually only see on expedition shelters.
Made summer great!
Familiarity:

I've put it through the wringer
Bought the Halo this past winter in anticipation for summer camping. I've never been a big fan of camping as our old tent smelled, leaked etc. Bought this and haven't looked back! This tent kept us bone dry in a thunderstorm on the northern shore of Lake Superior, comfortable in the Adirondacks, didn't budge in a wind storm on the Atlantic coast in Maine and was dry as toast back in Minnesota for a day of soaking rains. (We even set it up in the rain) Can't say enough good things and its made me love camping! Its a breeze to set up and I love waking up in it because its orange and happy! If you're thinking about it, do it. I love this tent - can't wait till next summer.
Smaller than advertised!!
Familiarity:

I returned this product before using it
I bought this tent, but it will unfortunately be going back. It's well constructed, and easy to set up. However, it doesn't even come close to the stated floor dimensions of 96
Fantastic!
Familiarity:

I've used it several times
Love love love this tent. The open air screening is spectacular - stunning night views. Fly is simple to use and can clip on in a snap. We normally sleep with the fly clipped on two corners so if it starts to rain one of us can climb out of the tent and toss it over the top and clip the last two corners. Inside has great storage/gear pockets. Tent storage bag is small but we just bought a bigger stuff sack for the tent and use the tent bag to organize other parts. Highly recommend buying the footprint. Camped in torrential rain without any issue. Doors are super easy. My husband and I car camp and it's been perfect for us...York Beach, ME or Cape Cod or Shenandoah National Park....it's all been great. Tent goes up so easily and the halo aspect is awesome. 15 nights in the tent so far this summer!
Is this a good hot-humid weather tent?
We have been comfortable in it with the fly off since it is so well ventilated.
This is my second Marmot tent. This one is a bigger 4 person. I like both and they provide good value. Just one thing and I know this is a minor issue but, it wouldn't kill Marmot to make the stuff bag big enough to fit a tent. Both my Marmot tents are a total pain to get into the bag when they are rolled up. Just make the things bigger. I hate to take off a star just because of the stuff bag but, it's too small. Now I need to spend a few more dollars to get a bag that will hold the thing easily. On a 20 day river trip it needs to be taken down every day.
is there a gear loft specific for the...
is there a gear loft specific for the Marmot Halo 4-person tent? If not, can you suggest one that would work in this tent?
Marmot makes a universal gear loft for their tents, unfortunately we are out of stock at the moment.
Bomber
Familiarity:

I've used it several times
This has withstood the test of multiple torrential downpours. The rain fly remains to keep everyone and the tent itself, completely dry. It dries quickly, folds and packs easily and is surprisingly lightweight for its size. The windowed dome ceiling and vents keep airflow sufficiently comfortable and allows for a gorgeous view of the starry night sky when the rain fly is off. Our family of four plus our dog all sleep cozily with a bit of room to spare. Overall, we love this tent!
Are the rain fly edges supposed to reach...
Are the rain fly edges supposed to reach the ground? I have never been able to set my Halo 4 up so that they do. And in Colorado it's never been an issue as the only rain I've seem to have encountered in this tent wasn't torrential. However this past weekend the rain was insane. Water would flow off the fly and easily find it's way into the vestibule area. And unfortunately also made it over the footprint. Had the fly been touching the ground, I feel as though the wet floor and vestibule could have been avoided.



But I see no possible way to make the fly edges reach the ground. I've set this tent up at least 25 times and it's always off the ground. Even the youtube videos I've found are rigged the same way.



Just curious.
Best Answer
Ive never been able to get my fly to touch the ground. I think if its raining that hard unfortunately things are going to get wet. I have found the water just runs under the tent from the ground and then finds its way into little nooks and crannies. Obviously the 4 season tent will give you more protection than other tents but, in a torrential down pour you have to find other ways to keep things dry. I sometimes will lay out my rain jacket in the tent and put essential "cant get wet items" on that, or try to hang it off the gear loft.
Thanks for the quick response Bill. I agree, in rain like that there's not much you can do in a 3-season tent. I was just curious if I wasn't setting it up properly. I do use either dry bags or very water resistant duffles in the tent for keeping essential gear (clothes, etc) dry. Mostly for the use in the back of my truck, but doubles as extra protection in case the tent floor does become wet like it did this past weekend - which is the first time this tent has ever shown signs of letting weather in.



I love this tent. By far the best truck camping tent I've owned.
Unanswered Question
Does this tent have the same pole issues...
Does this tent have the same pole issues as the Halo 6? Being significantly shorter I would assume it doesn't. Just curious as I'm replacing an old SD large tent.
A++++ Tent. Would sleep again.
Familiarity:

I've put it through the wringer
Fits 4, but comfortably fits 3. Great tent though. Super quick to set up and take down, and the quality of the materials seems great. Spent 9 days in it earlier this year and can't think of anything bad to say about it. Nice big pockets inside to stash all your loose stuff.
Love it
Familiarity:

I've used it several times
I bought this tent for car camping w/2 adults and a large dog and it is perfect size for the 3 of us, plus a couple packs. Set up is ridiculously easy. I love the halo pole design/straight walls, it does make the interior feel much larger than other 4 person tents. The color isn't as bright as online photos lead me to believe, and it is downright cheery inside the tent, even on a rainy day. I went back and forth between this tent and the REI Base Camp. While I liked the slightly larger vestibule on the Base Camp, Marmot won because of the halo design, I had more faith in the Marmot rain fly coverage vs. the REI, and most importantly, the side vents on the Halo zip while the REI ones do not. It is a 3 season tent and I want the option of zipping them shut on chilly nights. In the Marmot's maiden voyage, we had some good downpours and it performed beautifully. I mainly camp in the humid northeastern US and have not yet had the chance to use this without the rain fly. I can't wait to camp in a more arid climate, as the mesh dome top of the tent would create spectacular star gazing opportunities.
Easy to use - heaps of space - great for car camping - have done 2 adults and 2 young kids easily - good vestibule space. Got a little extra bend in some of poles after a while. Has really stood up well to heaps of use. Better in slightly warmer weather in my opinion. Everything it is cracked up to be
Wondering how well this tent performs in...
Wondering how well this tent performs in cool weather (i.e. around zero degrees celsiuis). We have had a Marmot Swallow for years and love that all mesh areas can be zipped up with nylon to retain heat in cooler weather. Keeping a couple of window flaps open with the fly vents still provides good venting in cool temperatures. There is no comparable Marmot tent for 4 people though, the Halo was recommended as an alternate. I'm not sure about all that mesh - good venting yes, but lots of heat loss on close to zero nights? appreciate any insights from anyone who has used in colder weather. Thanks.
Best Answer
JT...your concerns are quite valid. I have a HALO 4 and when it gets really cool to cold all that mesh works against you. I saw your question posted as I was looking up HALO 4 specs to compare to other tents as I'm now looking for something more suitable for colder weather...the HALO 4...while an outstanding tent...simply is too "breezy" in cold weather.
Unanswered Question
Is the packed size listed compressed? If...
Is the packed size listed compressed? If not how small can this tent pack down, in a compression sack, without the poles, relative to an object?



Picture would be helpful.
Christian Santelices, Professional Guide and Marmot Athlete, reviews the Marmot Halo 4 Person Tent. Christian is the owner/operator of Aerial Boundaries (http://www.aerialboundaries.com/Aerial_Boundaries/Welcome.html) and serves as Chief Guide for Exum Mountain Guides (http://www.exumguides.com/).
This tent rocks. Easy to set up, and virtually bombproof. I have been in some major, extended, thunderstorms in Upstate NY and stayed dry as a bone. Excellent ventilation, storage pouches,and vestibule space. The two doors are great especially with kids. Love this tent.
Write your question here...Does this tent...
Write your question here...Does this tent have lantern loops/holders? If so, how many?
Best Answer
The gear loft loops can easily hold a lantern, and there is one right in the middle. I have a small Black Diamond lantern I use in my tent, works awesome.. There are 5 loops here
We used the tent @ Smilefest last weekend and loved it! It went up in less than 5 min. We put a queen size inflat. mattress w/ our bags and still had plenty of room to change. It rained basically the whole wkend and it kept us dry. The design works perfect keeping you cool in those "no wind" times. We love it!
Marmot's own Curly shows the features for the Halo 4P