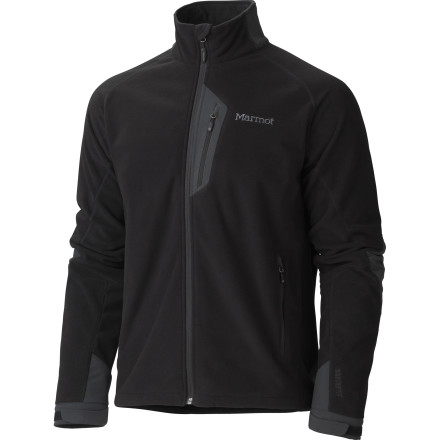 The Marmot Front Range Fleece Jacket uses Gore WindStopper fleece to seal out cold, biting air and keep you warm when you're covering ground on your cross-country skis or maneuvering your way through a climb. Forget about the restrictive feel you can get from some outerwear—this jacket is built for action so you can reach, twist, and stretch as much as you need to.
Gore WindStopper fleece uses a built-in membrane to give you wind protection that lasts
Nylon reinforcements in high-abrasion areas bump up durability
Regular fit is balanced, not to tight and not too loose
Zippered chest pocket keeps essentials handy
Adjustable hook-and-loop cuffs and elastic drawcord hem stop the cold from getting in
Best fleece I own.
Familiarity:

I've put it through the wringer

Fit:

True to size
This fleece is incredible, thin and close fitted, very warm, moves with you and feels great. The Windstopper logo is on the sleeve and it does not lie. This is my go to outer layer jacket I usually pair with a feather-down jacket or similar in temperatures less than 20. My only real issue to this jacket is that because it is fleece and that after a wash or two the zipper warps a little. The softshell elbow reinforcement on the jacket is a start idea.
great
Familiarity:

I've put it through the wringer

Fit:

True to size
i got a medium , used with a patagonia r3. i didnt feel any sort of cold or wind. really nice combo and stand alone softshell.
Just bought it
Familiarity:

I've used it once or twice and have initial impressions

Fit:

True to size
I'm 6'2", 195 and bought the large - but the sleeves weren't long enough. I traded it for an XL, which is considerably larger and longer all around. However, if I am wearing a sweater or clothes underneath it will definitely fit. Although I bought it in July, just in trying it on, I got super hot - it is definitely warm! Can't wait to wear it out with the windstopper. I did a lot of research, and I'm glad it led me here.
Awesome Fleece
Familiarity:

I've put it through the wringer

Fit:

True to size
This fleece is simply that, awesome! The Gore Windstopper in this makes it great for any cold, or windy situation. Be it out on a hiking trail, to riding the chair lift up to the the run. I've been wearing it mainly skiing and around town for casual wear. It performs great up in the mountains keeping me warm under my ski shell, but still looks good down in the city keeping you warm when hopping from bar to bar. The nylon reinforcements also help with any times you come in contact with anything abrasive, it will just brush it right off making for a durable, long lasting jacket. It's held up to mild sprinkling but if you're caught in a down pour you will want to throw a shell over it to keep dry. This is now my favorite go to jackets when heading into the outdoors. I went with a large, and it fits perfect. I'm 6'1" 175lbs, athletic build.
Great jacket
Familiarity:

I've used it several times

Fit:

True to size
This is an incredible jacket that is very capable. I have been looking for a fleece jacket with Gore Windstopper for quite awhile and am very pleased with this jacket. Most of my jackets are Marmot and this one does not disappoint.
Great jacket (rambling review)
Familiarity:

I've put it through the wringer

Fit:

True to size
This is my go to fleece jacket for my outdoors activities. I tnd to run pretty warm so this is usually all I need over a base layer. My only real issue is that I no longer get to use my other outerwear, since this is pretty much perfect. If its not raining you cannot go wrong with this jacket. It is priced pretty high for a fleece but it is much more than just a fleece. I recenty took this out on a buchwacking hike through some painfully thick balsam forest in the catskills. I was convinced that I would snag and tear this thing, but it held up with no damage at all (the same could not be said of my face and hands which were pretty well shredded). If it gets really cold this gives me room to throw a vest on underneath. The Windstopper really does work, though I initially had my doubts, it has proven itself a winner. I purchased this in size small to use a midlayer, but it is rarely covered. The only times I can imagine anything going over it is in sub-zero temps, and heavy rain. I have worn it in light mist and it was fine, but I don't think it would work alone in anything wetter.

I am 5'7" and 135ish lbs


Love it.
Familiarity:

I've put it through the wringer

Fit:

True to size
I'm 6' and 140 lb. so I'm very skinny for my height but the medium fits well. I use it regularly and i love how resistant it is to water. Rain seems to just bounce off which is essential for backpacking, especially if you are too lazy to take your poncho out for a light sprinkle. I bought it on sale, but i think its slightly overpriced.
Awesome
Familiarity:

I've used it once or twice and have initial impressions

Fit:

True to size
Recently I re-geared for the cooler months. I bought a Marmot Quasar Down Jacket, Front Range Fleece, and Vars Hooded Fleece all on sale at Backcountry. Since everything I have to comment on is common to all ... I'm being lazy and writing only one review. First, I love the jackets. Quality as usual with Marmot is awesome. The Quasar is extremely lightweight and warm, and eminently compressible. The two fleeces are very very comfortable ...



My only "issue" is sizing. I like the athletic fit, however, I seem to be in between sizes. I'm 6 feet tall, 190 lbs, 34-inch waist, 46/7 inch chest. Before I ordered, I went to a retailer and tried on Marmot gear. Although the larges fit great in arm and jacket length, they were so tight across the chest, under arms, and across the shoulders that I couldn't wear them. When zipped, they had the typical "spider" creases of something too small, even stretching the stitching around the zipper. Very uncomfortable under the arms. So sized up to Extra Large. Sleeves and jacket length a bit long now, but so much more comfortable. But I don't mind. In the winter I anticipate wearing them under my shell. A little extra length on the chair lift is kinda nice. I'm 50 years old, so maybe I'm just an old fart ... Hah!



I've had so much good luck with Marmot over the years I don't hesitate to recommend the jackets. The Vars hoody is pretty damn cozy, and I like it. The Front Range does stop wind! And the Quasar, well, I can't wait for the weather to drop below zero.


I have a Patagonia Retro R3 (I think) that used to be my cold weather/windy dog walking jacket. This puppy is the new go to jacket mostly because it has Windstopper Pro, fits skinny guys and offers great freedom of movement. I have always been impressed with the Marmot line up!
Amazing Jacket
Gender:

Male

Familiarity:

I've used it several times
Very warm, great fitting and looking jacket. The gore-windstopper works as advertised. Have been out in wind and rain without any hassles. Does not seem too toasty for wearing around town--have yet to overheat. I am 5'8", 165 lbs with a broad(er) chest and the fit is ideal. The arm length and cut is perfect in chest/torso area. The only strange aspect of this jacket is when fully zipped, the neck area seems a bit tight-- a minor annoyance that may stretch/relax over time. Worth every cent! (if on sale and in your size, do not miss out--I paid full retail and have not regretted the purchase once). Quality with classic style. Great softshell Marmot!
Curly's Clips - video review of the jacket.
Used this last week on a 5 day north Georgia Appalachian Trail trip in 20 degree to 45 degree weather. Ordered an XL and it fit perfectly, I'm 6'1", 220 lbs. Had room to wear a Montbell Ultra light down jacket underneath which I did to sleep in. Jacket was too hot to wear hiking the up hills, so I kept it tied on the back of my pack and put it on when we stopped or the wind picked up on the down hills. Jacket does an excellent job stopping the wind. The jacket does not repel water very well however. As we walked during the freezing rain/snow melting it did pick up a little water on the shoulders and sleeves, but did not get "soaked" and it dried very quickly. I have long arms and sleeves were plenty long, I hate shirts and jackets where the sleeves are not long enough. The only negative on the sleeves are the cuffs. They weren't loose or tight but the Velcro strap was not really long enough and came loose a few times. I guess if you had really small wrists it would have been fine. I could do without the strap. Zippers all worked great, loved the chest pocket, kept my camera in it. This jacket is so soft and comfortable you will forget you have it on.
what else?
Gender:

Male

Familiarity:

I've used it several times
simply perfect
Unanswered Question
Where is this jacket manufactured?
Where is this jacket manufactured?