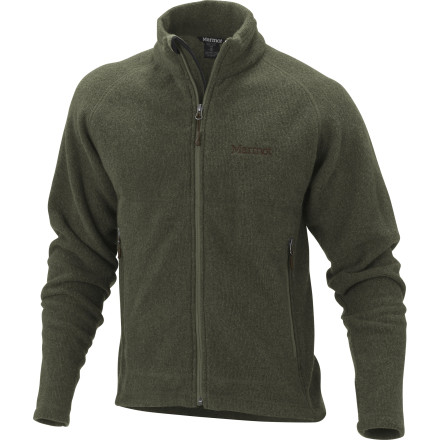 Does the Patagonia stretch velocity lip...
Does the Patagonia stretch velocity lip neck jacket come in a full length front zipper and with a shorter collar?
I am looking for a lightweight slimmer line, with a tighter cuff on the sleeves. He doesn't like the collar standing up. He will want a zipper verses snaps or buttons.
Comfortable and Pretty Warm
First of all, probably not worth the $80 or what it's going for these days, not really windproof in any way but great for throwing on after a hike. Lined with a soft inner layer so you don't have that wool-itch sensation. Great for wearing around the fireplace or warming up in my apartment in winter.
I got this fleece and wore it a few times...
I got this fleece and wore it a few times before I washed it and loved it. The first time I washed it, it was covered with pills. I washed it again, hoping to get some of them off and it is still covered with pills, not including all the lint that was left in the dryer. Is this normal or is my jacket defective?
Sorry dude but a high quality fleece washed properly shouldn't pill. You either washed it with some very rough fabrics or you bought a fake. Marmot makes quality clothing.
Always wash fleece with other fleece or poly fiber clothing, never with socks, cotton, or towels. Use a lint cleaner and then keep the above in mind for future cleaning...if you don't have a full load, wash by hand dude, this stuff dries fast!
I got this fleece on sale for only 40. This jacket is warmer than my aging polyester 200 weight fleece. It has a polyester inner lining which makes it very comfortable to wear. It's not wind resistance so you have to use an outer shell on a cold and windy day. Very well made. I'd recommend this jacket if you can find it on sale.
I was pretty pumped to grab this off SaC, but when I got it was a mite disappointed. If you're used to athletic-cut gear like Arcteryx to fit your slim and/or lanky frame, I'd steer clear of this one, as it's cut to stockier proportions. Also, the pocket seams are so awkwardly placed that it made my 6' 175 lb. frame look like I have a gut, though these don't show up in the pictures. However, it seemed well made and cozy, so if you've got a broader build you'd probably be happy with it. Oh well - with Steep and Cheap it's often a gamble, but more often a reward!
I like this a lot, I am a big fan of wool and the combination makes for a warm and comfortable jacket. It is not advertised as being windproof for a reason so don't expect it to be. Regardless its a nice daily wearer.