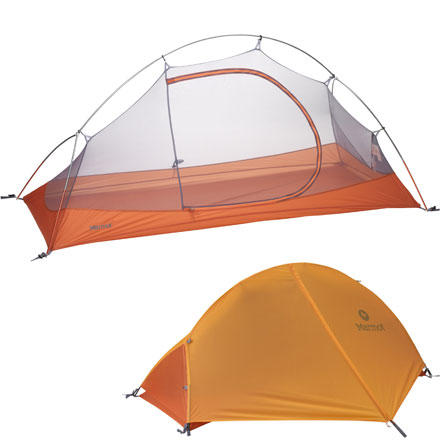 Community Images
If you're traveling solo and looking to save weight without sacrificing comfort, the Marmot Eos Tent is a lightweight shelter that means business. A thoughtfully designed one-pole system means that you can set up your tent in a flash, and a roomy vestibule stores more gear outside the tent while still keeping it protected from weather.
Silicon-impregnated, polyurethane-coated floor and fly repel rain so you and your gear stay dry inside
Catenary Cut floor means the floor material curves a few inches up the tent walls to reduce direct seam-to-ground contact
DAC aluminum poles are easy to assemble day or night and save weight without sacrificing durability or strength
Poles are made with DAC's Green Anodizing process, which reduces the need for hazardous chemicals and recycles water throughout the rinsing process
Single door helps save weight, and side vestibule lets you keep your muddy boots and wet bag out of the tent yet out of the rain, too
Bare Bones fast-pitch option lets you carry just the poles, fly, and footprint to save extra weight on trail (footprint sold separately)
This tent is dope. It is big enough for my 6' 2" frame to fit comfortably while horizontal. When I sit up my head rubs the nettings on top, but thats okay unless it is raining. The rain fly is decent, however it is where my major greif with the tent comes in. The side walls fore and aft, are not quite long enough. You can tether the fly down pretty well but it always seems like there is a small gap allowing a small amount of water into the tent. If you do buy the foot print, be advised that it does not fit perfectly. I wake up in the morning finding the footprint have curled up under the tent. Other than that this tent is AWESOME. It is light enough and small enough for me to carry it in my Osprey talon 44, as a back up incase I dont reach a shelter or it is to crowded. I would buy this again, although the rain fly is frustrating.
Light, tough and easy to set up.
Only one complaint I have is that there's no grommet in shorter side.
One rainy windy night it flapped and rain came in.
I fixed it putting grommet in shorter side myself.
Other than that this tent is great.
The rainfly for the EOS-1 has a 1-2 inch flap that is supposed to cover the zipper. However, it does not have velcro or other mechanism to secure it, so the flap is easily moved by the wind, which causes the zipper to be exposed to the elements and increases the risk of leakage into the tent.

I am 6'2". The tent is lightweight and easy to set up, there is enough room to sleep comfortably, but there is little room for sitting up. It is impossible to sit up without hitting my head and/or shoulders on the mesh and pushing it into the rainfly. When this occurred in the a.m., condensation under the fly got on my head and shoulders.
Does this come with a footprint? if not,...
Does this come with a footprint? if not, do they sell it on backcountry?
Best Answer
No it doesn't, and yes they do. Type item # MAR1106 into the search box above and it'll take you right to it.
Seriously, after I learned about the tyvek groundsheet (6.5 oz for my 2 person tent ~ $12) and polycro UL groundsheet (1.6 oz for my 1 solo tent ~ $8) I'll never buy another footprint again. That is unless you really want it for the footprint fly pitch!
It does not come with the footprint, and you can buy it separate but I do not recommend spending the money. Though I would give this tent the best review of any tent I own, the foot print however is a different story. It does not match up with the base of the tent at all so the pole will not match with the grommet on the tent. I agree with ewheelermad; Tyvek would be a cheaper and better alternative.
Thinking of getting this tent for my dad....
Thinking of getting this tent for my dad. He is is 6'2", 200 lbs. Do you think the interior height will be sufficient for his height and not feel cramped sitting up inside? Was also looking at MSR Hubba.
Best Answer
The Hubba is 4" taller at the peak (40") and the walls are more vertical, although it's 4" shorter and 14" narrower than the Eos 1 (Hubba- 86"lx26"wx40"h) (Eos 90"lx40"wx36"h). At 6'2" he's probably going to need roughly 32-33" to sit straight up with a ground pad. Whether he feels cramped is a matter of personal spatial psychology. If it's not going to be a surprise gift, ask him for his thoughts, since he's the one who's going to be using it. Also have a look at the Big Agnes Emerald Mountain SL1 or the Copperspur UL1. Hope that helps.
What is the difference between this and...
What is the difference between this and the older 2007 model? The 2007 model looks to have less mesh, a window in the vestibule, a vent in the fly and lighter. All these thing that have been taken away seem like a plus. Why the changes? What makes this newer model better?
Best Answer
I don't think one is really better than the other but they added more mesh which most of the tent manufactures have done. The new model is also a little larger which is probably the reason it is a few ounces heavier. They should have left the window in the vestibule, that is a nice feature.
Marmot Eos 1-Person 3-Season Tent
First off this tent is extremely light and has a very small stuff size, small enough to fit in most 40L packs. The first thing you will notice is the typical cheap stakes, so through those away and pick up some MSR ground hog stakes. The single pole design is amazingly simple and easy to set up, after that all you have to do is use the single clips to complete the set up. That's it. Set up in less than 2 minutes. The rain fly is even more simple, just clip on to the 4 corners and your done. The inside Velcro straps are completely optional, but if you wanted to secure the rain fly completely that just takes a couple more seconds. The jingle free zippers are completely snag free and both the door and the vestibule can be opened from virtually any position. The vestibule is small but big enough to store your shoes or to cook. Both the door and the vestibule door can be secured to the side using a simple adjustable lock strap. Inside there are to installed gear lofts. The interior does not have much room, when sitting with my legs folded my head and shoulders do touch the top and the sides, but this is a minor inconvenience compared to the small stuff size. I am 6ft but did not fill cramped at all, of course a 2 person tent has more room, but for a 1 person tent it's pretty roomy. My sleeping bag, sleeping mat and all my gear fit just fine including my pack. Holds up in a thunderstorm like a champ, had no problems with condensation or water leaking in at all. My only real complaint is that getting in and out is a little difficult, it seems like the door to vestibule design is a little off, makes me feel like I am in a tent made for a Hobit. Other than that This tent ranks high on my list of the best tents I have used. If your climbing big or far you need a light weight tent with a small stuff size for a good price without sacrificing quality this is the tent for you.
does this really have only 1 pole??? Sure...
does this really have only 1 pole??? Sure doesn't look like it...???
Best Answer
Yes and No. There are technically many poles but they are all linked together to make one piece. I have added a photo to help illustrate this, because I was a little confused at first. The idea works really well, It takes me less than 2 minutes to set up this tent.
I need a new 1 person backpacking tent...
I need a new 1 person backpacking tent that is as small and light as possible while still functioning as a free standing tent . I have a tight budget so I can't afford to purchase a bum tent. So far I am pretty much sold on the Marmot Eos tent because of the design, brilliant features, small stuff size and great reviews. On the other hand the Big Agnes Seedhouse SL1 is a little lighter but appears to have all the same great features, they just don't have the extremely helpful version of Curly's clips to demonstrate the features. Can anyone help tip the scales and tell me which one they prefer and why? If you have experience with one or both tents, your input would be greatly appreciated.
Best Answer
I will pretend that there is NOT a $30 difference between these two tents since $30 is relatively a small price. So in my opinion:

CRITERIA = WINNING TENT
Living space = SL1 (by far)
Weather Proofness = SL1 (better guy points and lower fly)
Weight = SL1
Material Durability = Eos
Ease of Setup = Eos
Vestibule = SL1
Ease of Entry = Eos
Color = Eos! (who wants a grey tent?)

What tent would I choose? Big Agnes SL1 and I am sure that few would argue with me but I have seen the Eos on some smashing sales which is why I bought it over the SL1.