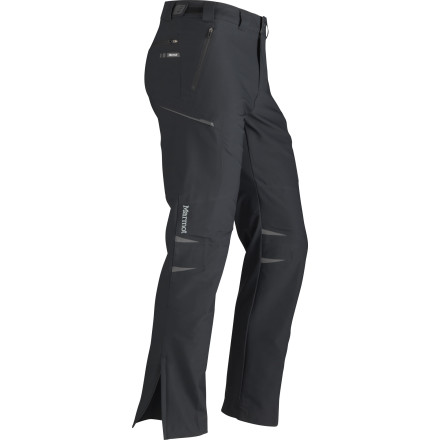 Detail Images
Tough as nails, that's how we would describe the Marmot Men's Entrada Softshell Pant. A combination of Schoeller softshell fabric and M3 softshell make this pant durable, breathable, and plenty flexible. In the heat of the desert, the Entrada pant will help you stay cool by releasing sweaty vapors from within, and when you drag your body over abrasive boulders, this pant will shrug it off with ease. You're living in the past if you're still considering your denim.
Schoeller material has the same breathable, stretchy feel of a traditional softshell, but it's twice as tough
Marmot M3 Softshell breathes easy to allow sweaty moisture to escape from underneath, which means more comfort on long approaches
Articulated knees to move around when you're scrambling through boulder fields or up a rocky face
Reinforced bottom hem keeps the pant cuffs from tearing and tattering after seasons of abuse
EXCELLENT.... NOT.
Gender:

Male

Familiarity:

I've put it through the wringer
I got these on sale and after testing them for two weeks witout washing them as daily use for school, work, rock climbing and 4 miles hikes(x3) and they don't hold any odor, shake 'em up and dust comes off. I went and got another pair for winter. These are super comfortable, breathable, and very practical. They fit perfect. Durability, not sure yet but they are tough and good for rockclimbing so I'm very happy. Doing a week long Presidential Range traverse in January with them. I'll keep you posted.



So I exchanged this pants for the Reston as they pilled after a month of use with only 5 or 6 wash cycles. The Marmot Reston are not softshell pant but They are far better pants and more durable.
Unanswered Question
Does anyone know the exact length of the...
Does anyone know the exact length of the inseam for size 30? The sizing chart is written in very general terms and does not correlate with the manufacture's website.
I typically wear 33x30. its hard to tell...
I typically wear 33x30. its hard to tell from the sizing chart if the 32 or 34 size is the right one. Any guidance would be appreciated.
Hey,

I would definitely go up to the 34 if I were you. They will probably be a bit big in the waist but the adjustable waist is great and you'll only have to tighten them down a bit. Plus you'll have the extra room for layering if need be.
what is the length on these pants?
what is the length on these pants?
Check out the sizing chart below the price for inseam lengths.
i assume they are regular length?
Just picked up a pair of the Entrada Pant, and felt compelled to give them a 5-star review. These are my second pair of softshell pants (the other being the Stoic Overhang), so I have something to compare them to. First off, the material on these pants is AMAZING! Very stretchy, very breathable. The pants just move with you and there's no chaffing at all. They seem tough, but I haven't put them in any situation were I could test that theory. The seams all seem very well constructed and the zippers feel solid. The pockets are a little shallow, especially the back one. There are two hip pockets that lie flat and are larger than the hand pockets. As for width and length, I'm a 33x34 in pants, and I went for the 34. They're a little big in the waist, but the Entradas have these great belt-type straps that you pull, and the pants synch up along the waist (totally cool, totally techy). They fit on the slim side, for sure. The length is perfect (I would imagine that the 34 is a 34x33.5). For temperatures, I'd guess they'd do well from anywhere around freezing (in dry weather) up to the 70s (I don't know, I've only worn them for my morning dog walks so far, and those have been in the upper 20s-lower 30s, and they've been perfect). Best way to describe the fabric is that it's on the thinner side of softshell, but not paper-thin by any means. Anyway, hope that helps.