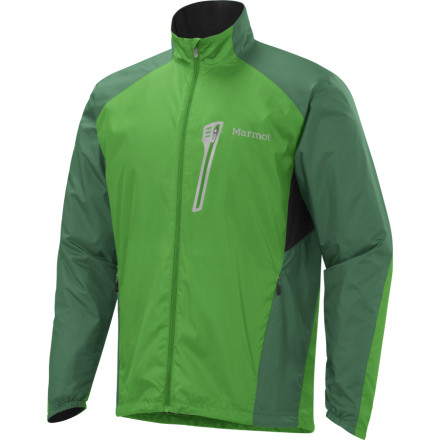 Zip up your water-resistant Marmot Men's DriClime Catalyst Jacket and bike or run to work comfortably thanks to stretch panels in the elbows and a moisture-wicking lining. UpCycle fabric uses recycled plastics and makes this jacket lighter than your brown-bag lunch. A lined chin guard keeps the collar from chafing your face while an articulated underarm cut keeps the Catalyst from riding up. Marmot styled-out this breathable jacket with a low-bulk design and a streamline fit that won't leave you flapping in the wind.
Unanswered Question
Help! My son is 6'3+ and very skinny,...
Help! My son is 6'3+ and very skinny, about 170. The size guide for this jacket wants me to believe that anyone from 5'10 to 6'6 can wear a large/extra large. I don't understand how an 8 inch delta in height can be adequately accomodated in sleeve and torso length of this jacket? Additionally, my son wears a medium based on chest (38) and waist (33) measurements, so moving to a large with a 45" (according to the size guide) chest - seems like he would be swimming in it, and that would somewhat defeat the purpose of wearing it....
Have any of you taller guys tried this jacket, and how did it fit?

Thank you.
Marmot DriClime Catalyst Jacket
Marmot Athlete, Jordan Campbell wears Marmots Catalyst DriClime Windshirt on Bruny Island, near the southern tip of Tasmania (Australia). The award-winning Catalyst DriClime Windshirt is part of Marmots Momentum collection and is made with over 88% recycled materials, including the zipper.
The Catalyst is almost exactly the same as the original DriClime shirt from Marmot. It's got a fancy reflective graphic around the chest pocket, and side pockets that zip. Other than that, I can't tell any other differences. I have loved my original DriClime shirt for years, and this has been a welcome addition to the family. As another reviewer put it, the Catalyst is more of a full function jacket than the original is. At the sale price right now, worth picking up regardless!
Christian Santelices, Professional Mountain Guide and Marmot Athlete, reviews the Marmot DriClime Catalyst Jacket.
I own an older version of this jacket and love it. I like the zippered pockets of the new version, but the pockets are unlined and you also lose the neck draw cord (which can be nice to have in really windy conditions). My biggest issue, however, is the stretch panels are not very windproof and allowed a lot wind to penetrate and heat to escape. Some users may prefer this for high aerobic heat venting, but the decrease in wind protection caused me to return this jacket.
I used most of the reviews to gauge the size I needed, but ended up ordering the first one too big. If you are a MED in other jackets I'd say you're a MED in this one too. Got a Large, exchanged for MED and have been very pleased with it. Warm and comfortable with 1-2 layers underneath down to mid 20's F temps.
I absolutely love this jacket. Light, comfortable and versatile. Like the pockets. Ingenious draw cord inside the pockets to tighten jacket around the waist. medium size fit was perfect.
Does this model have the pit-vents or just...
Does this model have the pit-vents or just pocket vents?
Best Answer
This jacket does not have pit-zips/vents.
Marmot DriClime Catalyst Jacket
Just as dependable as the regular Dri-Clime jacket---It's the one pc of gear that's in my pack all the time
Can anyone tell me could this peace work...
Can anyone tell me could this peace work well as a layer under the hardshell in the case of bad bad day, just like the original driClime or the 2008 version.
Runs small compared to other Marmot jackets
I got ROM and Ramble shirt in M and both fit just loose enough for comfort.
This jacket, however, is as tight as it gets in the same size. Zipped up, it feels pretty restrictive to the point I have to pull the sleeves up myself for fear of tearing the back seams apart should I swing my arms forward a little too energetically. Stretch panels dont seem big or stretchy enough to allow complete freedom of movement and it rides up a hand or two's breadth when I raise my arms (angel wing movement my ass ;)
Apart from that, it looks more than adequate for wind protection but I haven't taken it out yet (and won't until spring as it's too cold now). Probably good enough to run around in.
This jacket is awesome. Its reasonably light and comfortable to wear. It stops the wind (tested it High on a Colorado 14er) and helps keep warmth in. The driclime is quite comfortable and soft enough even on bare skin but the jacket is still easy to put on and take off. The only downside is that the pockets are unlined and that the jacket is a touch shiny and and not super quiet but its pleasant to wear. The exterior material sheds water and even if it gets a bit wet it dries so fast that its amazing, same with the driclime interior lining. The jacket has mesh lining around the armpits area inside for ventilation and a different material on the exterior in the same area. It looks good and overall the jacket breathes well. Great for mid to high activity.

This jacket is a very versatile piece of gear. Its great by itself, over a baselayer or over a fleece midlayer. If you hike in windy weather and dont want to wear a hardshell all the time you need this.
Can anyone compare this jacket directly...
Can anyone compare this jacket directly to the Original Windshirt/Jacket. I have an older DriClime jacket (has hand pockets) and I'm looking for a replacement. My current wind jacket rocks and I want hand pockets - other than hand pockets and a few other things like draw cord neck and waist - are they identical? I thought I read in a review that the Catalyst has unlined arms?
Best Answer
Both the Original Driclime Windshirt and the Catalyst Jacket are fully lined with Driclime (body and sleeves) The Windshirt has a single chest pocket, while the Catalyst has a chest pocket and 2 zippered hand warmer pockets. The Catalyst also has an elastic drawcord hem, stretch panels and both the lining and shell are made from recycled polyester. In a nutshell, the Original is best for layering, or as a light, simple windshirt while the Catalyst is a more fully featured jacket.
Does the Catalyst jacket have dri clime...
Does the Catalyst jacket have dri clime lining thru out body/sleeves/
and collar area?
Is the catalyst a 2010 year model?
What other light weight jackets have a warm lining rather than a
cold clammy feel?
I thought Mountain Hardware had a light weight,water repellent,
warm interior lined jacket also.
Your reply appreciated.
Thanks
Yes, the Catalyst has a driclime lining in the body, sleeves and collar and yes this is the spring 2010 version.