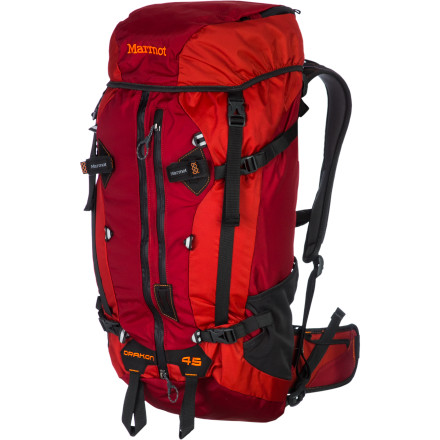 Detail Images

Community Images
Working your way from camp to the summit of the Grand Teton requires steely nerves, a heap of strength, and enough technical gear to keep you secured to the mountain. But nothing beats the feeling of looking at the world from the top of one of the planet's most beautiful peaks. The Marmot Drakon 45 Backpack hauls enough equipment, clothing, and grub to keep you on your feet so you can enjoy the kind of views that have to be earned.
Dynamic Flex suspension system provides rigidity for effective load transfer to your hips
Molded back panel adds contoured, ergonomic comfort
PE frame sheet is removable so you can adapt your pack to lighter loads
Padded waist-belt features 'biner sleeves to house your clips and is removable for light-and-fast summit bids
Top loader makes loading and unloading easy; duffel-style front zipper provides full access to main panel and lets you get to the gear you need when you need it
Integrated vertical rope carrying system totes your lifeline
Side compression straps let you adjust your pack's volume to meet different load sizes
Side water bottle pockets improve your water-carrying capacity
Dual ice axe loops help carry your technical gear
Great pack for all uses
Familiarity:

I've put it through the wringer
I've had this pack for 3 years now and it has held up great. The zipper down the front makes accessing your gear extremely easy and convenient. Ive used it as a rope bag for rock climbing, brought it abroad for traveling, and for camping trips. The zippers have all held up very well. Ive had a buckle snap recently but I was being very forceful with it and there are so many extra straps, it hasn't been detrimental to the pack. Highly recommend. Here is a photo of me wearing it on top of Mt Fuji in Japan.
Unanswered Question
I was surprised by the minimal waist belt...
I was surprised by the minimal waist belt padding on the this otherwise great bag. Does anybody know why the padded part only comes just barely around the curve of your waist toward the front (compared to most others that wrap around your hip toward the front of your belly)?
Anybody have comments on the "one size...
Anybody have comments on the "one size fits all" sizing? I'm male, 6'3", lean, but tall frame. Does it adjust to fit different torso sizes? Any tall guys using this one?
Hey Dan,



The one size torso length on this pack is slightly adjustable and set to be 17-20.5 inches. My guess is that you being 6' 3" that this might be on the smaller side for you.
Follow-up: I decided to buy this bag and recently took it for a two-nighter with about 20 miles hiking backcountry.



It is in fact, on the short side for me (at 6'3"), but the waiste strap pads do hit my hips at the right spot, so I'm not sure if I care.



Bottom line: this bag is awesome in so many ways, I am willing to overlook a slightly too short size. It was comfy and felt great.



One note: if you like lots of padding on hip straps, this bag is very lean in that area (I think thats due to its emphasis on climbing)




I was concerned when I bought this bag online, the straps looked really uncomfortable, not well padded and kinda flimsy. BUT After a couple weekend trips with this pack I am very satisfied with the durability and comfort. Again the material is really strong, But if I was being nitpicky I would say I am slightly concerned about the zipper in the long-long-long run, I wish it was just a little more burly, and there might be a few too many bells and whistles on the pack including the "gear loops" on the waist belt, I can tell I will never use those for anything.
pros A: looks cool B: fully functional C: is a decent bang for your buck. D: duffle style opening.

for me it holds (if packed well)

1-60 Meter 10.5mm rope and tarp

12 quickdraws

2 pairs of shoes

1 harness with ATC, additional biners, quicklinks sewn runner etc. with some room left over.

and a soft shell jacket with pockets and a brain large enough for any additional misc. stuff you wanna carry. Plus it's got 2 Nalgene sized pockets. Love It! big enough for a day at the crag with all your gear or a few nights in the backcountry.

cons:

If you use the zipper to open the bag you have to pack it with some decency otherwise you may have trouble closing it again.

Just know if you're ever having trouble closing the zipper, loosening the compression straps helps a lot (obvious I know).
Bomber
Familiarity:

I've used it several times
I've taken this thing out about a half dozen times now, and so far it's bomber. It has a rather rigid back panel, which I really like for scrambling up Colorado's climber's trails (in Boulder canyon they're more like run off gullies). The pack tapers a little bit from top to bottom, which I also find helps with the way it carries. The zipper in the front is awesome. I really, really like this feature. It has two zippers, so you can zip it from the bottom or the top - where the bag completely opens up. Build quality seems actually better than the Osprey variant that I replaced it with, which is saying "pretty damn bulletproof". I like the attachment points on the outside of the bag, and the ax handle retainers are nice (and fully removable!).



I carry a full trad rack (not big wall full, but close), rope (on the outside, between the "brain" and the main bag), 3 liters of water, 2 pairs of shoes, a couple extra layers, etc etc in this thing. Glad I got the 45 liter.



I only have a couple complaints. The "vertical rope carry", which is inside the bag, is just a little too small for my Edelwiess 9.5 60 meter. I do find it useful for my flipflops though, and I can easily carry the rope on the outside. The other one, and this is a really trivial one, is that the outside pocket is JUST (like 2mm) too small for the Boulder Canyon guidebook to go in easily, although you can still jam it in there.



I'm glad I bought it, it's great for cragging.
Great features, poor quality
The main use of this backpack was for carrying all my gear to go sport rock climbing. It fit everything that I needed, and had easy access through pack as well as comfortable. I loved this pack for the first 4-5 trips I used it. After this, the shoulder strap started tearing apart from the frame/pack. This is the reason for the poor quality of this backpack.
Received as an alternative.
Gender:

Male

Familiarity:

I've put it through the wringer
Just a few months ago I bought a North Face Terra 45 TNF black. And about a month later, I stumble upon the Drakon 45 in brickstone red. I had been thinking about it ever since, and finally received one as a gift. I do notice is the bag is lighter and the padding is not as thick/soft as my Terra 45, so it is less restrictive. The benefits of this bag that I can immediately see is the duffel zip feature in the front, along with the hanging small compartment inside the bag that can be used to slip in keys or wallet. The top compartment is big, could fit my Klymit Static V inflatable mat easily and more. This is my first Marmot pack and one negative I have for it is the sewing job on the one I received. There is a side of the waist band where strings are just left there, so if I were to pull on it accidentally, the rest of the sewing would come loose. Hopefully it doesn't happen. Overall though, I am satisfied with the looks and functions with this bag. Can't wait to take it out.
Does this bag have haul loops like the 35...
Does this bag have haul loops like the 35 L version, and how does the vertical rope system work?
Best Answer
This is essentially the 35L bag except with a slick access pocket that is separated from the inner compartment on the back, and a 6-8L lid on top. Outstanding bag, worth the extra ounces over the 35L for sure.

The vertical (or horizontal) rope system sits beneath the lid. There's an additional strap with quick release buckle that will secure the rope to the top of the bag. You can either hang it vertically off the back (I use some shock cord and a crimp clip to keep the rope tight to the bag), or you can lash it horizontally and use Vole straps or webbing to cinch it down against the compression system.
Tons of space and comfortable
Gender:

Male

Familiarity:

I've used it once or twice and have initial impressions
I bought this pack to use mostly for sport climbing. It has plenty of room to carry all of my gear including a 70m rope. I just picked this up recently, so I can't comment on the durability, but it is a very comfortable and versatile pack.
The Pack that Could, Did, and Will Do.
I took a slight risk with this pack. No one had reviewed it, and all I had to work with was the general appearance, as well as the stock description. To be honest, the primary reason that I chose this pack was due to one feature: the duffel access. Well, to cut to the chase, the risk paid off. This pack is great.



So far, I've only used it to travel from NC to Houston and back (I was too excited not to use it) by plane, but I can't wait to take it to the crag. You'll be pleased with the suspension, and particularly with the storage options. That smaller, zippered pocket on front is great for small, flatter items. Freedom of movement is definitely there. You'll be loaded mostly on the hips, and your arms can do what they like, especially because of the pack's narrow construction (I'd expected much wider). Note that the space increases with the extendable drawstring closure. The top can be raised to cover a taller load.Vertical expansion. That's what I like for a climbing pack. Tight and tidy.
Marmot Drakon 45 Backpack
Emma Lande, Professional Freeride Skier and Marmot Athlete, reviews the Drakon 45 Pack. Learn more about Emma and the Marmot Athlete Team at http://marmot.com/athletes/emma-lande.