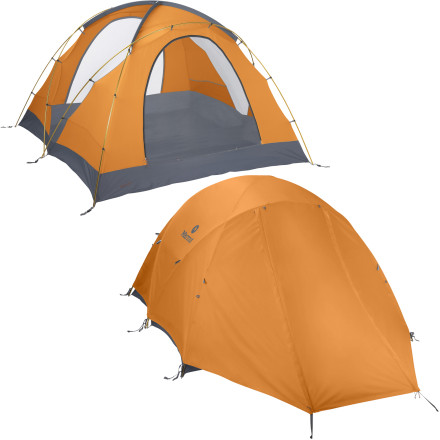 Community Images
Marmot made the Den 3-Season Tent to comfortably sleep your family of four on your next camping trip to Yellowstone or Yosemite. Durable fabric, plenty of head room, two 'D-shaped' doors, and a large vestibule make this tent a cozy fit for your family's exploration of America's national parks.
Tough floor and canopy material lengthen life of tent and stand up to the elements
Fully taped floor and rain fly keep water out
Large front vestibule adds extra storage space for gear
DAC Featherlite tent poles reduce weight without sacrificing strength
Large storage pockets organize your essentials
Two large doors eliminate the need to crawl over tent mates to get in or out
I have camped over forty years and would say this tent is the best tent I have ever owned. I bought it on closeout last year and have taken about ten trips thus far. At first I was disappointed because the poles bent the first time I set it up. But after calling Marmot's technical support department, I concluded that the bent poles would not affect set up or longevity -- and I was right. There have been no further changes or damage to the poles and the tent has been great in several storms. I especially like the large doors, large floor space, near vertical walls, and ventilation. It has ten pockets but we rarely use them. My wife and I sleep with our heads at one door and our feet at the other. On clear nights, we pull the rain fly back and look at the stars through the mesh door. On rainy wet days, we enter and exit through the door with the small vestibule. It is a shame that Marmot has discontinued this model.
I'm a big fan of Marmot (and had smaller Marmot tent for years), but the first weekend we used this tent a pole broke (just putting it up). Marmot repaired that but after another outing or two I noticed one of the poles becoming increasingly bent. All this in no wind and from normal set up. There seems to be a design flaw or something with the poles.
Quality and affordable housing in this terrible economy.
Good Potential, Overall Disappointed
Big fan of Marmot products in general. This tent left a little bit to be desired. Used it for a week camping with my wife. Setup was not a problem, but after a week, I noticed one of the poles was bent (we had experienced good weather all week, no high winds or rain), and there were already runs in the mesh windows. Normally I would just return the item for repairs to Marmot, but some design flaws made me decide to return it for good. 1) There is no vestibule in the back, the rain fly just opens right to the back door. 2) Both doors are U-shaped instead of D-shaped which makes them more prone to abuse. 3) Lastly, and probably most annoying, is how the front main vestibule opens. It has a steep slant with two zippers that are difficult to open from inside the vestibule, and it is hard to enter or exit. Overall, I decided to return it and go with the Pine Island from Big Agnes. We'll see how that one goes. Thanks to Backcountry.com for being so great about returns!
Unanswered Question
How well will this tent fit 4 guys? We're...
How well will this tent fit 4 guys? We're 6'3", 6', 5'11", 5'9" - all athletically built? Will we have to sleep head to toe?
firechick16... Are you high??? Or did you not look at the picture of this tent before you bought it? You complain that there is no privacy with the mesh walls. What pic on the website led you to think this tent had anything but see through mesh walls? I don't own this tent but I find your review hilarious and would purchase the tent after reading your review. The purpose of a tent is not to insulate or keep warm, your bag and pad do that. And a fan not being able to move air through the mesh? Maybe a hotel with AC and a furnace would be more to your liking. The backcountry tends to get a little icky...
We went with this tent based on the fabulous Marmot backpacking tent we have. Very disappointed! Here's what was good: best zippers ever(we've had past zipper issues with breakage), easy set up, quality materials. Here's the bad: NO PRIVACY unless you have on the rain fly, the inverted U shaped doors were horrible. You can't partially open the door like a "D" style door to go in and out, you have to unzip the entire door, which flops to the floor (usually on the outside) so you are stepping on it, or if it is wet, it is getting wet and mudding, and you run the risk of tearing/snagging the mesh. the doors were also mesh only, no second door to zip up for privacy or warmth. Water leaked through the bottom of the floor to get the whole side of my daughters sleeping bag wet with a plastic footprint. We have camped in cold weather with other tents (twenties and teens) and the tent has never gotten below freezing in the tent. There is no insulation in this tent because of the huge amount of mesh, so we were at 22 degrees inside the tent. But the mesh is so fine, in the heat, a box fan placed outside the door did not blow any air in the tent at all, we had to put the fan in the tent. ( we normally don't have the luxury of electricity when we camp, but it was very hot in this one with out the fan inside). The front large vestibule of the fly is poorly designed. The angle is such when it is raining/wet and you try and zip the fly down,you can't reach the end with out getting wet, and I'm 5'7".The angle was also so tight that it was extremely cramped with two people in the vestibule, and the back area was very small, no gear storage there.We had really high hopes because of the Marmot quality, but this tent was nothing but frustrating and COLD! bottom line- we are returning this tent!
Does the Marmot Den 4 have a bath-tub type...
Does the Marmot Den 4 have a bath-tub type of floor? What is true color of fly? Shown elsewhere as "orange" yet your site shows light grey color.
The Den has a catenary cut taped floor, which means the seam is pulled up off the ground and is seam taped. Catenary cut taped floors are lighter than bath tub floors, give a tighter pitch and are just as waterproof. The image is now correct, pale pumpkin/nickel.