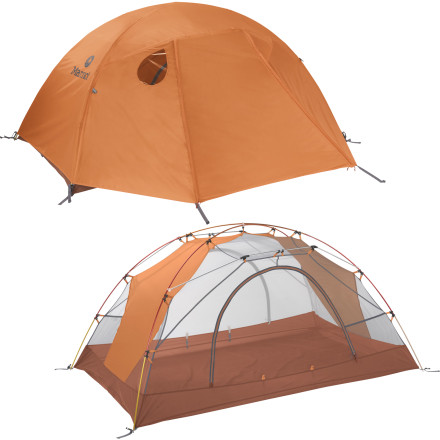 What do you think about this product?
Have questions about this product?
My tent is the party tent now!!!
I'll admit that many don't want a huge backpacking tent....but I do! If you want roomy but not this roomy then go with the 2-person, but if you're OG & want to make all those Bivy/Pup tent losers jealous then I highly recommend the Marmot Crib 3-person tent. You can easily share this tent with a buddy (one takes the poles, the other takes the tent & fly, and then a beer or coke for humping the exta weight)...I mean we had 3 dogs & 3 dudes playing cards in that thing at the top of Amethyst Basin in the Uintas....sick! :) Besides, when the mosquitoes are at their zenith it is really nice to have a roomy & tall tent...it is a pleasure my friends. All the extra weight will do is add muscles to your body & like I said, just split the thing up between your group...it's way better than having your whole group claustrophobic in their silly lil' bivy's, why not have a party in the crib? I highly recommend the footprint & gear loft also!!! :)
Hello, I noticed the Marmot web site lists...
Hello, I noticed the Marmot web site lists the floor area as 45 sq. ft. Your page lists it as 37, which one is correct? 8 sq. ft. seems fairly significant. Thanks for any information.
The correct floor area for the Crib 3 person is 45 sq. ft. The Crib 2 person floor area is 37 sq. ft.
Sorry about that. We had the specs for the 2-man. It should be fixed now. Thanks for the heads up.