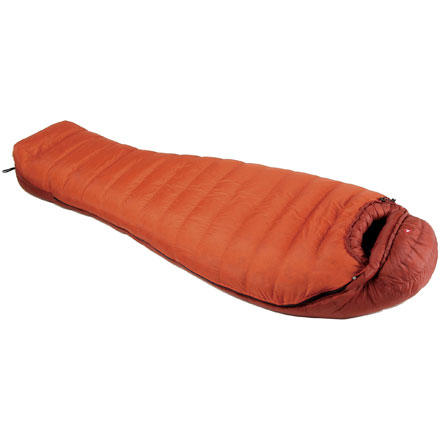 Loaded with premium, high-loft 800-fill down, the Marmot Couloir 0-Degree Down Sleeping Bag will keep you sleeping comfortably in your tent or bivy though a harsh winter storm. Thanks to a DWR-coated nylon shell, the Couloir fights off that frost and condensation that go hand in hand with winter camping and mountaineering.
Premium 800-fill goose down compresses well, rebounds nicely after repeated compression, and features a high warmth-to-weight ratio
Water-repellent, windproof, downproof nylon microfiber shell delivers lightweight performance without buckling under the pressure of alpine expeditions
Down-filled draft collar, full-length draft tube, and ground-level seams help prevent leaks and improve warmth retention
Stretch tricot baffles allow the bag to be stuffed and unstuffed without creating a tear in the baffle material
Nautilus 6 baffle hood surrounds your head with warmth; Face Muff allows you to cinch hood tight without irritating your face
Classic trapezoidal foot box gives your toes plenty of room to wiggle; heater-pocket in foot box lets you pack in some additional warmth
Stuff and storage sacks included
EN comfort-rated at 12-degrees F for winter and shoulder-season warmth; lower limit rated at -2 degrees F for occasional use in colder winter conditions
MARMOT delivers
Gender:

Male

Familiarity:

I've used it once or twice and have initial impressions
I have only used this on a few occasions and the lowest temp so far has been 11* F. I was quite warm and not the least bit afraid of taking this thing down to 0* F. It was in the upper teens one evening and I had to vent because I was too warm.
I just bought this bag and have a medium...
I just bought this bag and have a medium eVent compression sack...will it fit in this sack? Or will I need to get a large?
Best Answer
I'd probably get a large though a medium should work - I use a medium for my pinnacle which is a little smaller. Would you rather have your bag compress to be shorter but fatter (large bag), or taller and skinnier (medium)? That really depends on how you pack your pack. Additionally, are you inclined to put anything else in with it like a sleeping bag liner? Food for thought, regardless those event compression sacks are awesome!
Toasty Bag
Gender:

Male

Familiarity:

I've put it through the wringer
After using this bag for over a year, I've fallen in love. I've put at least 40 nights in this bag. I sleep really cold, and I actually use it for all my trips all season long. In spring/summer I leave it unzipped and use it as a blanket. In winter, I cinch it around my face and I sleep like a baby at night. I camp a lot here in Utah, and it has never failed me. I just got back from a trip last week where it hit -8* F temps and I was still toasty warm. This is one of those zero degree bags that's actually still toasty warm at zero. Very well built, I couldn't be happier. In fact, I like this bag so much that I bought my wife the same exact one for christmas.
nice New England winter bag
Gender:

Male

Familiarity:

I've used it several times
Just got back from a late fall trip in northern AZ southern Utah. This bag held up nicely. I slept in underwear only and I was very toasty. Each night was in the low 20's, the last night of my trip I was sleeping at about 8200 feet and it was around 10 degrees out. While I could feel that it was cold out I wasnt cold. Does that make sense? I did notice that the face opening when cinched does come undone with little effort. Not a show stopper just something to think about if you are in the elements without substantial cover.
So far so good.
Gender:

Male

Familiarity:

I've used it once or twice and have initial impressions
Just bought this bag and did a trial run in my backyard with my two boys. Slept on a ground cloth and rain fly combo, so wind was able to still get in. Temp only got down to about 33F, but with the wind it was still pretty chilly. The bag was great. Loved how light it was and was surprised at all the loft. I had to strip off my fleece bottoms because I was literally roasting. I still struggle with mummy bags because of the more confined feel, but you can't beat the design for warmth. I'm a scout master and will be using it on numerous occasions in the upcoming months. I'll check back in tell you how it performs in real cold. I'm in SE Idaho, by the way. Getting below 0 degrees Fahrenheit is the norm during the winter.
cozy
Gender:

Male

Familiarity:

I've put it through the wringer
I use this bag in the cental rockies in Colorado. I've never been cold, I simply love how fluffy it is and how my feet stay warm. I bought one for my wife and when we zip the two together it's insane how warm we are. Elk hunting in November and you've got a leg hanging out to cool down. I've pitched this bag so much to my family and friends I should get a commission!
Just got the bag yesterday and so far I am a little disappointed. Overall the bag looks great. It has high loft (except collar and draft tube) and great foot box. However, I believe I may have been given an old inventory item or returned bag. Tags are dirty with 2006 date and there is a smell to the bag that seems to be that of an old bag or a slight mildew and there was no stuff sack. I am very disappointed in the draft collar and draft tube along zipper, both of which are flat but may be due to long storage. Bag shape is semi roomy in shoulder with plenty of room in footbox, but hip space is snug in comparison to other Marmot bags (previously owned sawtooth). I will be spending a day cleaning at laundrymat with downwash. If loft in draft/collar tube does not return and if smell remains, then I will be returning.
Marmot and customer service.
So I just had to send this bag in because one of the seams came apart where the little triangle shaped piece is at the complete base of the zipper, near the foot box. This most likely never happens, and aside from that little misfortune, the bag is top shelf. Loft is great, and the large foot box is also a big plus for me for I'm a bigger dude, so I got the long, left-zip. Like always, Backcountry was great about replacing the bag within literally 3 days. I'm a big fan of Marmot's gear, and would recommend this bag for anyone in the mountains, I live in Montana so this bag is perfect for me. I team it with my old school Bibler I-Tent and I'm the driest dude in camp.
I have a question regarding the lightest...
I have a question regarding the lightest weight bag available. Must be down-filled with 10 degree temperature gearing. Thank you for any and all information anyone can supply. Does anyone have a Western Mountaineering Bag?
Best Answer
You unquestionably want the Western Mountaineering Versalite ( 10 degrees/ 2lbs in a reg). Yes, I recently bought an Alpinlite, and I'm feeling like I got every bit my money's worth. There are definitely a couple more of their bags in my future.
How is this sleeping bag when it gets wet??...
How is this sleeping bag when it gets wet?? Does it get total wrecked??
Best Answer
There is a nice DWR on the outer surface which would protect it from some moisture. However, like all down, if the down inside gets wet, you're going to be cold. It will hardly insulate you and takes a good deal of time to dry once wet. It will dry out after you get home though and shouldn't be too bad off if you dry it correctly.
I own an older Marmot Couloir Gossamer...
I own an older Marmot Couloir Gossamer 775+... Did they make this bag in a short version? If so, do you know what its length would have been... and its weight?
No, the Couloir only comes in Reg and Long lengths. Marmot does offer the woman's Pinnacle (800 fill power 15 degree bag), the woman's Helium (850 fill power 15 degree bag) and the woman's Teton (600 fill power 0 degree bag) which fit's up to 5'6".
I dont own this but my hiking buddy does. He is a cold sleeper and even at a windy low single digits he said he was plenty warm, no extra layers needed. Draft tube and collar gave him no grief.
-5 degrees? Not my problem.
I took this bag out on one beast of an inaugural run. I don't really get the name, but I got the fact that it kept me toasty warm with nothing but a waterproof cover and a thin foam pad. Just that to protect me froma thick blanket of snow and the gusty breeze atop a mountain in central Utah near the mouth of Kolob Canyon, in December of 2008. Now I know that Central Utah mountains aren't usually as cold as the Wasatch Range, but this was right after a huge snow storm rolled through and unusually cold weather (dropped to around -5 at one point). I'm not sure what our altitude was, but I think that this trip spoke volumes for the Coulair. I didn't even have a true bivy, just a rain cover to stop any melt from getting in, and I slept pretty much naked in this beast. I actually broke out into a light sweat the first night. So the next night I wore my smart wool thermals and they helped me regulate my temperature a little better and I slept pretty well. I would recommend this bag to my friends. It packed to about the size of an oversized football (cylindrically spoeaking)l, the smallest out of anyone in my group and arguably performed the best. I just hope this bag is as durable as I hope over time. I give it my seal of approval.
Excellent hood, extra-lofty, light and conservatively rated. The Couloir is a classic mountaineering bag, built to last. Down is far more durable than synthetic insulation, so you'll likely be warm in this bag for years to come. And the price isn't bad either!
How about a stuff size on this one?
How about a stuff size on this one?
Best Answer
8.5 x 18 inches
if you buy a compression bag, you can get it down to a bit smaller than a volley ball.
I have owned this bag for a little over a year. I recently used it on a Rainier climb and it performed flawlessly. It is super lightweight, has nice loft and breaths extremely well. I would recommend it for any winter outdoor activity.
Design flaws and poor customer service
I have used this bag in temps ranging from 5 degrees F to 50 degrees F (more as a blanket at that point).

Let me first say that the bag is warm and quite comfortable and if there were no design flaws or customer service issues I would highly recommend the bag.

At the very lowest temperatures I have used the bag in, it has kept me warm other than a very annoying problem with the draft tube designed to insulate against cold air coming through the zipper. This design gets an F from me because every time you move, air will come through. There is no mechanism for it to stay put, such as small tabs of velcro or a windproof flap on the outside.
Although the fabric that the bag is made of does retain down, the seams DO NOT! Initially, the amount of down lost was minute...maybe 5-10 feathers per trip, but after about two years of use and maybe 15 nights in the bag it has been losing more like 25 feathers or so through all of the seams and stitching.
Final complaint - the draft collar that you cinch around your neck has become unstitched from the rest of the bag and there is now a two inch space where down flies out of. One night with this hole and it almost looked like snow inside my tent. When I spoke to the Marmot rep about their willingness to resolve the problem, the response was to pay for shipping to them, they would sew it up and send it back. Not sure how others may feel about this but first, why did this problem happen on a $400 bag and second, why would Marmot not be willing and quite honestly anxious to take care of the problem quickly and quietly? Very disappointed in the customer service received.
This bag is amazing! I am more comfortable and get better sleep when I'm in this bag than when I'm sleeping in my bed. Really warm and has a silky-smooth liner. A lot of bags say they are 0 degree but are actually significantly colder after they are used a few times. Not with this bag. The 800+ fill is super warm and does not pack out. Another bonus is the roominess inside the bag; plenty of wiggle room. On a cold, clear night there is no need for a tent when you have this bag. The only catch is, you do not want to use this bag in wet conditions w/o a bivy or a good tent. Absolutely no complaints with this sleeping bag.
I have owned more than my share of sleeping bags in my life, and this is my favorite. The loft is great, the pack-down size and weight are good and the temperature rating is pretty good for me, and I tend to get cold at night. I love this bag.