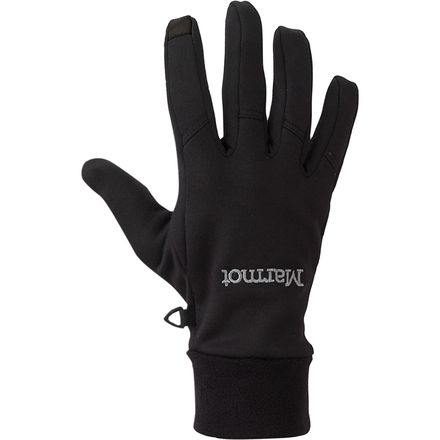 Description
Connect with nature.
The Marmot Connect Glove will provide the warmth necessary for an early-morning soccer game or a frigid drive to work in the winter. And, since this glove is touchscreen-compatible, you'll be able to take a picture of the game with your phone without sacrificing warmth.
Polyester keeps your hands warm while you drive to work on the winter mornings, and elastane adds stretch
Touchscreen and click-wheel compatible so you can make a call or pick some tunes without freezing your fingers
Reflective logo looks good and increases visibility
TPU printed palm enhances your grip
Not Marmot's best
Familiarity:

I've used it several times
I have used these gloves several times and, while they are very comfortable, and do work well with touch screen devices, they are not warm and don't block wind at all.



I realize they are supposed to be light, but I think I would just as soon wear no gloves at all and have that much more control over my touch screen device.



I don't write many negative reviews, but just couldn't get very excited about these. As some other reviews here say, it does function pretty well as a liner.



Marmot does make some of the best gloves on the market though and I would strongly recommend the Marmot Connect Stretch for a little more warmth in a touch screen glove, or the Marmot Windstopper for a great blend of warmth and wind protection.
Though it is not the warmest liner around, with the added functionality of working with your smartphone its a solid value option. It is not durable enough to use for casual wear, you would be much better off with the Connect Stretch Glove or DriClime Glove for that, but it is a great option for a liner for skiing.
Adding to the review below
Familiarity:

I've put it through the wringer
Touch screen fabric has started to diminish and doesn't really work for touch screen capability much any more.



Liners get wet and do not insulate as well as I had previously thought. I will definitely be buying new ones to replace these.



Casual wear definitely stressed for these - driving, shoveling snow, etc.



Skiing/snowboarding... not so much.
Nice liners for casual wear
Familiarity:

I've used it several times
Bought these to replace my last years liners. Measured my hand and saw I fit a medium per the size chart - did not think to go small because i have smaller fingers (length) so the silver touch screen fabric does not match up with my finger tips real well (annoying because that was a selling point for me).

I have not gotten them really wet since they have been protected by my other gloves but I do hear that they retain water and get saturated if left out in snow or rain, so beware.
Pretty Nice...Wets out
Familiarity:

I've put it through the wringer
I bought these so I could run my iPhone on shorter jaunts without having to take my gloves off to respond to an email.txt.



They work great, probably the best touch gloves I've owned. PLENTY warm. Like maybe too warm. I wore them on an 8 miler in 10 degree weather and they wetted out after the first few miles. No biggie, they were still warm, but the range for them is WAY lower than 30-40 degrees. I couldn't imagine running in these suckers in weather above 20 or so. Great product, just break them out when the fair weather winter runners are stuck inside because of the wind/snow....



Run on!


Great liner, could use a bit more warmth
Familiarity:

I've used it several times
These are really nice liners, especially with the sensor tips on the thumb, middle and index fingers. My only complaint is that they seem a bit baggy, instead of a nice tug fit, which causes them to lose a little warmth.