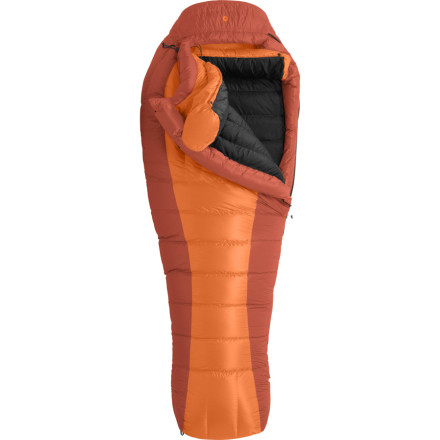 Community Images
Take shelter at base camp in the -20 Degree Down Marmot Col MemBrain Sleeping Bag when the low pressure freezes your summit plans. As the roaring whistle of the wind bangs against the tent all night, all you'll feel is the unmatched warmth of 800-fill goose down inside the Col MemBrain's waterproof breathable ripstop shell.
MemBrain 2L waterproof fabric helps shelter the down insulation from external condensation, snow, and water
MemBrain 2L fabric is also highly breathable so evaporating sweat won't condense inside the bag and cause the down insulation to clump
Premium 800-fill goose down insulation offers a superior warmth-to-weight ratio, packs down small, and rebounds well after repeated compressions
Durable nylon ripstop shell features a water-repellent finish to protect the down insulation from frost, dew, on condensation
Nine-baffle chest section secures down insulation for maximum heat retention
Down-filled draft collar and Heat Bump draft tube protect against areas where cold can creep in unexpectedly
Ground-level side seams allow the top layer of insulation to wrap fully over the body like a blanket
Easy-adjust cords mean that you won't be fumbling around at night trying to get comfortable
Roomy footbox matches the shape of your your feet, allowing more room to move around without creating a cold spot
Heater pocket in footbox let you add additional warmth as needed
Six-panel hood baffle traps in extra warmth; Face Muff shields your face from bitterly cold air and won't irritate your skin
Does this bag come with a standard marmot stuff sack?
Yes, it does come with a stuff sack but keep in mind you'll likely want to get a compression bag if you want to carry it in a backpack, as the stuff sack is quite big!
Good for Denali
Familiarity:

I've used it several times
I have used to climb Denali and I was never cold. I would take the same bag for a 8000s peak, if I get cold I just wear my clothing as well. But for normal 6000s (no Denali) I can use a smaller one, this is a good bag but doesn't pack that small.
This bag is completely occupying my duffle...
This bag is completely occupying my duffle bag, can I use a compression sac? If so what size of compression sack I need?


Yes, you can. I would definitely recommend that Sea to Summit compression sack as I use it and love it. A cheaper one could also work, though.
can you double these bags up with a left...
can you double these bags up with a left and right zipper?


Hi Jor,

I think you can, but that makes it colder than being in the bag by yourself because it makes it impossible to close the top up and keep drafts out
I have the col EQ, which is the same sleeping bag with pertex EQ fabric. I love it. I have slept in a 3-season big agnes tent in -13 degree F. weather and I was warm in merino long johns. I have a lot of faith that this bag could take me to the -20 rating, and I would be just fine. Super comfortable and huge lofting. Great sleeping bag.
I've used this about a dozen times and it is really great. Camped in lean-too's at -15 and un-heated cabins at -10 and i've been cozy while everyone else is just getting by. Love it, and love Marmot bags!
I'm not someone that's perhaps as qualified as a lot of these other reviews in reviewing and testing a -20 bag. However I did just get done camping in the Andes in winter and the bag was amazing. I get super cold at night too. Mind you, temperatures never reached anything close enough to completely test the -20 claim on the bag. It was comforting to know and feel confident that I could however. I slept in the bag every night for 6 weeks--even in warm houses. it's a great size , super comfortable (I'm 5'7- bought the regular), and could be my new prized possession.
Tim Cohn reviews the Marmot Col EQ Sleeping Bag while on a trip to Alaska.
Just gave the Col it's first bout of trials hiking Mount Marcy on the weekend. I was warm through the night camping part ways along the trail both before, and after attacking the summit.

Squeezes down not half bad for such a warm bag either.
I've had this bag 5 winters now and it has been warm but it has some major problems. I take very good care of it and store it properly but the membrain lining is just peeling off the nylon around the head and top. It is no longer waterproof. You can see the down right through the nylon. This bag is ok for a year or two but for that much money I really expected it to last a little longer. If you want a quality product buy a Western Mountaineering bag, they are very nice and around the same price. You will have no issues what so ever, plus they are US made. WM also has a really good warranty. I will never again buy a Marmot product of any kind. Friends of mine have had all sorts of problems with jackets and other gear they make. Definitely a company to avoid.
One of My Best Winter Purchases
This bag is pricey but I have never regretted it for a second. I have used it on many winter trips and it keeps me very warm and dry. I love the waterproof shell it seems to work great and gives me that extra peace of mind. If it is not extreme winter weather I just sleep in this bag with a tarp over me. If it is heavier wind/snow/cold I bring the bivy. If you winter camp this bag is a great idea.
I have camped in almost every condition with this bag and absolutely love it. The only complaint I have is that it can get too warm! A quick unzip though and life is good again. This bag is coated with Marmot's version of Gore-tex (MemBrain) and it keeps all external moisture out of the bag. I can easily pack it down into a size L Sea to Summit eVent compression dry sack. If you are wanting a bombproof bag that wont let you get cold, consider this one. It does have a steeper price tag but is worth every penny.
Marmot bags rule, this super warm and spacious bag kept me warm for two months in Alaska sleeping in a snow cave and winter camping. Its amazing how warm it is and how small it compresses.
I bought this bag 2 weeks ago and have used it on two separate trips already. I think I have the earlier model, but it looks like nothing has changed except the color. This bag is extremely toasty! I had a zero degree sythetic before this and the insulation was paper thin! On my first outing temps were about 20-25 degrees to start out the night and I was too hot! I had half my body hanging out and was only wearing a t shirt. As it cooled down I was able to put the rest of my body in the bag and by morning I was able to zip the bag up. Temps probably got down to zero degrees and I was toasty warm. On my second outing it was a little colder and I was more comfortable. Temps probably got down to -5 or so. I zipped it up all the way and was toaty warm all night in only a t shirt. This bag packs well compared to my synthetic. It takes a while to poof up so just be patient. Little to absolutely no down has leaked thus far. As long as I take good care of this bag I anticipate on using this bag for year and years! The waterproof membarane seems to work, althought I havent really tested it. Drips bead up and roll off quite well. Bottom line: great bag, spendy but will eventually pay for itself.