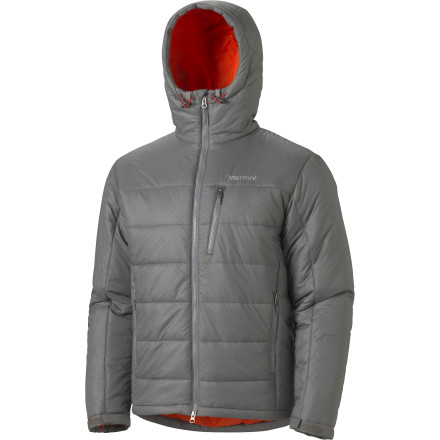 The Marmot Men's Cauldron Hooded Jacket utilizes recycled shell materials and insulation to protect you from the elements. The unique Thermal R ECO insulation is a high-loft combination of fibers that maintains your core temperature without trapping moisture. Comfort features like a DriClime lined chin to prevent chafing and zippered handwarmer pockets will be greatly appreciated when you're battling the elements. If the weather takes a turn for the worse you can take advantage of Marmot's Zippin technology and combine the Cauldron with a fleece. Angel-wing movement is incorporated into arms to provide a natural feel and allow for a full range of motion.
How many grams of primaloft does this...
How many grams of primaloft does this have?
Unanswered Question
How many grams of primaloft does this...
How many grams of primaloft does this have?
Bought the size small and it fit me well (5'7" 145lbs.). Only tight with really thick fleece under and/or zipping up the last ~3in. of zipper around the collar and hood. Holding up fine after a month of use and warm for 20 degree temps and a bit below with only thin layer under.
Where I use this Jacket.

When I snowshoe in -25C Northern Alberta winters.

Sure you sweat like hell when you carry your pack but the great thing about a synthetic is that once you get to your destination the moisture forms a frost on the exterior that can be brushed off and the jacket is magically dry!

I do however carry a severe weather down jacket that usually ends up as a pillow and to keep my contact solution warm in the tent but thats about it!

I used to be into down for high output activities but went back to synthetics like this because nothing seems to compare. If it gets wet, it dries within 30 minutes of getting the camp fire going.

How I layer this jacket:

A thin base layer followed by a whool sweater and then the jacket. Thats it! -25C night with a campfire. simple and effective!
Is this product waterproof?
Is this product waterproof?