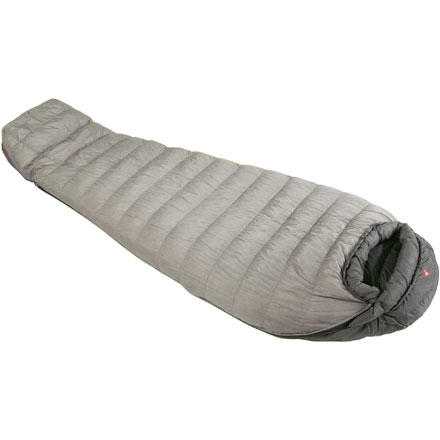 Community Images
The Marmot Arroyo 30-Degree Down Sleeping Bag employs high-quality 800+ fill goose down to trap warmth without weighing down your pack. This Marmot bag also has ground-level seams to eliminate cold spots and a forward-leaning footbox to keep your toes from getting cramped. Compressing well and weighing in under two pounds, the Arroyo is easy to pack and even easier to carry.
EN comfort-rated at 40-degrees F for chilly summer conditions; lower-limit-rated at 30-degrees F for occasional use during cold shoulder-season trips
High-quality 800-fill goose down packs down well, rebounds nicely after repeated compression, and features a high warmth-to-weight ratio
Lightweight nylon shell protects the down insulation, breathes well, and compresses nicely for easy packing
DWR finish on the fabric repels frost, dew, and condensation
Down-filled full-length draft tube protects against areas where cold can creep in unexpectedly
Nautilus 6-baffle hood wraps around your head and provides 3D protection against heat loss
Hood Muff is a warm down gasket around the face designed to keep heat in while keeping the drawcord away from your face
Stretch tricot baffles extend the life and shape of bag and improve warmth retention
Forward-leaning footbox decreases constriction at the bottom of the bag and conforms to your foot's natural shape
Ground-level seams help prevent heat from escaping upwards through seams
Nylon stuff sack and a storage bag included
Solid Perfomer
Familiarity:

I've used it several times
Comfortable, light, compressable and versatile. I've used it as a blanket in warmer weather and zipped up when cool. I'm a warm sleeper and it hasn't been too much.
First high quality down sleeping bag!
This was my first high quality down sleeping bag purchase, right here from Backcountry. I bought a Long for myself (6'/175lbs) and a Regular for my GF (5'4"). The bags weigh in at 910g (32oz) for the Long and 820g (29oz) for the Regular, in their supplied stash bags. I can fit in the regular, but I found the extra space the Long provided me very comfortable.

First use was a winter hike in the Blue Mountains in Australia, where night time temps dropped to a easy 11C/52F, but there was a bit of wind and high humidity thanks to night time fog. Cold! Once zipped up in our Arroyo's we were warm! Too warm almost. I was wearing Icebreaker merino long pants and shirt and I had to unzip the top 15" of the zipper to cool down a bit. No cold spots, just very comfy! Thank heaven for that hood on these bags, with that cold fog rolling in! The bag worked well with our sleeping pads, the Therm-a-Rest RidgeRest Solar pads, the full thickness ones. These come 6' long, but I have cut them short to 4', which is all you need for torso and upper legs. We also use the Air Pillow UL, the corn yellow ones, and we put our empty sleeping bags under our feet. (I am very much allergic to inflatable pads, since I had a few leak on me!) Downsides to this bag: the zipper gets a bit fiddly near the collar, as there is a draft tube and the collar, which is a lot of thin fabric that wants to get caught in the zipper. Overall: a highly recommended sleeping bag and pad combination!

PS: After we returned from this weekend, I weighed the bags again: 972g and 872g. They had absorbed 62g/2.2oz and 52g/1.8oz of moist! Drying your down bag is important!
Excellent choice for lightweight backpacking
This bag is super light and compresses into Marmot's XS size stuff sack. It's great for backpacking. It also performs well down to the mid 20's. The image is of the Marmot Arroyo inside a Big Agnes Fly Creek UL2

The downside of this bag is that is has a very tight and constricting fit from the waist down. A different stitching could increase the foot box by a couple inches. If you are a toss and turn sleeper or sleep on your side, this bag probably isn't the choice for you.
If i were to purchase a regular left hand...
If i were to purchase a regular left hand zip and a regular right hand zip, would i be able to zip them together to sleep with my wife?
no, the zippers stop short of the bottom of the bag.
Every representative on Marmot's website has said yes, that you can zip them together. "Any of Marmot's right-zip and left-zip bags can be zipped together."

I just pulled my arroyo out,, and if you have both zippers all the way at the bottom, and pull the bottom zipper section away from the zipper, it will come out, allowing you to zip into the other sleeping bag.
Great bag in the 800 series
First off I am a Marmot nut, but I also have many other peices from bibler, TNF, MTN hardwear, OR, BD equip. and so on.. I have many jackets, shells, gloves and bags from Marmot but thats cause they are the best for their price point. Their down is awsome and their warranty rules, others are great to but I just love Marmot. I have pinnacle bags for my wife and I and pounder bags for high summer and alipne trips. As for the Arroyo, I weighed it on my digital scale(real expensive lab scale, accurate down to a 100th of an ounce), 1lb 15.5 oz for the long RZ with the consumer tags still on. I'll cut those off and prolly loose about 1/2 an ounce or so. After much reading and thinking I went with the Arroyo over the Hydrogen for 2 reasons. Price wasn't a concern, I think the foot box on the Arroyo is better and the durability. Both have about the same weight of down. The 850 in the hydro is just a tad lighter. The real weight savings is in the foot box and they use a lighter fabric. To me the 3 oz. lighter is not worth the loss in durability and down proofness. If your active sleeper,ruff on your gear, or like to bivy in ruff areas go with the Arroyo. Sleep still and are gentle with gear go Hydrogen.

You can't got wrong with this bag for 3 season. Its roomy for a big guy, I'm 6'2" and 220lb. Durable and for me good down to 20's with some light layers on.

Love the Pinnacle to for high alt in the summer(Rainer) and low alt winter trips. Next for me are some Marmot Col's to replace my MTN harwears bags for high winter trips. The 800 series just rocks.
Just took this bag to Afghainistan as it replaced a MHW bag. This bag is super durable in the rocks, sand, and dirt in Afghanistan. This bag kept me super warm in the winter and spring months. I absolutely recommend this bag to anyone in the market for a new bag. When it dipped below freezine I just added my gortex bivvy cover and it worked. I have already decided that once my bag goes, I will be replacing it with another Arroyo bag.
Worked great in GSMNP on the AT and compresses well in the 6L Sea To Summit eVent Compression Dry Sack.
- Extremely lightweight and warm @ 30 F +
- Compresses down to about 9 inches in width (my fits in bottom of Mammut Trion Guide 45+7 pack)
- Fit of the bag is a bit on the tight side, especially in the lower 1/3 of the body
- Useful hood, but very straight forward (no bells/whistles of higher end bags)

Used five times so far. Bag is great, keep me warm on sub-40 nights. Slightly constricted feel in the lower 1/3 of my body. Personal preference, I assume, as I like to have my feet spread apart wider when I sleep.
I've found what I have been looking for in a sleeping bag. Down insulation, 30-60°F range, lightweight, and high quality, for under $300.

I had this out 2 weekends ago. The temperature was 60° when I went to bed. Had the bag unzipped and was toasty until around 3am. Temperature dropped to 37°, so I fully zipper it up, pulled the draw cords typed, and slept warm and sound until morning.

I normally get cold feet, but the insulation in the footing did outstanding. I won't be changing bags for many years to come.
So what is the weight of this bag? I see...
So what is the weight of this bag? I see it listed at 1lb 11oz on their site (http://marmot.com/products/arroyo) and others, and as of a few minutes ago it was still listed as that on this site, then as I'm comparing it to other bags suddenly I see it listed as 2lb 1 oz. I happened to have it open in its tab, which still listed it as 1lb 11oz, but when i refreshed that it is suddenly 2lb 1oz.
Best Answer
From the online info I can find it is listed as 1 pound and 11 ounces for the regular size. I think the spec at this site is wrong. I have a Marmot catalog and it is listed as 1 lb and 11 ounces.
Yep, 1lb 11oz in the regular, and the long is 1lb 15oz. Slight variations from bag-bag, but those are Marmot's stated weights. Go with that.
Just weighed the bag and my compression sack. It is indeed 1.11
I got the Arroyo for Christmas and the tag read 2 lb 5 oz/ 1043g for the long. Just weighed it and it was 2 lb 0.1 oz with the sack.
Heads Up! Reg Bag Weighs 2lb 1oz!
Heads up! I bought this bag and upon arrival the tag on the bag reads 2lb 1oz for the weight. I just got off the phone with Marmot and even though their website also says 1lb 11oz for the weight the marmot girl confirmed that the actual weight is 2lb 1oz and they are going to correct it on the website. 6oz difference! Bummer....
I recently purchased and used this bag for the entirety of my AT thru-hike. I had it with me every day, from April to September, and I'm very happy I did. Some people prefer to have two bags, or one cooler bag and a liner, but I just had the one, and it worked great. If you're a warm sleeper, this is all you'll need. It might get a bit hot on those warmer summer nights, but just unzip it all the way and bam! -- you've got a blanket or something soft to lay on. All in all it's a great bag, and one I plan on taking with me on many more adventures. The warranty doesn't lie.
My old bag was a Feathered Friends super light weight (for its day) 30 deg. bag with 3/4 length zipper. I hiked most of the AT with it and it is still a great bag. I just outgrew it (getting fatter with age). I also never liked the 3/4 length zipper. While really warm it just didn't allow for good venting and I have always wished that I'd carried the extra ounce and had a full-length zipper.The only reason I bought the Marmot was because I am needing a larger bag. The FF bag works great for the kids so it has been passed on and getting used (love down bags...last forever). I have to give Marmot credit. This bag is an improvement in every way. First off.... it is EXACTLY 1lb. 11oz. down to the 1/10th of an ounce on my postal scale. Second.... it has the extra gerth I needed with my broad chest. Third... the zipper is excellent both in terms of being snag-proof and full-length. The hood is very easy to open/close from within the bag.The Hydrogen is the next step-up in the line and it saves a little weight but be aware that it also is a little tighter fit. The weight difference is 3oz. and the price $60 or so more. For my size body... the Arroyo was the better bag.In terms of the temp rating, I'd ignore people who post subjective reviews on the warmth. There are too many variables that go into how warm you sleep. The EN ratings are what are meaningful and kudos to Marmot to sticking to an industry standard.

Oh....backcountry.com was absolutely top-rate in terms of customer service. Great company to deal with and I'll be back for more goodies as I need them.
11/12 liter stuff sack works great with this bag
Great Product. I used it in 50 degree weather. and i was burning up in it. This is still great it hasnt been cold enough to try the 30 degree weather. Ive had to drape it over me like a blanket or sleep on top of it. I also got a different stuff sack because you can compress it down to about 2/3rds the size of what the bag they give you. Great product overall glad i bought it. Very soft.
I'm 5'11" and I like to sprawl out and...
I'm 5'11" and I like to sprawl out and move around a little, I don't care for the feeling of being confined. If I ordered the large would that be ok? or should I stick to a regular? I know I could go larger, but would I feel colder?
Best Answer
At 5'11" you're right on the line between the regular & long size. My belief has always been that it's better to have slightly more sleeping bag than not enough. You don't want sleep cramped if you don't have to & you can always adjust by layering if you're feeling colder.
I'm 6'0" and have owned multiple different brands of sleeping bags and always gone with the regular size. I've always felt regular is a perfect fit for me.
I just bought the Arroyo in a regular but haven't tried it out yet. I will update once I do.
Have the arroyo. Had the same thoughts.I'm 5'11 1/2. Went with reg. If this was. My winter bag I'd go with a long for reasons of storing extras in my bag. It's perfect for my length summer. Also side sleeper.


















I've used this bag twice and both times I was disappointed. Both times the temps got down to mid to high 30's but I was not warm and tosty like my other 2 Marmot bags. I don't know exactly what the problem was, but I was disappointed in it's performance. I own a lot of Marmot products and this is the 1st time their bag has not kept me warm, I have a Marmot Atom 40* bag that I can take down to the low 30's and be warmer in it than in the Arroyo. I'm only keeping it because I got a killer deal and I'll end up using it for an extra summer bag for my friends.
Would this bag be ideal for environments...
Would this bag be ideal for environments like..

north west - summer or 3 season
north east - summer or 3 season
app trail - summer or 3 season

Thanks
Best Answer
The DWR coated shell should keep you relatively dry, which would be my main concern in the humid & wet areas where you plan on mostly using it. Make sure you have good layering undergarments for the colder spring & fall temperatures.