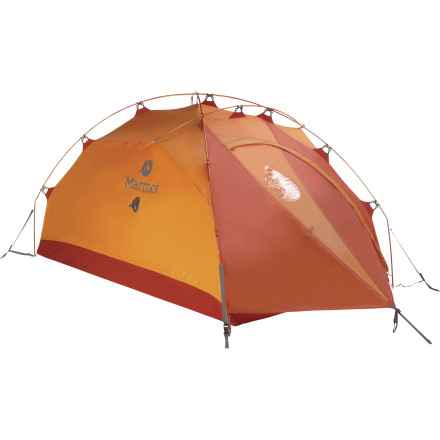 Community Images
The Marmot Alpinist 2-Person 4-Season Single-Wall Tent deploys burly MemBrain Assault 3L canopy fabric to deliver the protection of a double-wall tent without the weight. Although this single-wall shelter has a trail weight of below five pounds, its three-pole design holds tough against mountain storms, and its steep walls shed snow and rain like a champ while also increasing the living space inside.
Freestanding single-wall design saves weight by eliminating the need for separated canopy and fly; ideal for four-season climbing, alpine trekking, and mountaineering applications
Marmot's proprietary waterproof breathable MemBrain 3L canopy fabric protects you and your gear from the elements while also preventing condensation from building up
DAC aluminum poles save weight without sacrificing durability or strength and feature color-coded clips so that they are easy to assemble day or night
Poles made with DAC's Green Anodizing process, which reduces the need for hazardous chemicals and recycles water throughout the rinsing process
Knees configuration provides taut, near-vertical side walls to increase usable living area and prevent unwanted contact with the fly
Built-in vestibule houses your pack and boots and is retractable for extra ventilation during periods of calm weather
Air flow ceiling vents and adjustable air flow ventilator help prevent moisture buildup
Footprint sold separately
Its works for a rainy day?
Its works for a rainy day?
The Marmot Alpinist tent is another tent like the BD Fitzroy that has a waterproof/breathable membrane. Thanks to their Membrane3L fabric you will keep dry from outside moisture while interior condensation is allowed to escape.



Note the product specs above:

"Marmot's proprietary waterproof breathable MemBrain 3L canopy fabric protects you and your gear from the elements while also preventing condensation from building up."


Thorough video review of the tent.
Standing tall in the St-Elias
If you want a burly tent, small and cosy for two. this one was perfect for us. Behind the tent stands Canada's second highest mountain, Mt-Lucania.
Just got back from climbing in the Delta Range in Alaska and loved this tent. It was easy to set up in windy conditions and in rain. With the exterior poles and single wall construction, the tent goes up while the insides stay dry. Super strong in winds of 30-40 mph. The inside of the tent stayed warm and no condensation even with out the use of the top vents or door vent. I had them open but there was too much air getting in, but nice to know they work. Plenty of room for two plus gear. Vestibule is not much to speak of, just big enough to get shoes on and off with out tracking in snow. Window on the front was easy enough to see out of to check conditions. I set the tent up right on the snow without a ground cloth and still no seepage or moisture through the floor.

The only thing you have to be aware of is the door/vestibule entrance, when it is raining and you are getting in or out, water/snow goes right in the door if you're not quick to zip up. But it is better than some of the MH or BD tents that don't have a vestibule.

Over all, great tent.
Way Up Avalanche Canyon, Grand Teton National Park

Photo Copyright: Stephen Koch 2011
I was a bit daunted by having to carry a 5 1/2 lb. tent on any trip in the Sierra, but when a strong storm came on and the wind roared, I was certainly glad to be inside this bomber tent. It's definitely a bit tight on space, but I'm 6'5" and my wife is 5'11" and we spent 24 hours stuck in there with no real problems. Super-sturdy design and construction and the seams come sealed, which saves you the unpleasant and toxic task of sealing your own seams. I'd be curious to try the BD Eldorado, as it's a pound lighter, but it's even smaller inside.
Marmot Alpinist is not exactly the warmest tent to sleep in, yet a good sleeping bag can easily take care of this problem. Also, the vestibule is small and generally not very useful, and a second vestibule would have been a welcomed addition but also would have added on extra unwanted weight.
On the other hand, the Alpinist tent is very easy to set up, even by one person, and has no problems staying up even in strong winds. The Alpinist Tent has both its advantages and disadvantages. I still recommend the Marmot Alpinist tent for its sturdiness, ultra light weight and easiness to set up.
Waste of 500 dollars - Alpinist 2P Tent
I bought this "expedition tent" to keep us warm and dry. It failed on both those requirements. It was quick & easy to set up under wet conditions. Last month in June, I went camping on the Temperance river in the North Shore, Minnesota. The tent sides got everything wet even after using waterproof ground sheet as the sides at the bottom leaks.

We were freezing all night even with Thermarest mats and down bags. We finally slept after first sunlight as we had stayed awake all night.

No more Marmot tents for me! I am really surprised at the poor quality of this tent after spending 500 dollars and I trusted the market name of Marmot.
Strong, pretty light, what's not to like?
This tent has proved incredibly durable -- high winds, rough ground, careless climbing partners, and it still looks and works like it did when I bought it. But the best thing is that it's simple -- minutes to set up and guy out and a design that is intuitive and just plain works.

Cons -- not the raddest basecamp tent; it's kinda tight (definitely not for you 6'5" peeps), and the vestibule is functional but not giant. But hey, I'll trade that for the light weight any day!
Thinking about investing in a light four...
Thinking about investing in a light four season tent like the Alpinist and using it as a year round shelter. I have never used a four season before and I am wondering if the tent will too much during the summer? Would anyone recommend another make or model?
check out something that is convertable. That way when you need a 4 season tent you have one and in the summer you can leave part of the tent at home and have a lighter stll useable tent.
Jordan, took it beach camping at the end of August... once the sun came up, it was sweltering, but you can avoid that by venting the tent. Good luck if it rains though!
Hey, how does this tent fair with condensation?...
Hey, how does this tent fair with condensation? And also, is the ventilation good enough for summer camping?
I have the previous generation of this tent. Ventilation is ok in the winter/spring, but I normally leave the main door partially open to let air in from the vestibule. The vents in the top are small and there is only a door at one end. I think it would be extremely hot in the summer.
Best Answer
I have just started to use this tend at the end of the summer. It has sufficient ventilation for when air moves around the tent. However, it is a mountaineering slash winter conditions tent so ventilation is not as high a priority as its winter weather and fast pitch features. It does vent better than the Mt. Hardware EV2 Direct or equiv. single wall tents that do not heave a mesh door (ie Exped 4s/2p does but its very pricing with two vent windows and a vestibule). on the Alpinist the vestibule is really good enough to allow larger air flow to the inside mesh door, without it being affected by outside rain/snow/wind. This is why the Marmon Alpinist is so good. The ventibule does not provide any real gear space but rather allows the mesh door to be kept open and air to flow from below.
This tent panels are the same 3ply laminate breathable material as the EV2, but with better air flow.
where can i find a footprint for this...
where can i find a footprint for this tent?
Best Answer
Much to the disappointment of Marmot... I would build your own. It's cheaper and lighter. Take 5mm plastic available at any hardware store and cut it to fit your tent exactly. Then add packaging tape reinforcements to the edges (you can get super fancy and add tie out points using p-cord and packaging tape). In general, I've found these homemade jobs to be more waterproof, cheaper, and lighter than the 'officials'. Also, the provide plenty of protection. I've used this system with a sil-nylon tent, think crepe paper, for 5 years and the tent's floor is still without damage. Also, if you do happen to tear the "footprint"... well, it will cost you about $0.17 to build a new one. Light, functional, durable, cheap...
Footprint for Marmot Aura fits perfect..
How well does this tent work in the summer...
How well does this tent work in the summer in the mounains?
It will be very hot and get a lot of condensation.
My wife and I just tried it out for some camping including a November climb of Mt. Whitney. Lightweight and easy to set up, but also strong through a howling gale on Whitney. It's rather cozy for 2 people but does work if you like each other. Vestibule is small but enough room to cook in during a storm. No condensation problems noted.
My old one has exterior sleeves rather than clips for the poles. The new clip style is better. The tent has two long poles that cris-cross, and a short third pole that stablizes the front between the two long poles near the top. It's easy to set up, sturdy, and has kept me dry in a heavy rain storm. 52 inches wide, 84 inches long, 2 people are possible, but only 1 door. Weighs 5-1/2 lbs, it's a light 2 person 4 season tent. Great for winter backpacking.