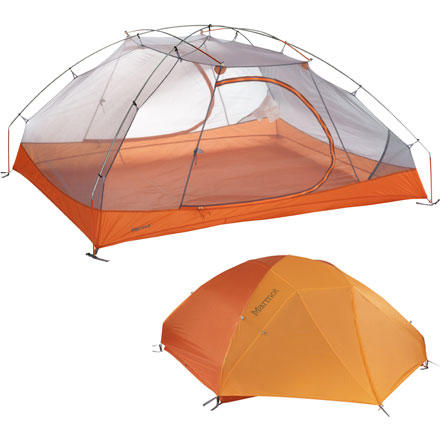 Community Images
With mesh walls that start right above the floor line, the Marmot Aeros 3-Person 3-Season Tent helps you stay cool on the summer's hottest days. Dual doors provide easy access for you and your two camping partners, and the twin vestibules let you store your packs and boots out of the rain. Marmot used dual-diameter DAC NSL poles to reduce the Aeros Tent's weight and still make it strong enough to withstand nasty storms. You can also use the fly in conjunction with the footprint (available separately) to create an ultralight shelter for trips where you want to shave every possible ounce.
I would like to buy the footprint for this tent but I can't find any website selling it, not even Marmot website. Anyone knows how to buy the footprint for this tent?
My recommendation would be to call Marmot's CS dept ((888) 357-3262). See if they can hook you up.
Great tent! I've had it for about 2 years now and have zero complaints. Very light-weight tent, great for backpacking and car camping.
This is a nice tent for sure. It's a pretty light 3 person tent. I really like how Marmot engineered the poles to give alittle more room along the base of the tent.
My wife and I couldn't be happier. Every time we're setting up our Marmot Aeros 3 we can't help but comment how much we love this tent. It's light weight but doesn't feel weak. The vertical walls make a HUGE difference especially when the alternative is having a tent wall against your forehead. The instructions are printed on a tag that's attached to the bag. They're well written and easy to follow. The mesh is great for starry nights. If it starts to rain or you want a little more privacy attaching the fly is simple and lighting quick. The built-in corner pockets are one of many touches to show that Marmot cares about design and the user. As for those that had trouble in windy conditions I recommend learning how to use the included stakes and guy lines. Doing so every time will not only ensure you're prepared but it will also utilize your tent's designed and tested ability to withstand the elements. The Marmot Aeros 3 is an excellent backpacking tent and a purchase that you'll feel good about for years to come.
, ☃bcs_badge_alumni_label☃
Meditation...
This tent is HUGE and the pole/fly/footprint setup was a great quick emergency shelter. Love this tent. I did notice that the wind bothered it a little, but not any more than would be expected.
Let Curly show you why Marmot Aeros 3 person tent is so superior to others of its kind.
a bit small! and somewhat flimsy.
took this down to the beach one time over by the bay area...it was small with me( 6'2 170lbs )..and 2 guys smaller than me and like 1 pack...we had to store the rest of the gear in the car...i was propped up against the edge of the tent and i FROZE my but off.. in the summer!! the rain was getting in, and there were some medium to strong gusts of wind that were just picking this tent up even with the stakes in. when we came back to camp we found it flipped over a few times. the construction of the tent is kindy funky and although it may look cool, dont expect it to stand up against the wind. mountain hardwear has excellent alternatives for windy environments. this is better used in the woods.
i used this with my family in Canada's early summer- VERY breezy. I would say its more of a pure summer tent, but you can make it a three season tent depending on how warm your sleeping bags are.

it was an easy set up, but it was a little tight with three adults
Easy to set up. Zippers never get caught, and don't make any noise. Vestibule rolls up nicely and looks like a high-tech curtain. We were camping on the Olympic coast and used one vestibule for almost all of our stuff (the rest fit comfortably inside) and we left the other vestibule rolled up the entire time. Even when it rained we didn't get wet because there is enough coverage (from normal rain) even with the vestibule rolled up. We only had two in this tent, but three would fit easily if you used both vestibules at night. On their site they "suggest" that four might be possible. Maybe if they were midgets, but plenty of room for three. Comes with an uncut guyline and plenty of stakes as well as an aluminum slide-over for a broken pole, and swatches of replacement fabric. You will probably need to get a compression sack though, because the one they send you is too big.
Aeros 3P Used For Moto Camping
I use the Aeros 3P for moto camping off my motorcycle, so while my needs are the same as a backpacker or hiker, my priorities are a a bit different. Set up is quick and straight forward; wonderfully simple. Ventilation is excellent!! Pack size is only Ok. The folded pole lengths are 20 to 21 inches, tent and rain fly can be folded to not exceed that. That length is too long to fit inside my panniers, instead, it goes into a water proof Granite Gear roll top bag (large) to be strapped onto the tail. Pack weight isn't that big of a deal for me. The USABLE interior floor space is HUGE!!! That is a MAJOR plus if I'm unloading the bike into the tent and staying for few days, or laying out wet gear to dry (goes back to excellent ventilation) Interior height is also HUGE!! MUCH room to move around in, even with a gear loft. Near vertical sidewalls add to usable interior space. Not to knock a proper foot print, but a 6x8 tarp works just as well for this tent, but probably adds weight and pack bulk. Excellent tent.... I HIGHLY recomend for moto camping.
How does this tent handle strong winds? ...
How does this tent handle strong winds? Does anybody have any experience with this tent in strong wind?
not good. i took it to the bay area one time with some friends and we were in the open by the beach. we had medium to high wind gusts and it's like a tattered flag. i feel that the construction isn't built for high wind gusts. mountain hardwear has some great tents for strong winds. and north face also has some excellent alternatives. there's some issues. more for in the woods.
Best Answer
In my personal experience it has worked really well in higher wind just as long as you stake the tent out right. I have camped with mine in the desert for 7 plus days with no problems. Just make sure you properly stake the tent.
This tent is lightweight, but huge. Plenty of room for two people, two dogs, and the associated gear. I haven't tried three people, but I imagine that if you leave the dogs at home, it wouldn't be a problem. Even by myself, I can get this tent from the back of the car to fully set up in 5 minutes or less.

I can sit anywhere in the tent. I'm not tall by any means, but I can't usually do this in 2 or 3 man tents. This is great for using the tent as a gathering place during crappy weather. No longer will a lack of sunshine ruin my weekends!
My favorite tent so far...
This is the best tent i have owned to date. It will fit 3 people but i have only had two in it so far. It is really lite for it's size and have tons of room. The vestibules are very roomy as well. my wife took this camping with some friends of hers and managed to fit a queen size blow up mattress inside it...not my style but it did work just in case you feel like carrying an extra 25 lbs while backpacking.
The tent is light and a very quick set up. It is easy enough that my kids (all under 12)can help or set it up on their own. It fits 3 kids and one adult comfortably. It works great to have 3 people carry part of the tent (tent body, rain fly, and poles) each around 2lbs or less.
I recently bought this tent and in the...
I recently bought this tent and in the package is a short round cylinder. What is the cylinder for?
That is the coolest thing, it is a pole fixer while out in the backcountry. Make sure to take it out with you. There might be some instructions on it, but say a pole bends or snaps; you can slap that around the break and still ahve a functional tent while hiking etc.
For 6 lbs this is a killer tent. I bought it instead of the Mutha Hubba and love it. It's bigger, lighter and doesn't have the pole hubs I occasionally hear about breaking.

HUGE for 2 people and gets 3 in comfortably. The bent poles really open up the inside and it goes up very easily. The orange is great for stumbling around at night and the mesh top lets you watch the sunset and see the stars away from the flies.

We haven't had any problems with condensation or under heavy rain.

I've read posts where people complain about the doors being too small, I'm 6'3 and get in and out without any problem. Bought the footprint as well, the fly buckles to the tent base or the footprint, it's a breeze to snap on and pull snug.

5 gear hangars too, thanks Marmot.
Vertical poles provide more space
This tent is light but a little heavier than some other 3 person tents. It has some great features though. The poles start out vertical at the base which give you more room. It has two doors which is nice and tons of mesh that allow a breeze to cool you on hot summer nights.
Aside from head room, floor space, and...
Aside from head room, floor space, and weight, how does this tent compare with MSR's Mutha Hubba? Which gets you more bang for your buck?
Best Answer
for me the choice was simple. the aeros is 90 inches long and the mutha hubba is only 84 inches long. i'm 6foot4 and that extra six inches really helps... otherwise its pretty close to a coin flip. depends on which one you can get for cheaper...
Here is the bottom line:

I now own and have used both the Mutha Hubba and the Aeros 3P. They are both great tents each with its own pros and cons.

The Aeros 3P is the roomier of the two and definitely good for three people. Its set up, however, especially attaching the rain fly, is more complex, complicated, and time consuming.

The Mutha Hubba is a snap to set up, especially in a storm, bomb proof in high winds, but more of a deluxe two-person tent.

Bruce Gilman