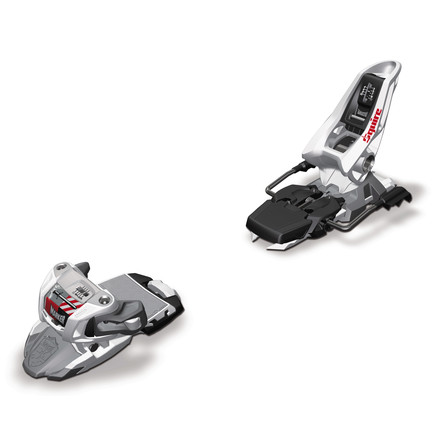 Description
It's named the Squire, but it will make you king of the mountain.
You like it in the bumps, you're fond of steep faces, you adore the trees, you enjoy the park every once in a while, and you love the powder—repeat: you love the powder. The versatile Marker Squire Binding is a hard-driving, lightweight thing of beauty that offers powerful and smooth energy transmission from your boot to your ski no matter what kind of terrain you've chosen for this particular run.
A Triple Pivot Light toe keeps the weight down but holds on with tenacity, just like the beefier Marker models in the Royal Family. The Squire's gliding AFD (anti-friction device) allows for safety and precision that is unhindered by dirt, snow, and ice buildup, while the Hollow Linkage Reel two-piece TwinCam heel allows for smooth, easy entry, even in snowy conditions. With a mid-range DIN of 3 to 11, the Squire is the crowd-pleaser of the Royal Family.
3-11 DIN range
Stainless steel AFD gliding plate
Triple Pivot Light toe system
Hollow Linkage Heel
Hello! Please help!
I'm getting Kenja skies 170 with 90 waist . Should I get 90 or 110 breaks on these bindings ? I am 5.6 tall 120lb
Thank you
Hey Anastasia,



I would recommend you go with the 90 mm brake size for your new Volkl Kenja Skis. Feel free to contact me directly with any more questions about skis or bindings.



Kyle

Expert Gearhead

klivingston@backcountry.com

801-736-4337
Hey! I've got a pair of Surface Daily skis with a tip/waist/tail of 133/100/122. I'm an advanced all mountain and backcountry skier, so I feel like these bindings would suit me well. However, the brake widths are either 10mm to small or to large for my ski as the waist is 100mm. I'm wondering which way is best (obviously the 90mm wouldn't fit, but maybe there is a tip or trick?), or should I consider a different binding? Thanks!
Lauren

There are a couple of different ways to get your bindings to work for your skis. First, this is the way that I recommend, is to replace the brake completely. Most ski shops that mount your skis do have replacement brakes that they would be willing to switch out to ensure that your skis have the proper devices for stopping them.

Second, this is a last resort, is you can bend the brakes to make them fit your skis. This is a little risky as you can brake the brakes during the process and they will stick out when you are skiing, and could possibly catch on the snow.

Either way can and will work with those skis and this binding and the skis that you have.
would the marker squire work with my 87 dynastar cham

Yes they would! Go for the 90mm brake width.
For the Blizzard Regulator (179), could the 90mm be bent out or would I be better off going with the 110mm?
Definitely! Its actually the best way to do it. I would rather bend the brakes a few mm to make them fit perfect as opposed to having the 110mm which would hang over the side. With that amount of brake hanging over the side when you put the ski on edge, especially a high edge, you will dock the brake and it will throw you hard.



If you have anymore questions feel free to send me an email or call!



Bill Porreca

bporreca@backcountry.com

801-736-6398
Unanswered Question
would these be a good freestyle binding?
Unanswered Question
Can I mount these up to a ski with Griffons without drilling new holes?
I am 105lbs with Vokl Kenja 149cm, I'm looking for bindings for these skis. which binding would be best--Marker Squire or Atomic Z12?
Hey!



These bindings would be a bit better for you. Contact me if you have any other questions or would like to place an order!



Ben

brabinowitz@backcountry.com

801-746-7564
I'm looking at the Blizzard Latigo 163 with at 78mm waist. I'm a 50-yr old advanced all mountain skier (likes the trees, avoid the bumps and only goes into powder when it good) - so mostly groomed frontside. Are these bindings a good fit? Will Backcountry mount them for me?
Hey Hea,



The Marker Squire?s would be just fine, however I would worry that the 85mm brake width is a little wider for a 78mm underfoot ski. I?d also look at the Salomon z12 bindings with an 80mm brake as well as the Marker Free Ten with an 85mm brake. If you have any questions feel free to shoot me an email or give me a call.



Ben



1-800-409-4502 ext. 4767

brabinowitz@backcountry.com
Unanswered Question
I have the faction prodigy skis with 98mm waist. Will the 90mm brakes fit or will the 110mm brakes be better?
I just purchased the g3 empire 115 ski it has a 115 mm waist. I was wondering if this would fit if I purchased the 110 mm binding. Thanks
Yeah they should work fine! That brake should bend enough to accommodate that 115mm waist.
Would these work with alpine touring boots? I recently bought a pair of Scarpa Gea RS because I find them more lightweight/comfier than regular ski boots.
Best Answer
No! These are only compatible with alpine soles! The only non-AT binding that would work with those would be the Marker Lord SP.
Another Backcountry gear rep thought that they could work with AT boots. Just bought the Scarpa Geo 1.0 due to my adjustable Marker Squire bindings. Can you elaborate on why they can't be adjusted?
I was wondering if these bindings are adjustable with different sizes of boots.
Hey Isaac,

You'll have them mounted in a position that is specific to your boot size - the heel piece is adjustable to accommodate slight size differences, like if you buy a new pair of boots but the sole length is different. For more drastic size differences, you would need to remount the binding. These are NOT made like rental bindings to accommodate a wide variety of sizes without redrilling.

Let me know if you have any other questions! LFeasler@backcountry.com
Yes they are, good rule of thumb is they will usually go up or down one boot size depending how they were mounted.