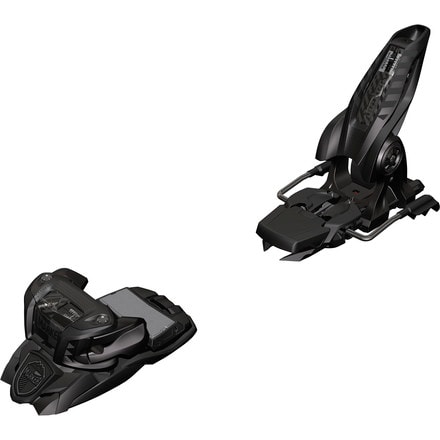 Description
Ski the Jester without looking like a fool.
Click into the Marker Jester Ski Binding, and drop onto that steeper-than-snot face without worrying about pre-releasing. As its go-to Royal Family binding, Marker designed the Jester for performance-minded freeskiers. An Inter Pivot Heel offers superior holding power in all types of freeskiing, focusing energy in the direction of the boot sole and delivering a smooth transition of power from boot to ski.
Marker gave the Jester its Triple Pivot Light Toe which features a horizontally oriented spring and a compact design, maximizing power while cutting down on added weight. Magnesium parts further cut down on weight while maintaining high strength while a stainless steel AFD Gliding Plate allows for safety and precision unhindered by snow, ice, or dirt. The Jester handles your biggest cliff hucks and tabletops, and its wide but short design takes up less of your ski's length, which means your ski flexes naturally as you spin off the lip of the pipe or rip a huge power turn.
6-16 DIN range
Magnesium parts
Stainless steel AFD gliding plate
Triple Pivot Elite toe
Inter Pivot heel
Share your thoughts
What do you think of the
Marker
Jester Ski Binding
? Share a...
I have some Griffons on my current skis and have been very pleased with them. I'm about to get new skis and wondering if i should upgrade to Jesters. aside from a little more strength, higher DIN range and looking cool in the lift line is there any advantage for going for the Jesters?
My current DIN is set to 8 so are the Griffons better anyway?

Best Answer
Responded on
The Jester really is just a beefed up version of the Griffon. That higher DIN range is beneficial for skiing park, hucking cliffs, etc... basically situations that put more stress on your bindings. Those kinds of skiers would utilize that higher DIN range so their skis don't release as easily.
You are kind of high middle on those Griffons at an 8, so if you're releasing easier than you think you should be, you've still got some room to crank those down before you would need to bump up to a higher DIN range. Based on just this little information, I'd say stick with the Griffon! It's an awesome, solid all-mountain binding that sounds like it's working for you!
Responded on
Thanks for the input. I'm also interested in the Look Pivot, are there any pros and cons between the 2 brands or is it just personal preference?