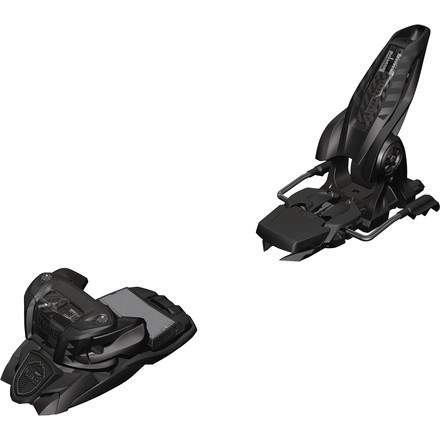 Description
Ski the Jester without looking like a fool.
Click into the Marker Jester Ski Binding, and drop onto that steeper-than-snot face without worrying about pre-releasing. As its go-to Royal Family binding, Marker designed the Jester for performance-minded freeskiers. An Inter Pivot Heel offers superior holding power in all types of freeskiing, focusing energy in the direction of the boot sole and delivering a smooth transition of power from boot to ski.
Marker gave the Jester its Triple Pivot Light Toe which features a horizontally oriented spring and a compact design, maximizing power while cutting down on added weight. Magnesium parts further cut down on weight while maintaining high strength while a stainless steel AFD Gliding Plate allows for safety and precision unhindered by snow, ice, or dirt. The Jester handles your biggest cliff hucks and tabletops, and its wide but short design takes up less of your ski's length, which means your ski flexes naturally as you spin off the lip of the pipe or rip a huge power turn.
6-16 DIN range
Magnesium parts
Stainless steel AFD gliding plate
Triple Pivot Elite toe
Inter Pivot heel
Hi, bought a pair of these a few months ago and used them for a season down here in NZ. After around 40 days on the bindings I'm getting quite a bit of sideways wobble where the heel of the binding connects to the rail. Basically the entire heel wobbles because it isn't 100% tight on the rail anymore, and this is on both bindings. The movement isn't there once my boot is in the binding, so I was wondering if this was normal or something I need to worry about. Gonna be coming over for the US season soon so I want to get this sorted before I do. Any help would be much appreciated, Cheers.
Tom



Sounds like we/Marker should get you a new set of heels or new heel base plates. Take them back to where you bought them or a Marker certified retailer when you get over here for further inspection.
Thinking of putting these on the new faction 2.0 which is 102 waist . what brake width would be best
Hey Peter,



You would want the 110 mm brake size in the Jesters for your Faction 2.0 skis. Feel free to contact me directly with any more questions about these or other ski bindings.



Kyle

Expert Gearhead

klivingston@backcountry.com

801-736-4337
What brake width would work best with the Volkl Shiro which have a width of 119? Could I get away with the 110 by bending the brakes outward a bit? If the 136 is the size that's needed, will the brakes interfere with my riding when the bindings are engaged?
Hey Justin,



I'd go with the 110's and bend them out just like you were saying. The 136's will be too wide on those Shiros.



Ben
Justin



The brake will fit the Shiro. Typically we/Marker suggests +/- 7mm for our brake widths but it'll get 9mm for the Shiro
Unanswered Question
I have set of Blizzard Kabookie skis with a 98mm waist, will the 110mm break be too big? And if not, does anyone know any bindings similar to these and the griffons that have a break between 90mm and 110mm that would work well?

Thanks!
Trying to find the best binding for all mountain skiing, with most of my time spent on piste, but wanting to venture more and more into the powder off piste. Advanced, not expert, 6'0", 185. Heard good things about the Marker Jester, but some websites (including Marker's) say it's more of a freeride/freestyle binding; others say it's great for all mountain. Any thoughts?
Hey Don,



To be completely honest, the freeride vs all-mountain vs freestyle is mostly marketing. The Marker Jesters would be a great binding for you and will work great on and off piste.



Feel free to contact me directly if you have any other questions!



Ben

brabinowitz@backcountry.com

801-746-7564
dont worry about the plastic
Familiarity:

I've put it through the wringer
have had these on my mantras for a few years now. light yet burly. i know some people are anti-plastic but for the majority of piste skiers these will work great. if you are a true backcountry avalanche dodging skier, you may want something beefier. but for most skiers these will work great. 108mm on the 98mm wide mantras are a good fit
New Favorite
Familiarity:

I've put it through the wringer
I used to be a die-hard FKS/Pivot guy, but after some struggles with those I thought I'd branch out. I first tried some jesters a couple years ago on pow skis, and by this season I'm fully converted for park and pow. They're super reliable, reasonably light considering their DIN, and have (in my opinion) the most reliable/durable brake system of all the popular alpine bindings out there.



I think these are a no-brainer for pretty much any alpine ski. If you don't need the high din, then you can save some money and go with the griffin. If 16 wont cut it, you can step it up to the beefy jester pro. All three are great. The other high end bindings definitely still have their place, but these are my choice hands down for all around resort use.



Oh... and they made them badass looking this year with in impressively black color scheme. Nice cherry on top.
Bad luck... maybe?
Familiarity:

I've used it once or twice and have initial impressions
A few hours into my FIRST day riding with the 2014 jesters and my brakes bent. All I did was turn and started skiing switch... a fairly common gesture that these bindings should have held up on. I'm extremely disappointed. Not sure how to go about getting them fixed or if I should just do it myself but I wouldn't suggest these to anybody because this shouldn't be a common issue with bindings this expensive. If they can't hold up with simple ground maneuvers I can't imagine how they'd do if you take them to the park...
is the drill pattern on the Marker Jester the same as the Tour F12? Or would I need to redrill? Thanks Grant
Hey Grant,

The hole pattern is not exactly the same. The Squire/Schizo/Griffon/Jester use one jig and the Tour/Duke/Baron require a different one. You might be able to re-use a few holes depending on mount position and boot size... Also would depend on model year (EPF or previous year). I swapped Griffons for Barons and ended up re-drilling a few holes slightly forward of boot center. Hit me up if you have any more questions! LFeasler@backcountry.com
I have some Griffons on my current skis and have been very pleased with them. I'm about to get new skis and wondering if i should upgrade to Jesters. aside from a little more strength, higher DIN range and looking cool in the lift line is there any advantage for going for the Jesters?

My current DIN is set to 8 so are the Griffons better anyway?


Best Answer
The Jester really is just a beefed up version of the Griffon. That higher DIN range is beneficial for skiing park, hucking cliffs, etc... basically situations that put more stress on your bindings. Those kinds of skiers would utilize that higher DIN range so their skis don't release as easily.

You are kind of high middle on those Griffons at an 8, so if you're releasing easier than you think you should be, you've still got some room to crank those down before you would need to bump up to a higher DIN range. Based on just this little information, I'd say stick with the Griffon! It's an awesome, solid all-mountain binding that sounds like it's working for you!
Thanks for the input. I'm also interested in the Look Pivot, are there any pros and cons between the 2 brands or is it just personal preference?
That just comes down to personal preference. That being said, I personally believe Markers' toe piece, being wider, does a better job transmitting energy into wider skis.