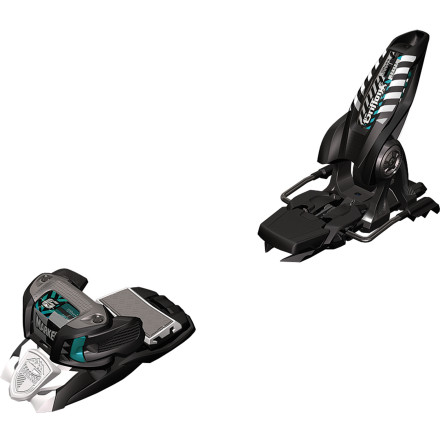 With just as much fatty-wielding power as the beefiest Marker bindings, the Griffon Ski Binding provides a secure hold and hard-charging performance with a lower DIN range for lighter-weight skiers. It's got re-sculpted Triple Pivot Elite toe and Inter-Pivot heel to match the Duke and Jester for freeskiing burliness, and it weighs less than both of those hard-hitters. An integral part of the Royal Family, the Griffon holds a high rank for designated alpine rippers.

DIN 4-13
Triple Pivot Elite toe
Inter-Pivot heel
AFD stainless steel gliding plate
Unanswered Question
Hey,

Looking at Blizzard Bonafides and Marker Griffons (been saving up for this) and I'm looking at a pair of trekkers too. Are the Griffons pretty good with trekkers? I know they'll bump a little bit, but is that generally a pretty good choice?

Thanks,

Dana
I bought the Nordica Enforcer 177 2015 ski. I am confused by all the different options available in the Marker Griffon binding. Can you tell me what one would be best? Skier is expert level. (GA 90mm, GB 110mm, GC 120mm, etc) ???? Thank you.
Hi Carri,

I'd go with the 110mm option Marker Griffon as it will fit over the waist of your Enforcers. Contact me directly at the phone/email above if you'd like a personalized experience here at Backcountry.

Ben
Hey Sea Bass,

This would be an awesome binding for you, go with the 90mm option. Love the spread eagle!

Ben
Just snagged a new pair of Bacons from line, with a 105 underfoot. What brake width should I put on those bad boys?

Hey Jack,

We don't have the correct brake size for the Marker Griffons right now (you want something around 110). Contact me directly at the email/phone above and I'll set you up with a sweet pair of bindings.

Ben
I was wondering which size I would buy for a ski that is 92 under foot? Thanks!
Hey Allison,



You want the 90 mm brake option and bend them slightly to fit on your 92 mm underfoot skis. Feel free to contact me directly with any more questions about ski gear.



Kyle

Expert Gearhead

klivingston@backcountry.com

801-736-4337
These list a 90mm and 110mm brake in the Tech Specs but the selection under size lists a 110mm an 136mm.

Is the selection list incorrect or are you just out of stock on the 90mm's right now? Would love to get a pair of these with the 90mm brakes soooooonish!
Hey Mark,



Ask and you shall receive! Looks like the 90 mm brake option for the Marker Griffons is available as of today. Grab a pair and pray for snow. Feel free to contact me directly with any questions about ski gear.



Kyle

Expert Gearhead

klivingston@backcountry.com

801-736-4337
What is the weight recommendations for this binding?
There is not a weight recommendation as that is only 1 factor that plays into the DIN on a binding. For instance I am 5'8" 200 lbs and I can use this binding because my normal DIN as a Type III+ skier is 9-10. Someone who is 5'8" 200 lbs but, skiing a lot harder than me might use a DIN at 12 and would need a beefier binding. Hope that helps/ makes sense if not please shoot me an email and we can talk about it more in depth.
Unanswered Question
How much travel does the heel have for a set mounting? I would like to let someone else to use my skis. Their boots are 17 mm shorter than mine.
I weigh 213 pounds and just under 6 feet tall. Will these bindings work on an Armada Norwalk ski and attach properly to Nordica Beast boots, size 11-12
Absolutely. They would be perfect with that ski and work with the Nordica Beast.
Will these work on Lange XT130 boots?
Hey Alex,



The Marker Griffons will work great with the Lange XT130 Ski Boots. What skis are you looking to mount them on? Keep in mind the Griffons are designed for lighter weight skiers but are a solid all-mountain binding.



Feel free to shoot me any more questions about these or other ski bindings:



Kyle

Expert Gearhead

klivingston@backcountry.com

801-736-4337
I just purchased the Blizzard Black Pearls in a 166cm length. The waist on these is 88mm. I'm wondering if I put Marker Griffon's on these, would I go with the 90mm brake or the 110mm?
Good bindings
Familiarity:

I've put it through the wringer
They do what any good binding does: keep your skis attached to your feet at all the right times.

'Nuff said.
Unanswered Question
Would the 110mm break drag on low angle turns with a 98mm underfoot ski?
I just bought the 2013/14 Volkl Mantra with a 98cm underfoot measurement. Will the 90cm work, or is the 110cm my only option?
Best Answer
I would say the 110mm is your only option. Bending a brake 8mm is too far.
Looking to put these on 98 underfoot. Seems as if I'm going too big with the 110 and too small with the 90. Are there any 100 brakes I can put on these, or will the 110s be okay? Not sure if I can bend the 90s out that far.


Unfortunately marker does not make 100mm brakes for these bindings. I would recommend going with the 110s. I have 138underfoot skis, and i had to purchase the 136 brakes as that is the largest marker makes, and i bent them out and they are barely long enough to actually do their job... so i think trying to bend them 8mm is too far. I think you would be fine with the 110s.
Thanks, Brandon. I decided to go with what I really wanted, the FKS with a 95 brake. Should be nice.
Will these work with Scarpa Maestrale Boots?
These will not work with Maestrale because the are not Multi-Norm Certified. Look at something like the Salomon Warden MNC.
Would the 90mm brakes fit on an armada alpha x 182cm? the waist is 95mm
Unanswered Question
Would these bindings be a good option for the Blizzard Brahma (180 cm)? I'm 5'10" and 175 lbs. Open to other binding suggestions too. Thanks!
Will the 90mm brake width fit the Kendo's with an 89mm waist or should I size up?
Unanswered Question
Any comments on how well Griffons would work on 188cm Soul 7 skis?