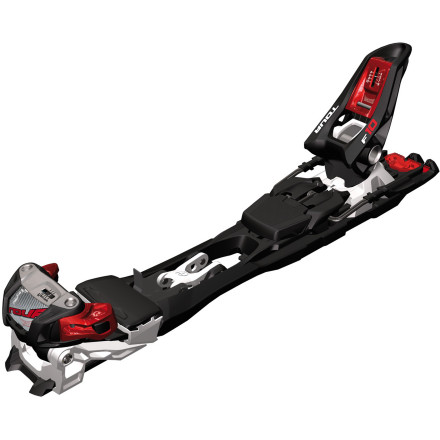 Colors

Community Images
Description
A touring beast.
Whether you enjoy the skin out as much as the ski down or just live to feel the burn, wait until you get your gloves on a pair of the Marker Tour F10 AT Binding. This AT binder features steadfast reliability and a wide footprint at a fraction of the weight of similar Marker bindings. An integrated 7- and 13-degree titanium climbing aid ramps you up to help gain elevation without the fatigue, and the wide footprint brings with it stability and responsiveness you'll feel from the freshies in the trees to the open bowls over the ridge.
A 3-10 DIN range offers versatility to those who like to get away from the crowds and lap up the backcountry
Triple Pivot Light toe with a horizontally oriented spring offers a unique combination of light weight and solid power transmission
Hollow Linkage heel features a hollow horizontal axle that saves weight and maximizes power transmission
Hollow Linkage has improved heel kinematics which allows for an easier step-in
Power Width Design is based on a 76mm platform and has wider connection brackets to create better power transmission
A moveable stainless steel AFD (anti friction device) allows precise release unhindered by dirt, snow, and ice buildup
Height-adjustable AFD accommodates alpine and AT boots
Stainless steel, carbon, and titanium components deliver a lightweight, super-durable binder
Teflon coatings on the AFD system, Pivot plate, and Triple Pivot Light Toe help reduce ice and snow adhesion
A solid, stiff Touring Base Plate has wide frame construction that's secured at several positions which evenly distributes pressure for unparalleled skiing performance
Backcountry Comfort technology consists of an ergonomically shaped lever under the boot that allows for comfortable glove-friendly opening and closing from ski to hike mode
Actuating arm has more material in the stress zones to combat the movement from ski to hike mode
Titanium Climbing Aids offer three positions—flat, 7˚, and 13˚—which can easily be accessed with your ski pole even in unstable standing positions
In tour mode, the entire interface moves back 40mm for better balance while you climb and make kick turns
Hollow Tech is a fiber-reinforced frame that provides stability and is exceptionally light, thanks to its hollow, gas-injected construction
Integrated elastomer padding on climbing aids dampens the impact, reduces the irritating clacking sound, and allows for more comfortable hiking
Tailor-made, super light, anodized aluminum crampons (sold separately) are available in 92mm, 133mm, and 128mm widths
Recommended Skier's Weight: 65-230lb
Do you know if this binding work with the Salomon Quest 10 boot?
Hey Martin,

Those boots will work with these bindings no problem!

Ben
I don't know whether to chose these or the salomon guardian 16's. I mainly ski downhill but I want to start going into the backcountry. Which would give the best downhill performance.
The Guardian 16's would offer better downhill performance. The Guardian would perform similar to the Duke which is another 16 din touring binding designed to perform well in resort. This binding would be much better for touring than the Guardian or the Duke, but will not perform as well in the resort. I would recommend the Duke or the Guardian if you mainly ski resort but want the option to tour.
Will this binding work with the Dynafit Radical boot - or will the boot only work with a Dynafit binding? I ski mostly downhill but will need to be able to work my way up a hill once in a while. Also, what width (and length) ski should I consider?
This binding will work with the Dynafit Radical boot.



As for the width of ski I would say that all depends on where you will mainly ski and if you are after a ski that does it all or is specific to a certain type of condition. If you plan to use the brakes that come on this binding then you could use a ski between the widths of 83-97mm without needing to get new brakes. I think a mid 90's to low 100's is an ideal width for a backcountry ski that will encounter every condition.
So..has anyone else broken these? I have broken mine twice. The first time the sliding plate at the toe broke off when the binding released in a fall. The second time ( after they were fixed under warranty) the plastic toe piece cracked and came off after landing a fairly small drop. I'm not particularly heavy ( 135lbs) and am a fairly aggressive skier, but nothing crazy.....Am I just being too hard on my gear or are these bindings not super durable? I wonder if I just got a bad pair...I'd upgrade to Dukes, but I wanted to save on weight for touring and because I am not really heavy, I tend to keep my DIN on the low end ( 6.5) which often means going with the plastic binding. Any thoughts?
Hey Tracy Anne,

I am surprised that the toe broke the way it did with your din set at a 6.5. Seems the bindings should have released well before the toe piece broke.



My guess is you either received a defective pair or you really are out skiing these bindings. Really these bindings should be plenty of binding for someone who weighs as much as you do, however I have a feeling you are skiing above the performance level of these bindings. This binding is designed to be a lightweight touring option where as the Duke is the burlier, downhill oriented, binding. I think a Duke would probably be a better binding option for you as long as you don't mind the added grams.



I would recommend contacting Marker regarding a warranty. They might be willing to upgrade your bindings to the Duke and have you pay the difference...if you ask them nicely.
What size range boot sole does the Large...
What size range boot sole does the Large version accept?
Best Answer
305mm - 365mm is the boot sole range for the size large. You'll want to check the side of your boot for that boot sole length printed probably on the heel piece, or give us a call or chat in and we can get your boot size, make and model to look up the boot sole length for you with that information.
Bought these this year specifically for east coast front side laps and letting it loose at Tuckermans. Great alpine capabilities and lite-enough weight for ascending. I pushed it pretty hard launching 10-15 footers, cranked GS turns in icy conditions and they performed flawlessly. Been skiing them with BD Quadrants and my only complaint is that they require a lot of heel force to click-in. This comes into play when trying to lock in on steep terrain, makes it tricky. Only other minor inconvenience is that you have to take them off to change from touring to alpine. The heel adjusters are very easy and quick to change with poles. Overall I'm very pleased with their performance. They accomplish my intended use perfectly. Will report back on durability after I have a few season under their belt. BTW, they're mounted on Kastle FX 84's, I'm 5'8" 150
Unanswered Question
Can I use marker f10 binding with 90 mm...
Can I use marker f10 binding with 90 mm brakes on my downhill skis, which has a waist of 78 mm? IF not what is your AT suggestion?
Good for lightweights
Familiarity:

I gave it as a gift but have feedback to share
My small (110 lb) wife uses this mainly as her everyday binding with the occasional backcountry foray (usually before and after the resort season). They have been great for that, but if she toured all the time I would likely put her on a Dynafit. All in all these perform well - takes her a little extra effort to stamp into the heel. For the skier who is in bounds more than out, but want the option without a whole new setup - an excellent choice.
Unanswered Question
The description claims the pair weight of...
The description claims the pair weight of the small is 3 lbs 12.3 oz, but Marker's site says 1960 grams, or 4.3 lbs. Which is accurate?
Beefy
Familiarity:

I've put it through the wringer
I have these mounted on a pair of BD Zealots which allow for a very beefy side country set up. I primarily use it for touring just outside the ropes or mechanized with a snowmobile. definitely on the heavier side when it comes to a touring binding however not the heaviest by any means. I have used this binding on long skins and it holds up well, just a little heavy for my taste on long days.
Great for touring, need more for skiing.
Familiarity:

I've put it through the wringer
I am 6'3" 190lbs and used these bindings last season. There were great for the tour up the hill and held their own on the way down, but I always wanted a higher DIN than just the 10. I never had any issues, but the fact that I had a 10 kept me in check. Maybe that was a good thing though.

These are nice bindings which will work with your traditional ski boots and a great binding to start of your touring career.
Great Brand, Good Bindings
I think these bindings are great. I got them for my wife. She only weighs about 120 with all her snow gear on, so the small DIN is perfect for her. They're a nice light weight too. And the wider base plate is nice for the wider skis you want for backcountry pow.



My only issue is with the lever that switches from ski to skin mode. On my Marker Dukes, it's a solid metal lever that either locks forward or back. On the F10, the metal lever also has a leather loop on it. The lever also doesn't lock back as hard as on the Dukes. So if you're not paying attention, the loop can prevent the binding from sliding all the way back when switching to skin mode, and the climbing aids wont hit the catches at 7 and 13 degrees and your feet will be nearly flat. It's an easy enough problem to fix, pay more attention, but just could have been designed better.



Still a good choice for AT bindings though.
Are the Royal Family brakes and the Tour...
Are the Royal Family brakes and the Tour brakes the same/interchangeable? Looking to get a 110 (for a 100 mm ski), but having one hell of a time doing so.
Yes. Royal Family brakes can be applied to the Marker Tour F10 and F12 randonee bindings.


After finally getting these mounted and out in the backcountry, I am not disappointed! Lightweight and a solid binding, I felt confident in all my turns the whole way day. Great binding for touring.
I have the 2011 version of these, and have...
I have the 2011 version of these, and have significant problems with ice building up in the rails when in walk mode, so bad that it takes me forever and lots of bloody fingers later to get it back into ski mode. Is this years version improved at all?
I haven't had any problems like that.


Best Answer
This can happen in wet snow conditions! The new version is improved but in super wet snow you still might get some build up. Most bindings of this design no matter what brand have that issue in wet snow. Marker is working to eliminate the issue completely. The new version is much better though.
Can I mount this binding on a narrow ski...
Can I mount this binding on a narrow ski like the K2 Shuksan that is 78mm at the waist?
You could certainly pull it off but I would not recommend this wide of a binding for that ski.
I just picked up a pair of these and can't...
I just picked up a pair of these and can't wait for more snow to fall! I plan on using these on some pretty wide skis where the brakes won't really have any influence, any suggestions or problems faced there? Thanks
Best Answer
Marker makes an extra wide brake that will work with the Tour series- I would recommend picking up a pair of those!
Order some wide brakes from Marker. Make sure they are for your binding and width of ski. Your local shop might be able to help as well.