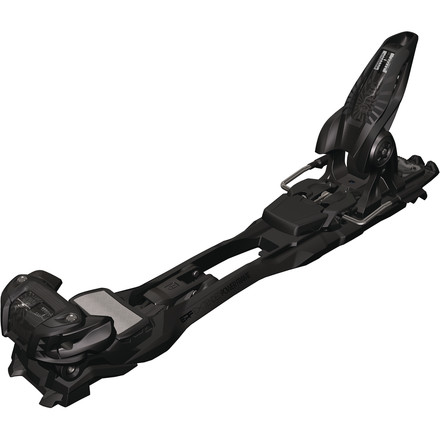 Colors
Description
Charge hard up, charge harder down.
Earn your big mountain turns in the light and powerful Marker Duke EPF Alpine Touring Binding. With backcountry Climbing Aid technology, you can set the Duke to flat, 7 degree, or 13 degree positions easily with your ski pole, while integrated elastomer padding dampens impact, to reduce those annoying clacking noises. A 6-16 DIN range allows you to bomb the mountain and huck cliffs without fear of kicking a ski when you need it most.
A widened platform featuring Power Width Design and a 28% larger EPF Extended Power Frame give supremely smooth transmission of power from boot to ski, even on those fatty boards that have a love affair with powder. A Triple Pivot Elite toe, Inter Pivot heel, and stainless steel gliding AFD all further enhance power transfer while providing optimal energy absorption to reduce the risk of pre-releasing. This hard-charging monster of a binding has to be super heavy, right? Wrong. Magnesium parts and a Hollow Tech fiber-reinforced frame provides impressive stability and strength with minimal weight.

6-16 DIN range
Power Width Design
EPF Extended Power Frame
Hollow Tech construction
Magnesium parts
Stainless steel AFD gliding plate
Inter Pivot heel
Triple Pivot Elite toe
Backcountry Technology three-position climbing aid
Unanswered Question
I've got some K2 Sean Pettitor skis that are 120 underfoot and my boots are Technica 275 315mm. I'm mostly going to be resort skiing with a little side country hiking. Are the Dukes the right choice and which size do I need?
I have a 92mm midpoint on my skis is the 110 mm brake going to be the right size on the marker duke?
Hey Lee,



Go with the 90 mm brake and bend them slightly to fit around the 92 mm waist of your skis. The 110 mm brake will have too much overhang. Feel free to contact me directly with any more questions about the Marker Dukes or other ski bindings.



Kyle

Expert Gearhead

klivingston@backcountry.com

801-736-4337
Great for the resort or some sidecountry
Easy to use, works great. A little heavy for an all day excursion into the backcountry but perfect for those quick sidecountry adventures.
How these works with dynafit mercury boots?
Thanks
Hey,



The Mercury boots will work with this binding. They are a tech boot so ideally you would want to get a tech binding but you most definitely can use an Alpine Touring binding.



I have an email headed your way with my contact info. Feel free to contact me directly if you would like to discuss further.



Eric Watford

Expert Gearhead

801-736-6397

ewatford@backcountry.com
I just bought a pair of K2 Coombacks with 104 mm underfoot and my ski boot is 306 mm in length. What size Marker Duke binding do I need and what width size of the ski brake should I get? Thanks.
Larry, you need the 110mm brake, and the Small will fit better. Leaves a little more room for adjustment.



If you have anymore questions feel free to send me an email or call!



Bill Porreca

bporreca@backcountry.com

801-736-6398
Unrelenting security
Gender:

Male

Familiarity:

I've put it through the wringer
Heavy? Yes
Reliable 16 Din? Yes
Decent tourability? Yes

I have a hard on for Marker. I've never really been swayed from them ever since I've been skiing. I've skied Griffons, Jesters and Dukes, and have never had a complaint. People will bitch about what they will, but I like them and they work for me.

I love this binding. Is it heavier than I would want it to be? Sure, but its a framed AT binding, so it is what it is. The stack height is ok lower than the competition, which I love. I really like to be as close to the ski as possible. The reassuring THWAP when clicking in puts a smile on my face. I can throw my skis on edge and feel no waiver in the transfer of energy. Rail them down groomers, nose butters off rollers, slashing pow. Do it. These binders wont hold you back. They tour as well as any frame binding . Smooth with little torsional flex. I like the ease of the touring bars. It seems like many people complain that the tour mode lever is under foot. I really like it there and out of the way. Im not flexible and have to take my ski off to remove skins anyways.

Ill ski these until the quirks get worked out of the Kingpin. Then Ill mount a pair of Jesters on my resort skis, and a Kingpin on my Touring skis.

Add: Im 6' 205-210lbs. Ski at a 13 DIN with a 317 BSL. Mounted +5 of Rec on 188 Fat-ypus D'Riddums

Good choice for short tours & resort use
Familiarity:

I've put it through the wringer
I've used Dukes for a few years now on a couple pairs of skis. My first pair was the non-EPF version, but honestly I can't tell a difference between the EPF and non-EPF version.

Pros: Skis very much like an alpine binding. Solid downhill performance. Some folks don't like the stand height, but it's never really bothered me. The heel risers work well and are easy to manipulate. It accommodates alpine & AT soles.

Cons: Yeah, it's heavy. But it's comparable to other bindings in its class (Tracker & Adrenaline). And you can't switch from skin to ski mode without taking off your ski. But I think most folks who use a Duke aren't too concerned about an extra 1-2 minutes at the transition. Honestly, if weight and speed are a concern, you're not going to tour with a Duke. I've had no major durability issues. I did get some fore-aft slop at the lever pivot (it's well described) in my early generation Dukes, but this was after more than 50-60 days of resort bashing. But it wasn't a huge amount and didn't really compromise performance in a meaningful way. The toe pivot point feels more awkward than a tech binding, but this isn't a surprise.

So if you're looking for a binding for mainly resort use (90% resort/10% touring) and the occasional short tour, this is a good option. Or if you only do short sidecountry tours, this is a good option. And I guess if you really go big and value ski performance over touring performance, these are near the top of your list. But for true touring, get a tech binding. These are too heavy and cumbersome for long tours if you ask me.
My boots are 320 mm long, do you recommend I get a small binding that fits up to 325 mm or a large that is from 305 mm to 360 mm. Thanks!
Best Answer
I would recommend the large. The large is easier to re-sell.



You can call or email me directly. 801-736-6398, or bporreca@backcountry.com
If I got the small with a 110mm brake could I later switch the brake to a bit wider ski thats 115 underfoot?
Yes, you would be able to change the brakes to fit your new ski! I actually had to do this exact same thing with my Dukes! It's a bummer they don't offer the option to select your brake size when purchasing your bindings! Hopefully this helped!
I like them
Familiarity:

I've used it several times
Despite the mixed reviews, i have yet to have any problems with my dukes. I have them on a pair of DPS Lotus 138s, and they work great!I have used them to tour in when camping several times, and they have done great! Granted they are quite heavy, i think they do a great job and are very durable. And i personally don't think they make another AT binding that performs as well downhill as the Duke. It would be nice to be able to switch from tour to ski without taking my ski off, but oh well! So far i have no real complaints about these bindings! Hopefully it stays that way!


Beefy and heavy
Familiarity:

I've used it several times
I bought this binding because I am an aggressive advanced skier who loves to ski the whole mountain, but especially back country. I liked it because of its strength and versatility to switch this binding into hiking mode. The huge sacrifice in order to have this feature; however is its weight. It is a very heavy binding! I demoed my fatty powder skis with standard downhill bindings, and then bought them and had these dukes mounted. When I skied with the same skis with the dukes, they did not perform as well; changing a lightweight ski into a beast. I did not get to try the hiking feature, but did ski on them hard doing steeps and piste skiing. They held up well and I liked their strength and the security they gave me, while ripping down steeps. They also looked great on my skis. However; I disliked the heaviness so much, I am replacing them with a different, more lightweight Marker binding.
I have last years EPFs ( white and blue) and ski them with a DIN alpine sole. Will this binding also work with the Scarpa Vibram Mountain Plus Sole?
This may not be all you are looking for, but I know people who run the AT/Tech blocks that the Black Diamond Factor 130's come with with the Duke (Granted, not exactly like yours, but a similar thickness). I would suggest you contact your local ski shop, since the toe height will need some adjustment.
My question is referring to the height of the Scarpa Vibram Mountain Plus Sole in regards to the height of the Sole pad and the adjustment range of the Duke, less so who should be teching my gear. A secondary question is to the durometer of the A/T soles, as I have heard this can change how easily a boot can release if need be.
And that is heavy. If you are looking for a binding that will work great for hard charging inbounds skiing, and once in a while let you do a tour or side country back to the main road this is it.....



I trust my knees to it...but no it is not the best choice for long tours.



If you want something that climbs super well up hill than look for a tech binding, and expect unpredictable release when things get gnarly.
10 days and broke... no warranty
Familiarity:

I've used it once or twice and have initial impressions
I bought these in aug to be ready for the upcoming season. I bought the duke for the beefiness and thought I would never have to worry about it. today was day 10 and it broke right in front of the lever to switch from tour to alpine. this of course happened about 1.5 miles from the trailhead. so I post holed 1.5 miles back to my car to find out that backcountry will do nothing about it but refer me to marker. I will never recomend backcountry.com again. go to a local shop that wil actually stand behind there products!!!