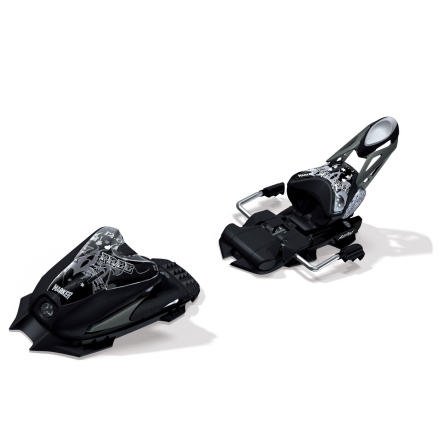 These bindings have some nice features: easy entry/release, reasonably lightweight, good price. Probably best for carving or less aggressive off-piste runs.

But do not think these bindings can handle rails, park features, and any other instance where force is applied to them. These binding release VERY easy. This makes these bindings frustrating and dangerous when used aggressively.
mounted these to a pair of Head J.O. Pros. nice light binding, look great and the easy entry system works awsome in fresh pow...
If you're looking for an inexpensive binding that's gonna get the job done, then look no further. I haven't had any problems with these mounted core center on my K2 Kung Fujas. I've got the DIN settings set pretty low to avoid twisting up my knees while learning to throw spins on ski's (previously a snowboarder) and still haven't had a problem with pre-release when jumping or riding switch. I use them all over the mountain and so far they've been great.
would these be a good choice for park/all...
would these be a good choice for park/all mountain groomers or are they more of a BC binding?
They would be great for all mountain use. They are not a backcountry binding.
They handle pretty well for park and all mountain riding, but if you are throwing hard, or you are a bigger build, you might want to look for something a little higher up in the DIN range. Otherwise, definitely agree with Alex.
I found these bindings to be horrible in the park. I had them on a pair of volkl dogens and I kept prereleasing while riding switch. Going forward they a good bindings but they suck at switch riding but that is cause they arent designed to be riden switch.