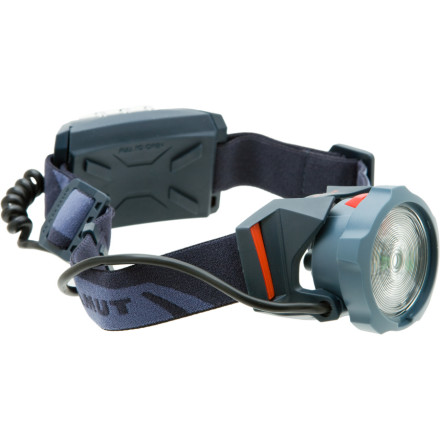 Detail Images

Community Images
The Mammut X-Zoom Headlamp is the ideal choice for climbers, backpackers, or anyone else in need of an adjustable, hands-free light source. The focus of light ranges between 5- and 45-degrees and three levels of brightness illuminate distances between 10 and 120 meters. Strap it to your helmet when climbs creep into the night hours or keep it handy in your camping supplies or workshop.
Strong headlamp for a strong situation
This headlamp basically is taking the place of the Lucido TX1 which was also a very solid headlamp. I took this headlamp to Aconcagua last year and have to say on summit day in the pitch black, this was a great tool to have around. Whats nice about it is you can adjust it to fit a helmet, headwear or just your bare head. There are many lighting settings which is convenient for different activities like reading in your bivy/tent or just pushing it on summit day. Another thing that I like a lot is that this headlamp has the 3 LEDs on the back of the battery compartment that sits on the back of the head This is really convenient when you are encountering bad weather and want to keep track of your buddy from behind. It is also weather resistant so it does well with moisture. Though this headlamp is a little bulky, a strong headlamp is a must in some situations and I would recommend this one because I really like the design and functionality of this one.
you lid you did that your self
you lid you did that your self
Great headlamp. can thake a havy rain and work. working at -20C. you can see the rocks at 120m from you...just love it
cool lamp, a couple issues
So I gave this light a four outta five because its awesome. Not only do l use it backpacking, l use it all the time around the house at night and coming down off the path at night after a nice day of climbing. This thing puts out a ton of light, and yeah its big and can be uncomfortable, so what? You know that this monolith is going not not feel so great, but its like the SUV of lights! My only gripe is that my light has be flickering and it has something to do with a connection in the battery pack, but that could just be my luck and not an actual mass issue. If you wanna feel like a brazilian coal miner, this is the way to go!

update: l took the batteries out and put them back in, and it seemed to do the trick! its perfect for whatever you throw at it!
I bought this lamp a year ago and have enjoyed it and have been impressed with the features. The zoom feature is creative and easy to use. I put this lamp on my bike helmet so the blinkie red LED's on the back are a nice feature to keep you visible from behind. It is a tad on the heavy side and unfortunately is not water proof. My biggest gripe is that it is very uncomfortable to wear against your bare forehead. All the pressure is concentrated on 2 rubber strips on either side of the main frame where the straps attach. It leaves you with a headache and funny marks on your forehead. Not a problem though if you put it on a climbing helmet or have a beanie on. I wish this light came with a belt mounted battery pack and a better padding for your forehead.Bottom line: The function of the light is great but it is a little uncomfortable with out a hat or helmet.
I purchased this headlamp about a year ago after I read about in Backpacker as being the "never leave home without" light source. I've used it several times in the backcountry and don't even go on day hikes without it.

I can't say anything bad about the light except for the fact that it is bigger than most headlamps and is a lot heavier than one's I've used in the past. On the other side of the fence, the positions the lamp part can be adjusted to and the output the light produces is unmatched. I'm very happy with this light so far. It has three red L.E.D. lights in the back of the headlamp, attached to the battery case, to signal people behind you for those early morning starts or unexpected late day hikes.

I've also noticed if you like to use your headlamp in your tent for reading or whatever, the battery case is a bit large and is not comfortable with the weight of your head pressed against it as your tucked in a sleeping bag. All in all, I would definitely recommend this for any serious backpacker/mountaineer who needs a little more light shed on the subject.
How many lumens does it have when its maxed...
How many lumens does it have when its maxed out?
Best Answer
I had been considering getting this headlamp last month and the only number I could find anywhere was that this was 80 lumens. I searched high and low in a lot of reviews and I could not find lumens for each setting the only thing anyone has was just the 80. Hope that helps you.
Dont know the lumens...but it shot up to 120meter!
Maximum output is definitely 100 lumens. This can be found on a video that shows all their headlamps on the Mammut website.