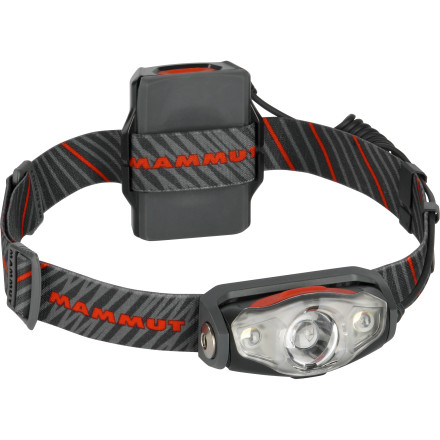 Colors

Community Images
Description
Versatile lighting for alpine assaults.
When your trip to the summit starts just after midnight, trust the Mammut X-Shot Headlamp to illuminate each step of the way. A combination of floodlight and spotlight LED bulbs and multiple brightness settings allows you to perfectly adapt the lighting for every situation. Watertight construction means a thunder shower won't leave you stranded in the dark, and the alpine emergency signal can help you get out of a sticky situation.

Combination of HiFlux LED and Definition LED bulbs provides a maximum 200-lumen output
HiFlux LED provides a powerful spotlight while two Definition LED provide a floodlight
Spotlight setting can throw a beam 125 meters into the darkness,
Floodlight red and flashlight red modes allow you to see without disturbing tent mates
Rear red light allows climbing partners to see you from behind
Alpine emergency signal can help during emergencies
Four brightness levels and a boost mode allow you to adjust the amount of light to best suit the situation
Runs on three AA batteries (included)
Headlamp will run for 200 hours on flood-light low, 80 hours on flood-light high, 30 hours on dual-light mid, and 15 hours on spot-light
Spotlight has a 20-degree tilt angle
Floodlight has a 45-degree tilt angle
Waterproof protection to IPX-6 standard, heavy splashing and rain
Battery indicator lets you know when you're low on power
Use the X-Shot Ambient Light to convert your headlamp to a lantern for soft, diffused light (X-Shot Ambient Light cover sold separately)
Unanswered Question
I'm wondering how stable this would be on my head if I were to use it trail running. I have an approximately 5 year old Tikka2 (I think) that simply doesn't throw enough light and I'm often concerned going downhill. But this probably weights about twice as much so the question is whether it can fit snuggly enough to stay put. Other lamps with a 3rd strap might not have that issue.
Best Headlamp Ive Had!
Familiarity:

I've put it through the wringer
I have had the x-shot for 5 years now and I love it. The different modes are great for working with your hands up close to spotting animals at a distance. The high power focus beam is extremely bright and works better than some spotlights that I have used. With 215 lumens its a powerful light but it also out performs many headlamps that advertise higher lumens. 3 AA's power this headlamp and last for a long time which also makes it easier to keep a few on hand instead of having to worry about recharging. I have both the x-shot and the t-base and love them both.

Recently I noticed that the headband was stretching out and would not stay snug. With most things I buy I always want to buy something that is built to last and for 5 years of heavy use this one took a beating. I researched online hoping to find spare headbands but couldnt find anything. I emailed Mammut customer service and immediately got a response that they would check on a spare headband. Within 5 days I received a brand new updated band and now it is good as new! I expect to get at least another 5 years out of this lamp! I would recommend the x-shot to anyone that is looking for a solid built genuine product with a company that has great customer service.
No red mode.
Familiarity:

I've used it once or twice and have initial impressions
I bought this headlamp and ended up ordering the Black Diamond Icon because it seemed like a similar lamp with red mode included, as this one doesn't actually have a red mode. The Black Diamond Icon, which is rated at 320 lumens, is significantly darker than this one. The X-Shot it incredibly bright. Far brighter than its rating would suggest. I know that there are all kinds of factors that go into perceived brightness, and that some lights with more lumens are perceived as darker because of beam focus, but none of that really matters here. The Mammut X-Shot has an extremely bright focused spot beam, and a very bright flood mode with the side LEDs lit as well. The Black Diamond Icon has no true spot beam at all. At its brightest it seems to be 50% of the X-Shot. The Icon is also quite a bit heavier, even without the batteries loaded. The Icon is simply a poorly designed light compared to the X-Shot. I ended up returning the Icon and kept the X-Shot. I'll probably get a small red keychain LED light to use in my tent. (To be clear, I did indeed order the 320 lumen 2015 model for the Icon. Not the older 200~ lumen model.)



The X-Shot would be the perfect headlamp if it had a red mode.



Also, the light only has a 2 year warranty, per the papers that came with it. I don't know why this page lists it as having a lifetime warranty.
Better than your car headlights
Familiarity:

I've put it through the wringer
For best results, wash the windshield first. Then find an empty road, turn off your lights, and give it a shot with this thing on full power.



I picked this up back in 2011 because I wanted an alpine capable lamp that I could also ski pow with at night. My job as night park crew got that much better when it was snowing, but the hill lights limited where I could see, and this was the solution.



I've used the spotlight twice to illuminate the trail for people who didn't bring lamps. It's also prime for night navigation and avoiding gaping holes in glaciers while trying to stay on route.



Some high powered lamps feel like overkill when cooking. The settings on this one are perfect, and the addition of red modes only adds to that.



If I were to rate mine, I'd give it four stars. But since they've fixed the battery pack adjustment and added the red mode, it's a definite five.



Added bonus: when your idiot friends start the "I'm going to blind you with my Tikka" game, you'll be able to retaliate with much heavier artillery.
Best Headlamp Yet
Familiarity:

I've put it through the wringer
I bought this headlamp a few years ago after being frustrated by cheap headlamps that break, eat batteries, and are never bright enough. This headlamp runs on 4 AA batteries, which avoids a dependence on charging for long expeditions. Did I mention the batteries last forever. I used this for a whole summer while guiding in the bob marshal wilderness and did not need to replace the batteries. Other features that I like are the light options. Dims, brights, beem, and flashing red lights on the back of the battery pack for biking or other added visability activities. The only downside that I have found is the large battery pack can be uncomfortable when laying down in the tent and reading.