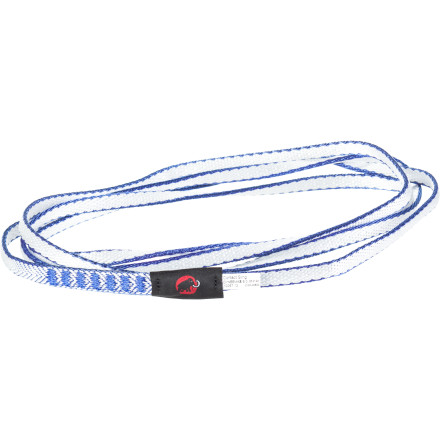 Gram-shaving alpinists can appreciate the slender-but-strong design of Mammut's tried-and-true Dyneema Contact Sling. This 8mm workhorse should accompany you on all your vertical projects, from mixed and ice routes to sandstone and splitter cracks.
Dyneema resists absorbing moisture and taking on extra weight
More abrasion-resistant than nylon for durability and longevity
Share your thoughts
What do you think of the
Mammut
Dyneema Contact Sling - 8mm
? Share a...
Strong and Light
Familiarity:

I've used it several times
There isn't much to say about this runner besides that it works great. It is thin and light but will always hold. This is my go to for TR anchors and sits permanently on my rack.
Thin to win
Familiarity:

I've used it once or twice and have initial impressions
Supper thin, works as well as any runner. I use them on alpine draws.
Great sling.
Familiarity:

I've put it through the wringer
Mammut have put out a great sling that is super useful for everything from building belay anchors on a waterfall ice climb to pulling your daughter's sled through the snow. I personally own the 120cm sling and am very happy with it.
Perfect sling. Not too bulky, unknots easily. What else is there?
Rant: Am I the only one who can't figure out the colors and corresponding sizes?
- My yellow ones are about 22" long (56cm)
- My old blue ones are about 44" long (112cm)
- My new blue one is about 46"long (117cm)
WTF? This isn't anywhere close to the lengths listed above. This stuff doesn't stretch or shrink!! And the options box offers 3 different blue slings in various lengths! The Mammut site is pretty worthless. The only way I could figure it out is based on price.
Shopping aside, these are really good slings. Strong, light, thin, durable. Just use them appropriately (no knots, no PAS) and wash 'em when they get dirty.
like others said, the seamless design works great, I'm really enjoying them
The slings are by far the best on the market right now. The sewn in stitch gives them a smooth handling feel unmatched by competitors. Not to mention the exposed ends of competitors slings I've owned in the past have been subject to fraying whereas the sewn protected ends of the Mammut 8mm do not.

These slings are my standard trad sling whether it be over the shoulder or racked on my harness. The obvious downfall of using Dyneema is it's inability to hold a knot well, but there are easy fixes around there using other tools on your rack.

Overall I would recommed 10 60cm slings and 2 120cm slings for any climber looking to build their first trad rack.
thin, strong and smooth
Gender:

Male

Familiarity:

I've put it through the wringer
these are great. they're really small and take up almost no extra room in a pack if you just happen to need a few extra slings around. they're also great for pairing with a couple of locking 'biners to create anchors for setting up TR's, or really, just about any other application for which you'd use slings.

i have to agree with Josh's picture and review. the way Mammut sews these things is great. It cuts down on the sling catching on anything and just seems to make handling them that much better overall.
Light & handles nicely. Expensive.
Gender:

Male

Familiarity:

I've put it through the wringer
These are my favorite Dyneema slings. They hold up relatively well to abrasion, handle nicely (the Ouroboros join is a nice touch), and don't seem to weigh anything. They're still rated to 22kN despite being 2mm skinnier than a lot of other UHMWPE slings.

The downside: I've encountered a lot of climbers using ancient, crusty Dyneema slings because they're so expensive to replace. Scary when you find out you're being belayed off of it.

The photo shows the way Mammut sews these things together. On the top is a different brand's runner, and below it is a Contact sling with one end sewn inside the other. Makes it run through biners and hands more smoothly.
Perfect
Gender:

Male

Familiarity:

I've put it through the wringer
This is a great sling. Its durable, thin, and easy to rack. The 120 cm fits over my shoulder as a loop with the two ends clipped to the same carabiner - makes it super easy to pull off under a pack or other gear. Works great in snow and on rock. Love the thinner size as it doesn't feel as bulky. Sure, they're a little more expensive, but imho, well worth the small difference.
I have used this as a third anchor backup and at times a gears sling. it works for me.
I bought this to use as a personal anchor and it does the job very well.
Doubles as a dynamic draw etc. It hasn't failed yet (as you can probably tell) after several months of abuse so that is a good sign. Its pretty light, and much thinner and classier than a nylon sling.
Highly recommended.
This will serve you for a lifetime of climbing: sport, trad, even TR. All of these activities can be supported by a set of these slings. Light weight, small and strong as anything (22kN!). Use them to haul that fifth wheel up the face of El Cap for a much more comfortable bivy. Throw two 'biners on them for a dynamic quick draw, toss them around a tree or horn for an anchor or carry them on your harness for your own personal anchor.

They'll survive a ton of abuse, just be careful not to crimp them. Hitches and overhand knots will compromise the integrity - and there go your RV and refrigerator....