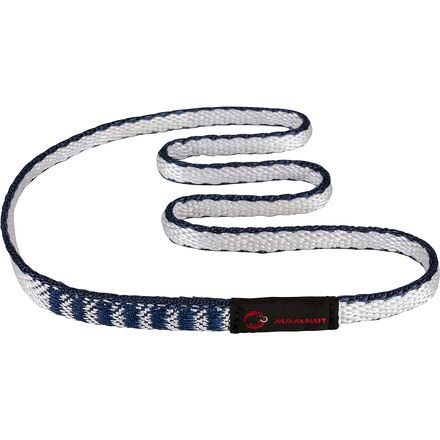 Colors

Community Images
Description
Never leave home with it.
Mammut works hard each year to make its Dyneema Contact Sling lighter without taking away any of its strength. Like most slings, Mammut made it out of super strong and light Dyneema, but unlike most slings, Mammut's Contact stitching technique ensures optimum handling and strength throughout the sling, even in the seam area. This makes it ready to please you whether you're sending sandstone, climbing crack, cranking ice, or alpine climbing your way to the top.

Dyneema fabric
Contact stitching technique
Best lightweight skinny slings
Familiarity:

I've put it through the wringer
Best because color coding is easy to distinguish; the sewn ends have covers. And its Mammut quality. I am waiting for a deal on these and gonna replace my other brand ones.
Best Slings
Familiarity:

I've put it through the wringer
These slings are light weight and perfect for making alpine draws. I love that they have the different colors so you can automatically tell what size they are. My favorite part of these are that the seam is covered so they don't get caught on anything.
The only slings I use
Familiarity:

I've put it through the wringer
Thin, light, color coded, what more could you ask for? Oh, covering up the bar tacking... DONE.

Mammut thought of everything with these slings; the only ones I use.

- Blue 30cm with one biner for cam extending (sometimes)
- Red 60cm for alpine draws
- Blue 240cm for gear anchors

Ben
brabinowitz@backcountry.com
801-746-7564
No complaints
Familiarity:

I've used it once or twice and have initial impressions
Very thin and light as promised!
A most have for your trad rack!
Familiarity:

I've put it through the wringer
Keep the pace up and weight down with Mammut Dyneema slings. On long multi-pitch days, maybe keep the clunky quickdraws stashed back at base and rack up with a dozen of these!



Lightweight and strong, the Mammut slings are great for extending pieces, reducing rope drag and gear movement.

Dyneema is light, more weather resistant, and handles great.

I find the seam stitching really nice, it doesn't catch on biners or scratch my neck.



I find it best when climbing with 60cm slings:

-Use 1 biner per sling and keep those over your head and shoulder, these are very ideal for quick gear extension.

-Keep the other half of your slings in the Alpine Draw on your harness, you'll have 2 biners on the sling, this makes clipping into passive pro or fixed gear much easier and easily extendable.
Awesome Slings!
Familiarity:

I've put it through the wringer
I love these slings! They are super slim and light. I have abused them and they have held up great! On these slings mentioned in previous reviews the way they are sewn together and has a piece of fabric over them makes it snag free.

I have these for my alpine draws, anchor building kits, and just to have! I would recommend.
Every Climber Needs a Few of These
Familiarity:

I've put it through the wringer
Short Version:
These are a must have. Here is what I have:
120cm sling - 2 of them (for anchors or extending a roof)
60cm sling - 6 of them (great for alpine draws or reducing rope drag)
Long Version:
These slings have been absolutely clutch when on routes that wander and I've needed to take some rope drag out.

They're super durable and have held up to a ton of abuse.

I'm a big fan of the single color per size. It's great knowing which slings are which length by the color coding. Makes for quick and effortless gear finding on my rack.

One of the nicest features is the seam where the two ends are overlapped and sewn together are covered with a sleeve so there is no catching when a biner is sliding over them.

If you have questions about these slings or any other gear, shoot me an email!

Jared D.
Expert Gearhead
801.736.4336
jdowns@backcountry.com

When will the 60cm slings be back in stock? will it be before the 20% sale ends?
Best Answer
Hey Dan,



We should be receiving more around early to mid June. Keep checking back!
Best dyneema slings
Familiarity:

I've put it through the wringer
The "contact" stitching method makes these very snag resistant. Its a feature I have not seen anywhere else yet and is essentially the only major difference between this brand and others offering dyneema slings... Oh sure companies will change up the colors, width, feel, blend, etc a little but otherwise everything is about the same.

I have a good deal of 60cm ones for normal trad draws, some 120cm for double trad draws and a couple 240cm for self rescue, tether, etc use...
This is a loop of dyneema.
Familiarity:

I've put it through the wringer
It does not have a hot nor cold forged aluminum transom, it does not have carbon fiber infused kevlar siding, it is not laser cut, water cut, die cut or circumcised. It is probably possible, though not recommended to cut this. It is a loop of dyneema and if you are thinking you might want one, then you really probably need this one. And this one will serve you faithfully through all your adventures high and low.

I also like how the stitching is flexible and fairly low profile.
Great for Everything
Familiarity:

I've put it through the wringer
I've got over a dozen of these in every size and they're great for everything. Whether it's for extending draws or beefing up anchors, I use these almost exclusively now. The stitching is never in the way and they feel super solid.
King of Slings
Familiarity:

I've used it several times
I was a little skeptical when I added one of these to my BC.com order, thinking sling technology wouldn't vary much between brands. Nope. The sheathed stitching concept employed by Mammut is a VERY clear advantage when you're using them in an alpine draw setup. The stitched portion feeds smoothly through your biners when extending or doubling up, saving seconds and frustration. I'll stick with Mammut for my dyneema slings until somebody figures out how to bond a loop together without stitching.
Contact high
Familiarity:

I've put it through the wringer
These are my favorite dyneema runners. You might ask what the difference is between this particular runner and bd or metolius runners.



Well, first of all, it's color-coded. Blue=120cm or double-shoulder, and red=60cm shoulder sling. That alone sets it apart as a cut above the rest. Actually I don't like the word 'cut' when I'm talking about slings. This sling is the valedictorian of the graduating class of Dyneema sling university (and head of the debate team.)



What really gets me hot for these slings is the stitching. It's very, very low profile and Mammut was clever enough to cover the stitching with a slick, aerodynamic sheath. The otherwise great BD slings have a little hangnail where the stitching ends that sometimes gums up the works.



What does this mean to you, loyal consumer? If you have hang-ups with tangled alpine draws, the streamlined stitching drastically reduces the amount of time you spend clinging to a postage stamp-sized lump of granite with one hand while you flick your tangled mess of a draw around like a bullwhip. Easy, effortless extension every time.



This may be pseudosciece, but because the colored portion (nylon-dyneema is always white) is at the outer edges of the sling, it might be a little safer to tie knots in these sexy, thin slings. Tying knots in dyneema of course means yergonnadie, but at least you can do it with a little more confidence.



I rack up with 60cm and 120cm slings clipped with black diamond carabiners from deconstructed freewire quickdraws, and I enjoy the hell out of them.



If you use rubber bands to hold your rope-end biner, educate yourself on the hazards of this practice and climb safe.



Extend and send.
Great Sling Option
Familiarity:

I've put it through the wringer
Bulk of my rack consists of 60cm, I also have a few 30cm, 120cm, and even a 240cm. I use them for everything from making anchors, slinging rocks, and using at tethers. As a draw they are perfect. Light and they dont have any stitching or material that will catch holding the carabiner or something in an awkward way. Plus they look real good hanging across your shoulder.