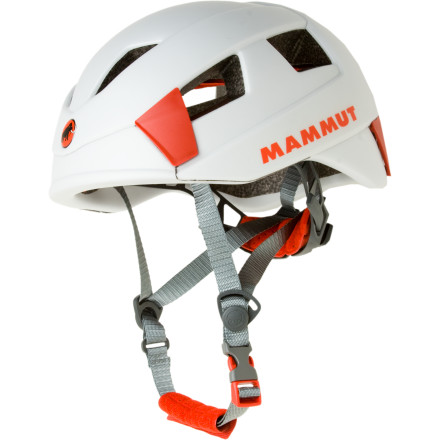 Detail Images

Community Images
To prevent rockfall from erasing fourth-grade mathematics from your memory, pull on the highly adjustable and padded Mammut Tripod 2 Helmet and keep your head intact. This lightweight helmet's hard, outer Microshell and impact-absorbing EPS foam inner shell are certified to protect your cranium against falling debris.
Large vents let in air to keep you cool and focused on the sun-drenched rock
The sliding adjustable headband adjusts to fit the circumference and height of your head for a custom, secure fit
An ergonomic shape with soft padding provides lots of comfort for long climbs
A soft-lined, fully adjustable chin buckle strap locks the helmet to your head
Four large clips attach a headlamp for early ups or dark rappels
Fits hat sizes 6 5/8 through 7 5/8 (20.7-24in or 53-61cm head circumference)
good, but the adjustment is poor
Gender:

Male

Familiarity:

I've put it through the wringer
Nice helmet, well build and designed except for the back adjustment. It is much harder to readjust while already on the head than many others. Also the plastic strap does not work well with any kind of goggles, and even without them get uncomfortable after some time. With GoPro on top the pain is much worse.
Also even strapped properly and tight still moves back and front which is a bit irritating sometimes.
Decent helmet but not durable
This is a very comfortable nice looking helmet, however, on a hot day I was hanging out at the top of a cliff for a few hours and had this hanging off my pack and the thing started to melt. Not what I was expecting from Mammut who usually sell very high quality durable products.
Nice and Cool. Not So Comfy.
This helmet is very light and keeps cool in warm weather. Overall the fit is good, but adjusting the size is inconvenoent and imprecise.
This is the only helmet that has every consistently convinced me to wear it. it's lightweight, comfortable, adjustable and seems pretty solid. the only drawback is that it probably wouldn't be my first choice for ice climbing. it has a thin plastic shell and then foam, which i feel wouldn't hold up as well to the sharp ice chunks that are likely to hit it. i have taken a few hits from ice in it, but i feel like extensive use would have me ordering a second helmet earlier than i'd like. that being said it is the best helmet i could imagine for hot summer days at the crag.
It's got pretty much everything you could want. It's light, comfortable and seems pretty durable. It definitely fits better than any helmet I've tried on or owned and as a result I'll probably be more inclined to wear it. It's pretty well ventilated which is nice for when it's warm, but it also means there are more places for icicles to get in when ice climbing. Not a huge worry though and definitely a trade off worth making.
Smart people wear helmets.
I bought this helmet to replace my Edelrid Ultralight. The first day that I wore this to the crag I seriously forgot that I was wearing it. I got in my car and my belay partner asked why I was still wearing my helmet. This thing is lighter than my super expensive road bike helmet and it never gives me the hot-itchy-head feeling. I am sure this is because with the inner air channels not too much of the foam actually touches the head. The outer shell does feel very fragile but only time will tell if it can hold up. If this helmet handles the small bumps and scrapes I will be repurchasing it when I retire my current one.
Amazing challenge course helmet!
I bought this helmet for something a little different that the usual purpose, as I spent this summer working on a challenge course in Texas. This helmet is amazing. It's ultra lightweight, which makes wearing it for 4-5 hours at a time a snap. The venting on the thing rocks, there's so much airflow through it with even the slightest breeze.

On the downsides, because it's an ultra light helmet, adjusting the crown size can be hard with gloves on, as instead of a large turn knob, there's a small plastic slider. The padding on the chinstrap kept getting in my way, and would get soaked with sweat, so I took it off; I didn't find it all that useful, and thought it was annoying whenever I was trying to adjust the strap. Lastly, this is not a very low profile helmet. Compared to a Skywalker, or a Petzl Elios, you look like you're wearing a pot on your head, but I really didn't have an issue with that.

Durability wise, I haven't taken any really serious hits, but I've smoked my head on some of the poles and cables pretty good, and it sits in my day pack and gets thrown around all day. So far, there's only a few cosmetic scratches. So even though it's a really lightweight helmet, it can still take some serious abuse.

Overall, I love this helmet. The fact that I could wear it for long periods of time at 100 degree plus temperatures and not feel uncomfortable really says all I need to. I can't wait to get out and try some real climbing with it!
This helmet is awesome it is light weight, comfortable, and vents well keeping your head cool during summer heat.
I am worried about the durability of this...
I am worried about the durability of this helmet and was wondering how easily the foam crushes and is useless?
It's not going to take abuse like a hard shell plastic helmet, but smaller rocks and bumps won't do anything to it. Basically if the rock is big enough to cause you serious harm, that's about the size that's going to cause damage to the helmet. It's a little more sturdy than a bike helmet.
light and comfy, good vents and hard outside resists getting it dinged by rocks. Great helmet
Thought not as low profile as I was hoping when I picked this helmet out, the Tripod is very easy to wear. It's light enough that you can take people seriously who say they barely notice having it on. It really is pretty comfortable. So far so good, and here's hoping I don't get a chance to update this review with how the helmet holds up to serious impact...