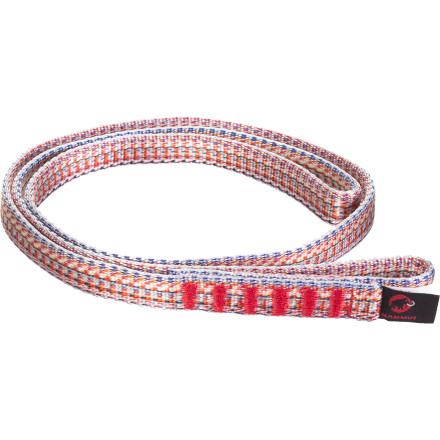 Made from pre-consumer recycled materials, the Mammut Transformer Sling PA boosts your gear inventory while reducing your ecological footprint and comes in handy on any big wall or alpine climb.
Transfer yarn created during the dying process was previously not used due to the mix of colors but is now used to reduce waste
Properties and strength of the transfer yarn are identical to un-dyed polyamide yarns, and as a result of the coloring, each meter of the sling is different
Light-and-tough sling boasts a strength rating of 22kN
All around great purchase
Familiarity:

I've put it through the wringer
These are uniquely colored (helps identify your gear...) and cheap. Perfect for any trad climber. I use these as shoulder (60cm)/anchor slings(120cm) on the regular.
Worth it...
Familiarity:

I've put it through the wringer
These slings are great for the trad climber on a budget, good for clipping cams and reducing rope drag. My only complaint is that they suck to rack as an alpine quick draw... the 16 mm thickness making it very hard to keep the draw streamlined and even just extending the quick draw(lost a carabiner form that...) Defiantly rack these over the shoulder but other than that extremely good deal for a product that's strong, lightweight, and just over all awesome.
Personal anchor system
Familiarity:

I've put it through the wringer
I use these slings strictly for personal protection on sport routes. Throw a biner thru a bolt and you are safe. Super simple to set up a personal anchor system at the top of a route to clean up and lower down. The colors are rad too!
Perfect
Familiarity:

I've put it through the wringer
These are my go to slings for cleaning anchors. Super strong, which adds much needed confidence when hanging 80 feet above ground!
Is this nylon or dyneema/spectra? Polyamide...
Is this nylon or dyneema/spectra? Polyamide is a generic subunit material name for both but their properties are very different and affect how one would use them-safety issues. I get the impression from the recycle term that it may be mixed hence this is not specified. Can Mammut shed some light on this?
Best Answer
Dyneema, spectra, and dynex slings are all brand names for similar materials made mostly of ultra high molecular weight polyethylene combined with nylon strands. Unlike nylon, this material can not absorb color, hence the addition of nylon to all slings. As you can see from the picture, the Mammut Transformer sling is a combination of nylon and the UHMWPE material. The sling will have some of the dynamic properties of nylon, since it is a combination. Similarly, melting points and slippage factors for tied knots will be a combination of the two materials.
If that is the case then it should not be knotted as a knot will significantly weaken this sling
A knot will significantly weaken any sling - Nylon or Dyneema/Spectra. But knots in mainly nylon slings have been shown to slip and tigthen up thereby reducing total force on the material.
Even a knot that reduces strength significantly - say, 50% - still leaves you with 11 kN of strength. That's still more than enough to break your body.
That's not the issue, 50% i can deal with but dyneema/spectra can cut itself. For now, I won't knot this
I am surprisingly happy with this purchase, I was buying some dynex slings and added this to the mix just because it was unique. I will be buying some more for making anchors. Sometimes the 16mm width can be visually reassuring in comparison to 10mm dynex slings.
Interesting
Gender:

Male

Familiarity:

I've used it several times
I found this item unique, in that it's made from recycled plastic. The sling feels good, have not seen any wear or tear due to fibers catching on rock crystals. Would like to buy more.