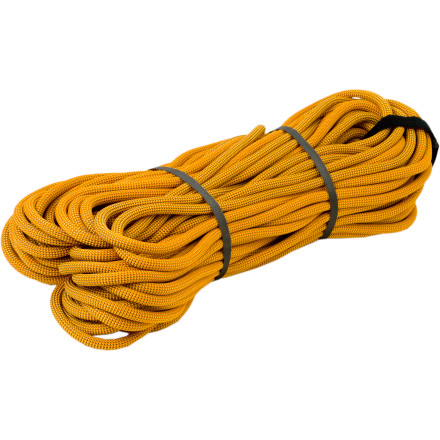 Detail Images

Videos
The fat 10.2mm diameter and CoatingFinish make the Mammut Supersafe Evo Climbing Rope a wise choice for most sport climbs or multi-pitch routes. A Teflon finish on this single rope's sheath not only resists abuse from friction but also adds strength and allows easier gliding while feeding rope or repelling.
CoatingFinish coats the individual rope strands with Teflon to minimize chafing, to uniformly distribute loading during a fall, to reduce rope drag, to repel dirt and moisture, and to ease handling
A low (7.9kN) impact force means less stress on your body and gear, making for a safer environment during a fall
Comes lap-coiled so you don't have to carefully unroll the rope or worry about it becoming twisted during first use
Available in 60m and 70m lengths to match your climbing needs
No complains
Familiarity:

I've put it through the wringer
It's a little heavy and feels a little fat on the grigri some times. But if you are looking for a long, heavy duty and safe rope; this is it.



I rappelled on it with some sharp rocks and felt super safe; I walked a couple of kilometers with gear and the rope, and it's not a huge load.



It's a great option if you are looking for variety on doing sport climbing and multi pitches.
Mammut just works!
Familiarity:

I've put it through the wringer
I've tried a fair amount of different ropes on the market, but always go back to Mammut. I like how they feed through a belay device.
Check out the part at the end where ropes are tested for quality assurance! Really neat.
Awesome rope. Best service ever!
Didn't know much in the way of Mammut ropes as it's rather hard to get in Australia. Needed to upgrade from what I climb on now and found the Mammut Supersafe Evo Dry Climbing Rope - 10.2mm in my research and could only base my reason for purchase on existing reviews and product information (which was all positive). Have only owned the rope for a month and took it out for the first time on a multi pitch climb and found it to be probably the best rope I have used so far...and then some. It glides through a GRIGRI and ATC wonderfully, tying knots is a breeze as it's nice and flexible and not wiry or stiff like some other ropes can be. It has bold black lines to indicate the middle of the rope and for a 70m rope isn't as heavy as expected. Am yet to have fall on it and use it on sports routes but I have no doubt, based on its performance so far, that it will handle superbly.
Mammut Supersafe Evo Dry Climbing Rope
Excellent rope, excellent service
My first supersafe came to me with a slight fray in the sheathe, still safe to fall on no doubt, but it's a new rope so I wanted it to be nice. I called up BC and I'd barely gotten the words out of my mouth before they were shipping me a new one. Right on.



The rope is sweet. It's heavy, so if you're looking for a super light rope for hard redpoints then you should keep looking. BUT it handles beautifully, feels amazing through an ATC. Feels very safe to fall on, and thought it's still relatively new to me, it really feels like it's going to hold up well.
This rope has probably thickest sheath I've ever climbed on, but still retains a great amount of feel and supple character despite it's weight. I would recommend this rope to anyone who top rope's a lot or climbs in an area with unusually sharp rock.
I've been climbing on my Supersafe for over two years now. It has weathered mileage perfectly, still looks new, and has retained its excellent handling.