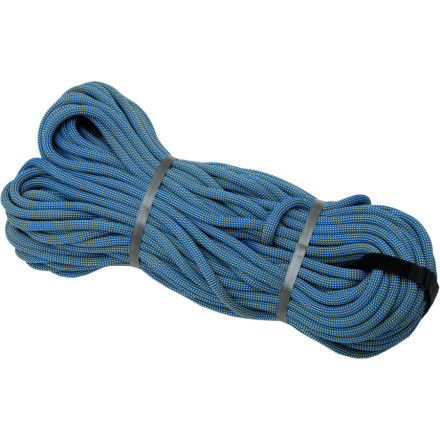 Detail Images

Community Images
Take a hint from the name, the Mammut Supersafe 10.2mm rope is the first ever rope to pass the UIAA Sharp Edge Resistance test. The key to this impressive strength is a Teflon coating that covers every individual fiber to reduce internal friction. This quality line also features a dry treatment that keeps it from absorbing water if your sunny cragging day turns to rain.
I'm a fan. Its been fairly easy to work with and hasn't developed any dead spots after a season and a half of use and many falls. The Teflon coating makes it a bit more slick than other ropes I've used, but this is kinda nice sometimes as it allows it to pass smoothly through belay devices, biners, etc, and my partner has never had trouble catching a fall because of it being slick (it may even help to make the lead falls a bit softer). I'd agree that the half mark is difficult to see at times, but without buying a two toned rope, that's generally what you get and it still works well when I'm looking for it to line up a rappel after cleaning a route. When it becomes time to retire this one, if they still make a similar rope I'd probably buy it again.
I agree with other comments here. This rope gives me peace of mind and I'm really pleased with it. But it is a little heavy. The center mark is pretty tough to see.
Wearing well so far, but middle mark hard to see.
This rope has met my expectations for durability. I previously had a Petzl Zephyr 10.3 which wore out excessively fast. I use this rope primarily for single pitch traditional leads, but also for toproping with groups and occasional sport pitches. I climb frequently in Joshua Tree where the Quartz Monzonite is extremely hard on ropes.

Pros: The premium teflon coating finish on this rope is noticeable immediately: not only does it feed well, but it is supple and the sheath is smooth. It does show some wear after 8 months of climbing most weekends, but not a lot, and the ends are still in great shape. This rope is burly, it feels totally trustworthy.

Cons: The rope is a dark color, and the middle mark is unevenly marked (lighter on one side of the ring than the other) and hard to see. I pull past it sometimes even in broad daylight. The rope is pretty fat and heavy - a 60m Supersafe 10.2mm weighs more than a 70m Infinity 9.5mm. This makes it a great rope for cragging, but heavy for backcountry climbs, or multipitch ropestretchers. It's width also makes it fairly difficult to pull through an autoblocking belay device.

Overall, I'm happy i bought it, but my next rope will be a little thinner, lighter, longer, and have a bipattern weave. Probably the Infinity, which has the same awesome coating finish.

Hope that was helpful
Great rope (but one caution)
I'm on my 3rd one of these, and I am very impressed with its durability. 18 months after buying my latest, it looks great, no furry sheath, no obvious wear points, despite hundreds of feet of jumaring in addition to the usual climbing action. I love its feel, and I have had no problems with twisting or tangling as was mentioned in another review. I plan to buy 2 more soon.

ONE IMPORTANT NOTE:
I have had Tiblocs slip several times on this model of rope, perhaps because of the characteristics of the cut-resistant sheath. I am experienced in Tibloc use, and they were correctly applied and weighted. That is so far the only time I have had ANY sheath damage, as minor as it was. Perlon (nylon) cord prussiks also do not seem to grip this rope very well, again probably because of the special sheath. I now routinely carry a Petzl Microcender (or Jumars) in case I need to ascend the rope.
i'm feeling good about this rope. took it to eldorado canyon last month and it performed beautifully. i didn't have the same twisting issue as others listed here and it was almost ready to go (fully flaked and unknotted) right out of the packaging. i reflaked it to make sure, and off we went. my climbing partner took a 20 foot whipper on it with no probs. feeds nicely, no stiff waxy feeling you might get with other ropes, and had good friction on my belay device (reverso). highly recommended.
I have only used the rope over 2 days, for 6 total pitches, but these are my initial comments. It has a good feel to it, not too stiff or a noodle. Feels good for clipping, runs clean, all of that (which is to be expected with a high end rope like this). Didn't take any falls so I can't evaluate anything related to that - including the all important sharp edge rating (though I guess it gives me some peace of mind). The rope did seem to twist a lot and become knotted, though this might happen less once the rope gets worn in a little more. The middle mark is nice to have, but hard to see. I climbed past a guide giving a lesson when I was using it, and the guide complimented it and said he uses the same one - I felt cool and then placed 2 pieces of pro over the next 50 feet to prove that I'm cool.
Bought last year's version for a deal (the green one). Used it at Smith Rock for a few full days of climbing multi-pitch stuff, then a day of climbing at Mt. Erie - no twisting noticed. Mammut says there's no special technique necessary for uncoiling due to how they coil from the factory now, so I just flaked it at the gym to break it in and haven't had any problems. Maybe things have changed from the last reviewer's older rope, but so far I have no complaints about this rope except for it has given me some peace of mind when climbing. Will try and update when I've had it for a while longer.
I purchased this rope a few years ago. The teflon gives it a slippery feel at first but after a few climbs it feels 'normal'. It is the first Mammut rope I've purchased. I like knowing this line has everything a company can put into a modern rope to make it less prone to failure. I've used it on sharp limestone, waterfall ice, and glaciers and it provides a little more piece of mind; especially now that I'm climbing with my adult kids. I also use another brand of line in a twin setup when situations are appropriate.
The only reason I would not buy this rope again is because it has a huge tendency to twist very badly. I uncoiled it for the first time using the method Mammut recommends for uncoiling a new rope but it still twists badly. I thought maybe after a dozen rappels or so it would get better but it hasn't improved. I've even rapped on it as a single line just to try to "untwist" or reset the fibers. As I rap down the line I can see the spiral twists of the sheath and dread the cluster I know will be at the bottom. When belaying there's always a cluster twist as the leader nears the end of a pitch. I've actually untied to rid the twists before following a pitch. Hopefully this drawback has been taken care of. I would definitely buy this again if it weren't for this issue.
The ads state this is the first rope to meet the UIAA fall test over an edge but some time ago, I had an Edelweiss that claimed the same and that was back in the late 1980's. Maybe there are more stringent UIAA edge fall tests now or Mammut and Edelweiss are referring to different tests. Given this twisting with the Mammut, I think I'd recommend ensuring somehow it had been fixed by Mammut. This will be a rope I consider next time around but I'm sure I'll be looking at what Edelweiss or others have to offer in as similar 'supersafe' thread.