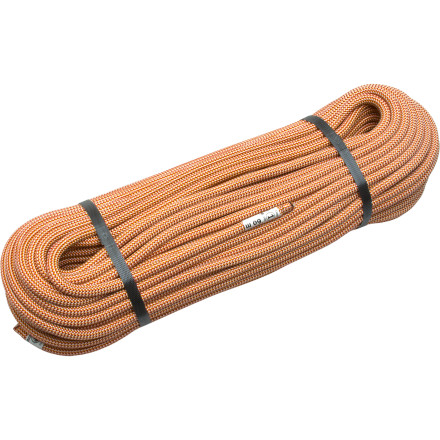 Community Images
The 10mm Supernova Climbing Rope make an excellent all-around line whether you're clipping bolts or placing gear, and it comes with a bag to keep it clean and help it last longer. Unlike the lines you get in most rope packages, the Supernova packs all the performance and durability you expect from Mammut.
Mammut Rope
Familiarity:

I've used it once or twice and have initial impressions
This is a good quality rope and has a lifetime warranty (always a plus). Also throwing in the bag adds to the value. The rope bag is really more of a mini tarp with a drawstring that turns it into a bag. No complaints thus far.
Good Value
Familiarity:

I've used it several times
I bought this rope primarily for gym use, since it was a reasonable price, a known company, and came with a bag. The rope has worked well: it clips easily, feeds smoothly, and isn't super heavy. My belay partner uses a Grigri, and this functions just fine. As a few people have noted, it is a bit kinky at first, but after the first time I climbed with it I pulled it up through the draws before packing it up. I haven't had any kinking issues with it since.



The rope bag is OK; it's fine for gym use, but for outdoors I wouldn't mind something with backpack straps. It is big enough to hold my shoes, harness, chalkbag, gloves, and ATC in addition to the rope, which is handy for trips to the gym.
Love at first climb!
Familiarity:

I've used it once or twice and have initial impressions
I'm an aerialist. I needed a rope I could rely on to safely rig and perform with after attaching an apparatus of sorts. This was my first climbing rope to attempt this setup with and it was perfect. Stable and never felt any hesitation. Thanks, Mammut!
Why does Amazon and not Backcountry say...
Why does Amazon and not Backcountry say that this rope got the standard dry treatment?

http://amazon.com/Mammut-Supernova-10-0mm-Climbing-Rope/dp/B001L5I23K
Best Answer
I checked Mammut's website (http://www.mammut.ch/en/products_ropes.html), and it appears that the Supernova is discontinued. The 10.0 Vertex, however, looks like it replaced the Supernova, and Mammut makes no mention of dry-treatment. I have a Supernova, and it did not come marked with a SuperDry tag. All that put together makes me guess that the Amazon description is incorrect.
Great value rope.
Familiarity:

I've put it through the wringer
This is my first rope, and it has been an education for me on things to look for in choosing my next rope. For the price and the fact that you get a bag (albeit a cheap one) with it, this rope is great particularly for those looking to purchase their first rope. I also found that after a good washing, it did not twist quite so much; that was extremely annoying and the biggest problem I had with this rope.
this rope has been great so far. I'm a beginner climber, have just been toproping on bolted routes. it's super dynamic which is great for me! the bag is kinda silly to me... not really a bag it's a mat with draw cords to make it into a bag. but using it as a mat is nice!
Great for the price
Familiarity:

I've put it through the wringer
After about 9 months of heavy use on TR and sport climbs it has held up pretty decent, considering the price. Elasticity is still OK, but the sheath has started to fray in few spots. There are obviously way better bags out there.
Good, but not Great
Gender:

Male

Familiarity:

I've put it through the wringer
I bought this rope back in May, 2012 and put it to good use climbing throughout Vermont and New Hampshire. It's been used primarily for Sport (with some gnarly whippers) and some TR climbing. It has retained it's elasticity pretty well and hasn't really started to fray.



My favorite thing about this rope is that, as others have mentioned, it is marked in the center.



My least favorite things are: 1) the rope twists really easily, making it harder to flake that it should be and 2) the bag is more of a tarp with a drawstring. While it allows for quick access to the rope, the bag makes for an awkward haul unless it's put in another pack (I just throw it in my haul bag).



Overall, I am satisfied with my purchase and would probably get it again.
great rope
Gender:

Male

Familiarity:

I've used it once or twice and have initial impressions
i've read a lot of reviews that kind of bash this rope. yeah it's on the inexpensive side, but I would not necessarily assume that this is crap. i've used it a couple of times and have not had any problems with it. i've even taken a decent sized fall on it and it stretches nicely
You are looking at a $100 rope and overpaying on a cheap bag. The pictures you see are not the bag's you will get with the rope. you get a cheap tarp with draw strings around the edges. And even though on the mobile site there is no way for you to know that the bag in the pictures are not what you are getting, they will not give you the bag you thought you bought.
As far as the rope goes, it is decent, coils nice.. but remembers the bends. the ends are just burned on, no cover to help keep it from fraying.
I have only used it once, so don't know how well it holds up to long term use.
Had the Supernova for a while now. It's seen substantial action at the local stuff in SLO, Joshua Tree, and Red Rocks. It's just starting to show a little fuzz. For the price, you can't beat it. It's a mule of a rope and center marked to boot. It isn't rated for as many falls as some others of its size, but how many UIAA falls are you gonna take?

Also, it's surprisingly easy to control, even when it was new. It glides through my ATC and/or GriGri without any grief and rarely wants to kink.

I like the bag...it's pretty respectable and good enough. Most of the time I coil the rope and cinch it onto my climbing pack and then stuff the bag inside the climbing pack (I'd rather carry one bag instead of two) for local or single pitch stuff so I can still use the tarp. Multi-pitch stuff I leave the bag behind. Plus, it gives me something to store the rope in and what have you.

I'd get this rope again and I'd recommend it to anybody.
What's the length of the rope.? Is it a...
What's the length of the rope.? Is it a 60m rope ?
The rope is quite light for it's size. When handling it, it almost seems skinnier than 10mm. It has a nice feel and it's not stiff at all. The color is more pink than orange. I think bc needs to update the pictures and info a bit (though the one colors/styles picture is a pretty accurate depiction of the color). It is indeed center marked which is awesome. But the bag is totally not a bag. Like Ayers and myself said before, its a tarp with a drawcord and handles. Not bad, but certainly not a rope bag like most people would think of. Doesn't get very small (just a drawcord, no straps), and if you're doing any length of a hike to get to the rocks, it ought to be put in a pack. It's a little awkward to carry. I wish it would have come with the bag others seemed to have got. Overall though, it's a great buy. Mammut quality at a very affordable price. A 70m option and a real bag with compression straps and I would have given this combo pack 5 stars for sure.
A surprisingly light rope for a 10mm. The rope bag isn't really a bag, as much it is a tarp with handles. Colors are cool, hard to spot against sand stone from afar. Its also pretty flexible right out the bag. I would buy it again any day and will definitely recommend it to any friend.
Me and a friend of mine got a pair of these ropes from Backcountry.com a couple of months ago. We've been using it on weekends' climbing days. It's been a great rope 'til now. Also the rope bag is very useful, the tarp helps to evy the rope gets dirt. Just the nylon loops sewing seems to be a little fragile. It seems it'll go unsticht if you put too much weight on it.
Otherwise, contrary to what appears on Backcountry Specs, the rope DOES HAVE the center marked with a pair of black bands around the center section of the rope.
A great choice from a great brand like Mammut.