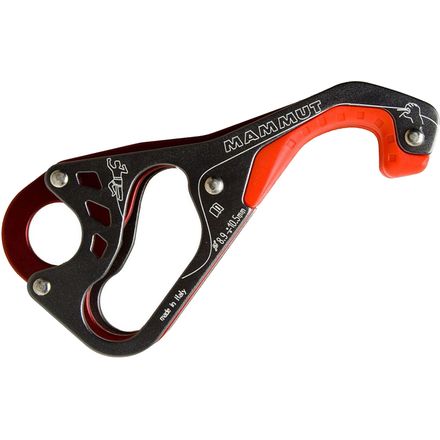 Detail Images

Community Images
Description
There's no such thing as too smart when it comes to safety.
The Mammut Smart Alpine Belay Device doesn't boast unnecessarily about its own intelligence. It doesn't have to because its intuitive design speaks for itself and offers great utility on belay or rappel.
An updated design uses the same non-mechanical construction of the original Smart device to pinch the rope during a fall and make for easy catching and holding
The extended lever allows for easier catching and releasing when lowering your climber
The auto-lock option allows a lead climber to belay one or two seconding climbers directly below the anchor
Device accepts a wide range of rope diameters between 8.9mm and 10.5mm
Confidence Inspiring Belay Device
Familiarity:

I've put it through the wringer
I have used an ATC and a grigri 2 for many years climbing, and this device easily replaces it. The ability to belay, rappel, and have that auto locking feature is excellent. I like that it uses the familiar belay technique of an ATC, but has the locking feature for the added comfort in the event of a fall. Overall it is an excellent device that has landed a spot as my primary belay device, and I don't foresee that changing.
Great for the outdoors
Familiarity:

I've used it several times
I first tried one of these in the gym, and honestly I did not like it. When my daughter started leading, I decided to get something that autolocks, and I piked up the Mammut Smart single rope, and I love that device. But I can't rap with it, so I need to bring an ATC when I go outside.

After a previous trip (when the ATC dropped a few 100 feet), I needed another rap device, so this was the pick up. I used it this last weekend, and it is great. If I am doing multipitch, I will probably bring both, since I much prefer to belay with the single (though there is no guide mode), and I want a back up and something I can rap with.

When rappelling, It feeds nice and smooth, and it does lock off. I wouldn't take my brake hand off, but it will let you use both hands if you need to clean a climb on rappel, or free up the rope from a crack.

I use it with a BD Gridlick Screwgate, and it works perfectly. Make sure you do get something that has a secondary gate to ensure alignment on your harness.
Awesome Device
Familiarity:

I've used it several times
Got this after using a friend's, and I love it! I've yet to rappel with it, but it belays very smooth and has worked well for me with 9.8 and 10.2 mm ropes.
Perfect all arounder
Familiarity:

I've put it through the wringer
I have been using one of these for several years now, and will continue to do so. The auto block works great as long as you have the right carabiner. I have a Petzl William, which I highly recommend using with this, an HMS is pretty much necessary. It works swimmingly in guide mode too. The great thing about it, is that you get the features of a GriGri and an ATC guide. It's super lightweight, very durable (I've dropped it more times than I can remember with hardly any nicks, and none where the rope runs through) and no moving parts. The rappel mode did take a while to get used to, but now after a few hundred of them, I have it down. I can glide down the rope with absolutely no problems. I even hung my dog from my harness ( he was in a rated harness too) and I was able to get down the rope smoothly. If you're new, I would still suggest starting out with an ATC, so you really get to understand the necessity of keeping your brake hand engaged at all times, you never know when you'll leave the smart behind. After you wear through an ATC, graduate to this.
round biners!
Familiarity:

I've put it through the wringer
I find this thing works great and is super handy and reliable. The smoothness seems to depend on what type of carabiner i am using. Round ones seem to work the best.
Why I bought this thing -
Your life is a precious thing - and when it's cold, whipping wind, and your hands are tense - it's REALLY nice to have this thing autolocking for you on rappel.



Northwest couloir of the Pfeifferhorn in optimal conditions.
Great for belay
Familiarity:

I've used it several times
Got this because my girlfriend was scared she'd drop me... I started using it instead of my black diamond ATC and I love it.
Not good for rappelling. Great at belay
Familiarity:

I've used it once or twice and have initial impressions
The simple design of this item is great. It's simple and works very well. I purchased the two-sided model because I intended to rappel. However I wish I would have bought the single sided model for weight savings. It is great for belaying. But when you rappel, the rope ends get twisted and complicate the process. Instead of having your brake hand off to the right, you end up feeding rope from the bottom inward. You also have to lift the lever to get the rope going. When you're focusing on your foot placement, there is too much going on and it's hard to be smooth.
Great Jack of All Trades
Familiarity:

I've used it several times
Used to carry my grigri and an ATC guide up everything multipitch. Loved the extra security of a grigri, but needed to rap or belay two seconds. Now I can finally do it all with one device. This guy does it all, but does seem to have a few caveats. Firstly, it _REALLY_ needs a carabiner that prevents cross loading (any of the belay biners with the added little springgate inside should work). Seriously, I'm surprised it isnt in bold flashing font in the instructions. On a typical HMS or pear or whatever biner, if it flips to the narrow side of the biner, the autolocking function will cease to function. Works like a normal ATC at this point, but if you are expecting it to lock and it doesn't...whoops. I've been using the Edelrid HMS Strike Slider FG with fantastic results. Also lowering and rapping can be somewhat jerky. This seems to be very weight dependent! I'm 165lbs and its about perfect for me; I can rap in 'autolock' mode without it locking up inadvertently all the time. Takes a bit of getting used to, but its pretty damn slick when you do; no more need to deal with those annoying autoblocks or prussik backups. I feel like heavier folks, or if you are rapping with an additional load, it would engage the autolock frequently and make rapping a royal pain. I've also heard that rapping with two significantly different diameter ropes is a chore not worth repeating. No personal experience in that, but thought it was worth mentioning.



Also its a bit funky looking, but whatever. Check out the edelrid Mega Jul for a similar device without the funky look. Iv'e heard reports with durability being an issue, but I think they newest version of them sorted that out.
How to Use the Smart Alpine
Mammut's Fritz Schufer, Climbing Equipment Product Manager, explains how the Smart Alpine was developed and how to use it.
Belays like a dream
Familiarity:

I've put it through the wringer
After having used this for well over a year now, I can say that I like it more than just about any other belay device I have used. It does take a bit of getting used to, but that's pretty much true of everything. Extremely versatile and just makes for smooth handling. Highly recommended.
You'll never need another belay device.
Familiarity:

I've put it through the wringer
The Mammut Smart Alpine is on the brink of perfection for any style of climbing. You can do everything with this autolocker, from belaying like a Gri Gri to top rope belaying like an ATC Guide. You can even jug haul up ropes and rappel better than most devices. Granted, it takes a little bit to get used to, and prevent cross-loading. But, would you rather take your Gri Gri and a Guide on multipitches? Or would you rather take one superlight device for all your climbing needs?
Simply Awesome
Familiarity:

I've put it through the wringer
easy to use, can rappel with it, and Auto Locking. essential item to have. little tough to use ice climbing with a 10.2 rope.
I'm not sure why this device isn't wildly popular--it's hands down the best belay device on the market, no questions asked. The smart alpine does everything--assisted braking like a gri gri, full two-rope rappels, and easy lowering. Sure, it's a tiny bit heavier than a BD Guide XP, but with the peace of mind that comes from auto-lock catching when you can't see your partner on a long day and a scary lead, this thing is worth it's weight in gold.
The Best thing since slice bread!!!!!!!!
Familiarity:

I've put it through the wringer
For those of us who don't wish to carry around a heavy, lunky gri gri (mind you, the gri has a place and purpose and I have used them for it) The Mammut Smart Alpine is my swiss army knife of belayness.



With it's autolocking belay feature, especially in the alpine where rockfall is ever prominent, I feel more secure in my belay.



The autolocking feature is also active on Rappel - this is the device's best feature. While rappelling you are able to go hands free (albeit the manufacturer does not say the device can do this, but it has never failed for me) - I don't do it often, as you never should, but when it is necessary to untangle a rope - it's a nice thing to know you are still secure.



I have also used this device alone to jug up a rope to take photos, and to clean route. I have also used it to jug back up over a roof after missing a rap station.



The device also allows to belay from above up to two climbers. This feature, in my own opinion, is often smoother in it's action than the ATC guide! - although the ATC guide is a great belay device in it's own right.



PROS: It's autolocking feature. It's amazing. It isn't a gri gri, but it not only locks while belaying, but rappelling as well. Lightweight, in comparison to other autolocking devices, and it's versatility are amazing- you can't perform a traditional rappel with a GRI GRi and have the autolock feature- you can with the MSA!



CONS: a bit tricky to figure out at first and requires an HMS biner. But these cons are extremely outweighed by the benefits of the device.




Excellent all-around device
Gender:

Female

Familiarity:

I've put it through the wringer
I'll admit that this device takes a little getting used to. But once that happens, I would never trade the ability to rappel and go hands-free (no back-up needed), feed out slack to a leader with the bonus of being auto-locking (just in case...), and using the device in plaquette/guide mode on iced up ropes- it is smooth and seems to break ice off of ropes more easily that other devices. Definitely recommended. In the attached photo I'm using the Mammut Belay Sling as well, which makes multi-pitch rappelling even smoother and more efficient.
Good Substitute for a Gri Gri
When I first bought this device I was excited to have a "gri gri" type auto locking device and it worked great with my 10.2 mm rope. However, at the gyms I go to they use larger ropes which jam ALOT and makes it very hard to let down the climber. Overall it is a great device and works well with small ropes and autolocks nicely but it is not a good partner with larger ropes.
Agreat Auto-locking belay device
The smart alpine works great. Gives you the ability to belay and rappel with double ropes, plus you get the safety of auto-lock for both. I did find that it locks up a tad too easily when giving slack to the leader, but more time and practice may eliminate that problem. It is super light and smaller than the picture seems to indicate.
Smart Belay from Mammut
Gender:

Male

Familiarity:

I've put it through the wringer
I have an original Mammut smart belay device and love it, the only thing it was missing was the ability to set it up for dual rope configuration, I like to set up a top rope and climb around the same route for a while and it make it easy for me to rappel down the same top rope i set up, as well as some other configurations. I also enjoy that i can set this device up with a newer climber for rappelling or belaying and feel a little safer because of its catching feature newer climbers feel a little more confident So when i found this I was stoked.