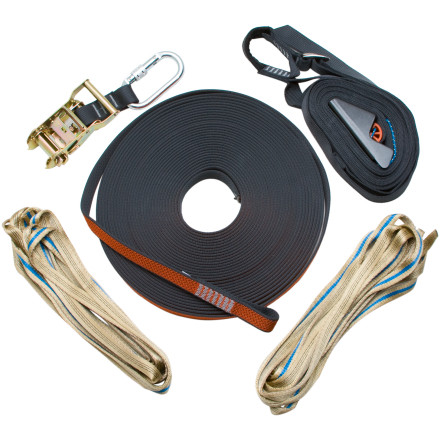 Detail Images

Community Images
The Mammut Slackline Set's easy-to-use tensioning system eliminates the need for complicated rigging, and the specially designed two-nylon webbing provides just the right amount of elasticity for walking. Mammut used dual-weave construction to make one side grippy for beginning slackliners and the other side smooth for more advanced walkers. When you're through working on your jump start and bounce turn, just pull a single cord to release tension and disassemble the Slackline Set. *Not for use as a highline.
So yes this is more expensive than if you just put some webbing and beaners together, but for pure ease of setup this one is tough to beat. I've pulled and pulled tensioning my buddy's aforementioned cheap system, which usually needed additionally tentioning after a few minutes of use. I can set this up faster and tighter by myself than his cheap system. Quality materials and overall very happy with it.
Unanswered Question
How much does the gear weigh?
How much does the gear weigh?
All the other reviews echo my feelings as well. Could find a cheaper one and a lighter setup, but setting up and using by yourself mostly in the backyard it is a solid kit with seemingly very durable products. Everything works really well and can be setup by one person pretty easily.
i got these slack line about 4 months ago and it`s just great, it may be a little expensive but its` quality is excellent, i had tried the classic gibbon slack line and there`s no point of comparison, the mammut is about the half as thick as the gibbon and its material is just top quality it may not be as easy as the gibbon to set up, but it is simple enough to set it up in 5 min top, one you get the idea of how it`s done. A great suggestion is to get 2 extra oval carabiners so you can just make the knots once to the tree webbing and then next time just clip it in and ready to get on your slackLine . Theres no way to get it wrong with these slackLine at the end it is MAMMUT!!!!!!
This kit may be expensive... alright really expensive but it is totally bomber. The rigging (ratchet, slings, buckles, and line adjuster) are super heavy duty and will last for a long time. It is also super easy to set up, I took it out of the box and had it set up in less than 15 min on the first try. The slack specific webbing is also very nice, it has been a while since I have slacklines and the textured side helped me find my groove much quicker.
I wouldn't recommended this for a first kit, that alot of money to shell out and have it sit on the shelf... figure out if you like the sport first, but if you do I would highly recommend this to anyone.

**As a reply to the pictures of the broken spacer rings, I can see how that could happen but they didn't totally shatter, just super glue them back together, its not even a big enough deal to remove a star for me.
Although it isn't pictured in the product photos, Mammut puts a pair of plastic rings around the ratchet spool to keep the webbing centered as you tighten the line.

Unfortunately these plastic parts broke on my kit after about a dozen uses.

I'm still happy with the kit, and Backcountry was fantastic about helping me exchange the kit for a new one. However, I would expect better durability for $170.
Mammut Slackline: Get what you pay for
More expensive than other sets but it's for a reason. Set comes as described, with everything you need to fully set a line. It's a cinch (no pun intended) to assemble alone and my tree slings came with little metal buckles so I didn't even need to tie water knots.
Yeah, you could go out and make your own slackline kit for less money. But you can set this one up by yourself in 2-3 minutes, the webbing is really nice (the textured side is nice to learn on), and there isn't a single knot to untie when you're done. It's really easy to get the line as tight as you want with the ratcheting system, without running out of travel in the ratchet. Bottom line, the extra hardware you pay for makes it easy enough to set up/take down that I end up using it a lot more than I would with a homebrewed system.
NO. DO NOT BUY THIS. Buy yourself sixty or seventy feet of 1-inch tubular, three ovals and a nice present for your wife. Then buy yourself a bottle of the Glenlivet. Now treat yourself to dinner, and maybe a movie. You'll still be saving about forty bucks and you won't look like an idiot.
Waited a long time for this. Very nice set up. Everything you need to slackline in one carrying bag. Perfect thing to take on the road. Really easy to use and the webbing is really good, i like the textured side better. I think it is worth the money you pay and it will last a good long time.