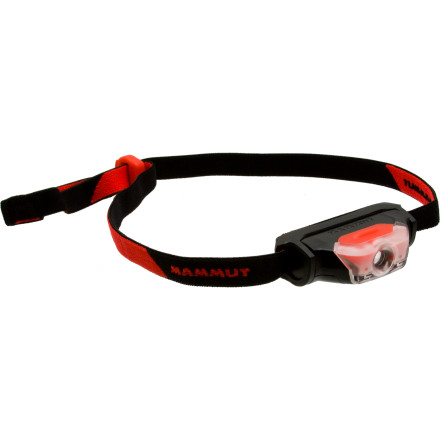 Detail Images

Community Images
The S-Flex Headlamp combines high intensity with low weight for an overall high-value package. An LED bulb offers two levels of beam intensity, a continuous red light and a flashing red light, all powered by a single AA battery.
Share your thoughts
What do you think of the
Mammut
S-Flex Headlamp
? Share a...
I picked this thing up for $20 bucks and it's a gem. I use it on trail runs when I don't want my bulky Petzl Tika strapped to my dome. The rest of the time, it lives in my first aid kit as a backup, and has come in clutch on multiple occasions.

Great lightweight/backup headlamp that won't break bank.
killer performance in a small package. Super light and uses one AA battery. Works better than my other bigger lights that take one battery. Use it running, climbing and camping.
is this have only red led light or both...
is this have only red led light or both clear and red?
flood light? could you clarify here. do you mean a separate cover over the bulb? -thanks for the quick reply though
Best description related to your question I could find:

-Red light can be either continuous or flashing
-AA battery provides up to 10 hrs. of use with the high-output LED on high, 40 hrs. on low; gives 90 hrs. of use with just red LEDs continuously on and 150 hrs. while flashing
-A single HiFlux.LED light coupled with Total Reflex Optics creates incredible light output with a 65-foot beam and a 40-degree light angle
-Flashing red LEDs can be seen up to 700m away
-Press and hold the on/off button for 2 sec. to turn on the alpine emergency signal; high-output LED will flash 6 times per min. every other min.
-Single high-output LED in the center throws a beam of light up to 20m on high and 15m on low; LED outputs 25 lumens on high
-Two levels of beam intensity
-Switch to the 2 red LEDs and use the strobe mode to increase visibility during nighttime bike rides or jogs; use the continuous on mode to preserve night vision while hiking
-Rear Light
"1 HIFlux LED and 2 Red SuperBright LEDs" from gearbuyer.com