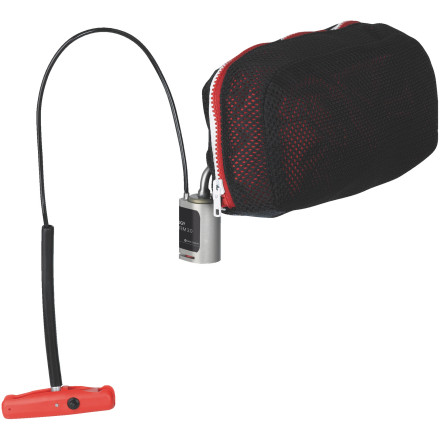 Colors

Detail Images

Community Images
Description
Mammut's answer to the emergence of airbags in the world of avalanche safety.
Install the Mammut Removable Airbag System RAS into a compatible R.A.S. backpack and gain the protection of an inflatable airbag system when you head out into avalanche terrain. By making this system removable, Mammut gave skiers, snowboarders, and others the opportunity to choose the best backpack for each pursuit and to decide whether or not to use R.A.S. system from day to day. The R.A.S. uses the same proven Snowpulse airbag technology that Mammut has been refining over the past few years, and the easily stowable deployment handles and contained design makes it simple and safe.
Please note: the Removable Airbag System is ONLY compatible with R.A.S.-ready backpacks. This airbag unit WILL NOT WORK on non-R.A.S.-ready backpacks. Please see the manufacturer of your airbag-compatible backpack for details—we're serious.
Airbag has a red signal color for faster location and a square shape that keeps your head on top and offers excellent buoyancy in moving debris
150L airbag inflates in approximately three seconds from time of activation (airbag activates when you pull the deployment handle)
Once the airbag has been inflated, it helps protect you from shock while pulling you to the surface
System unit weighs 850g and operates in temperatures from -30 degrees Celsius to 40 degrees Celsius
R.A.S. System has been certified by the TUEV South
If the system is deployed in an avalanche, have the system inspected and serviced by Mammut before using it again
Please review instructions on maintenance (once a year, carry out a test deployment without inflating the airbag, and check points described in the Quick Start Manual)
Easy to Install and easy to repack
Familiarity:

I've put it through the wringer
I have put this system into a number of pack and find it to be very intuitive. I like that it is easy to install since I have a few RAS compatible packs but only one airbag system and just swap it back and forth depending on what size pack I need for my trip. Great way to save some $$.

RAS + Oakley Snowmad
Familiarity:

I've used it once or twice and have initial impressions
I haven't deployed it yet but fits perfectly with in the Oakley Snowmad RAS pack.
Sure it won't work on an non R.A.S....
Sure it won't work on an non R.A.S. Backpack?
Best Answer
No it will not work. You need to have a bag that has blow out zippers and a way to anchor it well into the bag, then you need to route the whole trigger system and by the time you get all that worked out, you may as well have ponied up and bought an RAS compatible bag.
It's not at all about ponying up, I happen to really like my conterra longbow (rescuer/medic bag) and all of it's features. If I found a way to anchor the R.A.S. (and route the trigger) to the outside of my bag, and I trusted my bag to stay attached to me, could it work?
For anyone else wondering the same thing, your backpack needs the blowout zipper for this to work. You could retrofit it by slicing open the top of your bag and installing a blowout zipper. Then you would need to modify the pack internally so with webbing to anchor the airbag. Then modify your pack waist strap so it attaches to the airbag anchor webbing inside the pack, and change the buckle to a type that wont release. Also you need to add a crotch strap that attaches to the airbag anchor webbing and the waist strap securely. All of that is to keep the airbag securely attached to your body when you deploy the airbag. If your pack has a hydration sleeve in the shoulder strap it's pretty easy to mod that for the trigger cable. Just make sure you have a way to secure it in place to avoid accidental deployment. Also it'd be a good idea to build an internal canister holder to secure the compressed air canister. Obviously do all of this at your own risk, it's your life we're talking about. BTW, this airbag makes a-frame ski attachment impossible. All that aside, the pack and bag system is pretty darn good.