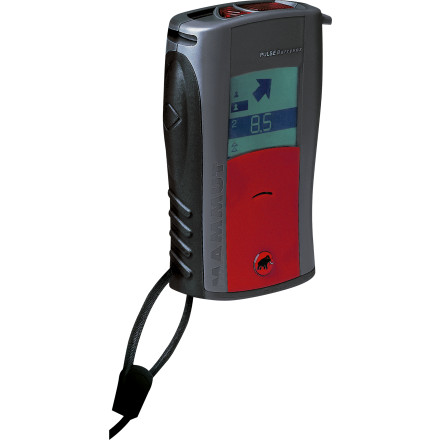 Colors

Videos

Community Images
Description
Mammut's smartest, most sophisticated device.
The very compact, impact-resistant Pulse Barryvox Avalanche Beacon packs a punch with serious efficiency and high-tech function for a day of backcountry fun and peace of mind when traveling in avalanche-prone terrain. This ultra-capable device combines analog and digital with three antennas for massive range in a search. The fully graphic LCD display shows you all you need to know. In the event of a multiple burial, it shows victims and marks them or unmarks them as found. In Basic profile the device always searches for the strongest signal. In the Advanced profile, it searches based on distance and survivability criteria. Movement detectors analyze and transmit vital data from victims. When all victims have been detected, this beacon automatically switches to transmit mode. Also, it switches if the rescuer if buried in a secondary slide. Use the W-:Link to configure or update on a scalable software platform. This enables simple fleet management.
Clear user navigation is intuitive for ease of use. The device can test your group and automatically tests yourself before heading out. There's a headphone connection, too, if you prefer to use that to check audio indicators. Heck, this device even speaks eight different languages.
Digital/analog combo with three antennas
Real time-optimized 360-degree directional display
457 kHz transmitting frequency
Search strip width 50 meters
MapView display of number, distances, and locations of subjects
Signal analysis and separation (DSP) when multiple burials
Marking of found victims; unmarking of previous markers
Fully graphic LCD display
3-D motions sensors
Rescue-Send automatic switch when secondary avalanche
W-Link scalable software platform
Dimensions 4.5 x 2.9 x 1.1 inches
Group check test function
Automatic self-test
Eight languages
Headphone connection
Mammut Pulse Barryvox Avalanche Beacon
https://www.youtube.com/watch?v=-42dwza8iVM
Feature flex, grows with you
Familiarity:

I've used it several times
This is a top-end device but it has a "simple" and a "complex" profile setting, so it is great for the occasional user or the beginner but flexes into more sophisticated range of uses. The reference manual is comprehensive (online, paper version in box only describes most basic functionality) and helpful. Concerning the regional switching of W-link capability (which only works with other W-link devices, not so many seem to be around), on the US-version you can disable it but can't switch to other regions in the set-up menu, which is an annoyance if you travel back and forth globally.
User Friendly!
Familiarity:

I've used it several times
Practice makes perfect.



I picked up this beacon this year and have done a few practice days with it and have found it to be super user friendly, ESPECIALLY during multiple burials.



Being a small individual it is also great that it is a smaller beacon and isn't too bulky. The one thing that keeps me from giving it 5 stars? The harness is HUGE. I'm a small female (this demographic is growing!) and I could wrap the waist strap around me twice. Maybe it's time to start having harness sizes?




Get outside and learn how to use it!
What firmware version is on this...
What firmware version is on this beacon?

(Ver4.0? or Ver3.2?)
Regardless, you can take it to just about any ski shop that sell beacons, and they can update it for you. Shops at mountains have the ability too sometimes. Our ski patrol was able to do mine. Call around locally. I actually liked the 3.2 a little more, perhaps I need to just get reacquainted with it.

Hope that helps
The one I got from bc in November 2013 for my son arrived with SW 4.00, the target.
Important! World Wide Use
I bought this beacon a few weeks ago. I haven't used it but my intention is to use it in Europe this winter. I have been looking at this beacon for several years and finally bought it. Like other reviews say it has so many features which is great but its lacking a very critical one which removes all the features your buying it for. If you should happen to venture out of North America with it. A Pulse bought in North America (Canada & US) & New Zealand with W-Link Region B will not work with Pulse bought in Europe with W-Link Region A or one bought in Japan which has no W Link as its banned in Japan, Russia, India and China . I just discovered this and was pretty disappointed. I will have to send it to a Mammut Barryvox service centre to get W-Link region A activated. While the North American Version you do have the choice in the menu to turn off the W Link Feature you cannot choose region A, unlike the European version where it seems you can choose in the menu system it you want region A or B or Off. So if you want a world wide pulse out of the box with the W LINK features enabled then the North American one and Japanese version will not work with out been sent away to a service centre to activate the W link region you require. Please note the W link channel is completely separate from the primary 457kHz so your beacon will still work normally with other world wide models you will just loose out on all the features you probably bought this beacon for. I know it will still work great but its a real pain to have to send it away. I understand its not the fault of Mammut as its just the different countries regulations for frequency but I have read nothing about this prior. Hope this helps others
Great Beacon v4 Software Improvements!
Familiarity:

I've put it through the wringer
I have used many beacons over the years. I learned with a pure analog unit with no screen, just a headphone jack and volume control for search. I had the original Tracker, which was great in it's day, but the Pulse is far above and beyond.



I have had the pleasure of owing this unit since 2008, and up until this year was running the original software (v2). I finally updated my unit and all i can say is Wow- v4 software really brings the unit to some new levels! Pin Point searching has improved, no more confusion on following flux lines the wrong direction, and the ability to quickly toggle between multiple beacons while searching is truly industry leading.



I also like the dual user programs. I just upgraded my Wife to the Pulse from the Optio 3000, and she finds that the basic user setting is perfect for her.
Great beacon but maybe too much for most
I've used this beacon for 5 or 6 seasons and its been great, fortunately I have yet to use it in a real scenario. However in beacon parks, and self-made scenarios it has never steered me wrong. Simple readings, accurate signals and any easy interface to switch from one signal to the next make's this worth every penny.



But then there are all of the other fancy features - like detecting the vitals of buried victims and such. Me and my touring buddy always messed around with this feature, but somehow never got it to work properly. Accessing and using some of the beacon's advanced features were somewhat confusing and difficult to decipher. That being said, these features are not a necessity for most of us recreational tourers. If the simplified Element were available when I made my purchase - I probably would have saved a few bucks and gone with that one - as there are plenty of features on this guy that I don't see myself using.



However, I still love this beacon and if I had it my way - everyone I ever toured with should have this beacon as well. Compared to other's - I think this one helps searches get to the buried victim in the quickest manner. In regards to beacons, I have Mammut and their technology in my highest regards.
Does this beacon come with carrying case/...
Does this beacon come with carrying case/ pouch and harness?
Yes this does come with a case and harness
the ultimate toy
Familiarity:

I've used it several times
This has every feature that could be crammed into a beacon without it becoming something else. Takes a bit of practice to know what everything is and does, but very accurate, feature loaded second beacon. Not for loaning to newbies, but perfect for daily or weekend use
Great Beacon
Gender:

Female

Familiarity:

I've put it through the wringer
In my opinion the Mammut Pulse and the Mammut Element are the best beacons on the market. After using a friend's Pulse in my first avy class I knew I had to switch from the Tracker. The range, accuracy, ease of use, and multiple burial functionality is top notch. I have the Element myself as I did not really see the need for some of the Pulse features and I love it. The directional arrows and distance readings have always been on point and I have never had any issues. In my mind the Pulse is amazing, but the Element is close behind in functionality with a much smaller price tag.
Took an avy course with a buddy who had the Pulse. There was no doubt, after many tests, that his beacon had the longest range (vs. BCA, others). His multi-burial functionality seemed to be the best as well. Do you need to upgrade your beacon now? Probably not. But, if I was buying my first beacon, would I spend the extra $150 on one that is, objectively, better? Definitely. Just my two cents.