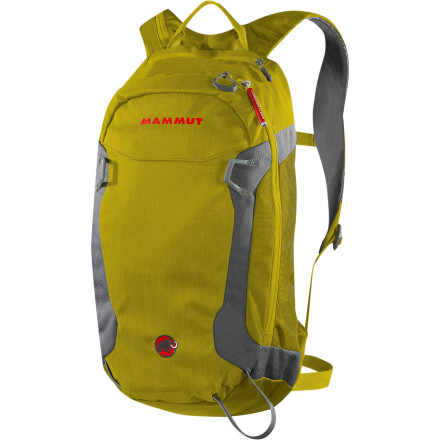 Detail Images
Those big, beautiful untracked bowls just out of the resort look too good to pass up, so grab the Mammut Nirvana Rocker Avy Package, learn how to use it all, and find a trusty partner. Then drop into pure slackcountry sweetness. This slackcountry-sidecountry pack comes with the Element Barryvox Beacon, Alugator Light Shovel, and Probe Light to equip you with the basic essentials to practice your search and recovery skills and to be prepared when you go out.
Count on the award-winning, three-antennae Mammut Element beacon for precision and efficiency when it matters most
Easy-to-read digital screen uses arrows and distances to show direction of burials; can detect up to eight burials
Nirvana Rocker 16L offers enough space for the minimalist sidecountry traveler; organize your avalanche gear in the larger pocket and keep goggles safe in the padded goggle pouch
Alugator Light shaves ounces off your shovel weight while still maintaining strength with backcountry-tested aluminum for breaking through avalanche debris
240cm Probe Light with telescopic lock is easy to use with gloves on
Avalanche safety equipment is not a replacement for planning ahead; take an avalanche class and use your local avalanche center and weather forecasts to make educated decisions before venturing into the backcountry
What do you think about this product?
Have questions about this product?
This a great package and quite adequate for anyone venturing into the sidecountry, or backcountry (you may want to substitute a larger pack for backcountry, particularly for layers, blanket, crampons, etc..). My problem is the description clearly says you get the Mammut Pulse beacon, but the package actually came withe the more basic Mammut Element beacon. When I contacted Backountry.com about the mistake, they told me it was an error in the description and I could return it if not happy. No offer to reconcile my disappointment or inconvenience in any way. It also put me in a bind for the weekend as I had used 2day shipping for a reason. I have bought many things at BC over the years. I will be purchasing my beacon somewhere else....
So is it Pulse or Element included in this...
So is it Pulse or Element included in this package?
Description says Pulse, picture shows the other one.
Hey Bruto, good question... as far as I know it includes the Pulse... get with 24/7 chat and ask them... when in doubt always use the mfg's website as reference...
This comes with the Element beacon.