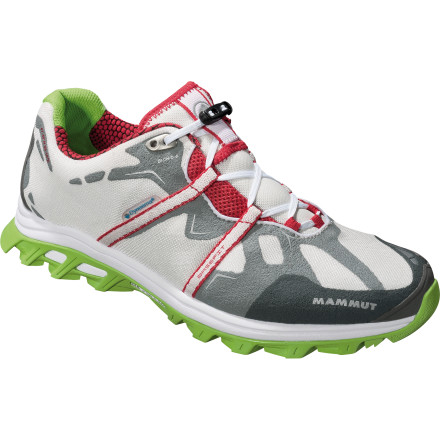 Videos
Lively underfoot and constructed to feel robust, the Mammut Men's MTR 201 Dyneema Trail Running Shoe covers all the basics right from the start, and then it adds a touch of toughness at the end. Breathable mesh allows excess heat to escape through the upper, a toothy outsole digs into loose terrain, free-sliding laces keep the fit secure, and there's a toe cap up front for additional protection from rocks and roots. And that touch of toughness mentioned at the start? The parts of the upper that aren't mesh or softshell are swathed in tougher-than-steel Dyneema material for extra protection and support. Slide your foot inside the MTR and you'll find that the fit feels snug and close, which allows you to plant your foot with precision when you're running. Mammut's flagship trail running shoe was created for runners who want the pinnacle of protection, support, and traction for technical terrain and winding trails.
Dyneema provides unparalleled protection from trail hazards and heaps of support for your foot
Dyneem material is stronger than carbon fiber and steel and highly resistant to the fiber breakdown caused by extended exposure to UV rays
Single Shell construction uses Dyneema, flexible synthetic material, and breathable mesh to form an upper that allows heat and excess moisture to move away from the foot
Memo Foam padding provides targeted cushioning for extra comfort around the ankle
Rolling Concept technology forms the midsole and heel into a shape that promotes smooth heel-to-toe transition and reduces foot and ankle fatigue
LP Lace, Speed Lace, and Base Fit combine to lock your foot securely in place inside this shoe by allowing the laces to slide into the ideal position on the upper as they're tightened
Rubber cap protects the toes from impact with rocks, roots, and debris
Gripex sonar sole has flexible ribs and wave-shaped, multi-directional lugs for traction on the ascent and the descent
Will you be getting more of these in? I...
Will you be getting more of these in? I go through a trail shoe every 3-4 months, and I love these. Just need a new pair in a 10.
Unfortunately we do not have anymore of these on order at this time
We have size 10 US in stock and more are on the way.
Mammut MTR 201 Dyneema Trail Running
Mammut MTR 201 Dyneema TrailRunning Shoe
I run mainly on technical trails in New England, with a fair mix of rocks, roots and mud. I wanted a low to the ground shoe with good traction and good cushioning.



The Mammut MTR 201 is a well-made shoe and meets two out of three needs that I have--low to the ground and good traction. However, it doesn't have enough cushioning for me--and I weigh 140 pounds. Alas, one can also feel the rocks through the cushioning. This shoe would be fine for nice soft, smooth trails, but it just doesn't work well on technical terrain.



If they would add a bit more cushioning and a stone proctection plate in the forefoot, it would be a great shoe.
great new shoe. Been a big fan of the Raichle fit in my boots and since Mammut bought Raichle, i was not disappointed . Flex was in the right spot and first first few miles it felt a tad bit stiff but it softened right up and was a great ride. Very livley but stable and great traction. We've had a snowy and wet spring and the trails are slick. Love the seamless upper and while not the lightest shoe its not a

heavy at all. Good looking shoe as well.
What's the heel/toe drop? Thanks
What's the heel/toe drop? Thanks