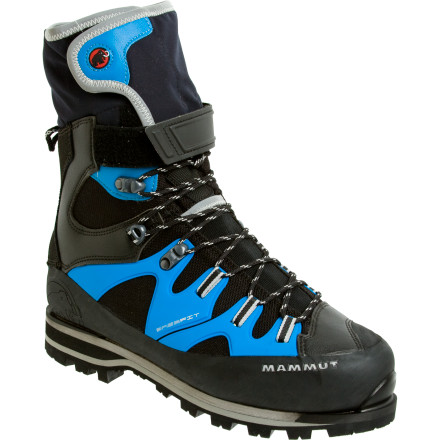 Detail Images
Slip on the heavy duty and highly functional Mammut Mamook Thermo Boot for your next ascent into the high-altitude world. Specifically engineered microfibre racing leather makes this boot highly resistant to abrasion and water absorption so the Mamook can weather your most aggressive summit effort.
Vibram Teton sole features mid tread depth for all-around alpinism and a raised heel for security on descent
Thinsulate insulation adds warmth without adding extra weight, and it still warms even when wet
Asymmetrical lacing spreads pressure to the large toe for increased precision on cutting-edge vertical moves that require good footwork
First time I ever wore these boots I got blisters on my heels the size of golf balls. However the boots were very comfortable and I did not want to give up on them. I went home adjusted my lacing technique and taped my feet. In over 100+ miles of colorado 14ers I have not got one blister or sore spot. I do 15 mile days in these boots no problem. And they still look new! Switch from spikes, crampons, snowshoes no problem. I normally have really cold hands and feet because of bad circulation so As for the warmth of these boots I've been in 5-10F weather with only a REI light hiking sock and been warm enough, the key is to keep moving!



I was told these boots are a 2 piece boot, however there are just 1 with a removable sole!
Excellent Boot- for the right conditions
Gender:

Male

Familiarity:

I've used it several times
These are excellent boots; magnificent Mammut manufacturing and very rugged; they can really take a beating; excellent vertical waterfall ice boots; very stiff and plenty warm (warmer than the LaSportiva GTX by far), though the toe box could stand to be a bit warmer; put a pair of toe warmers in them in very cold conds. and you'll be just fine. These boots are great for mixed terrain in most any latitude up to 5000m IMO, and climb class 4 rock perfectly, edge very well on class 5. I think they are filling a needed space btw the Sportiva Trango GTX and the Nepal EVO; they fit right in between. Excellent for Sierra and Cascades and the Alps; absolutely NOT warm enough for Alaska or Acon; NOT warm enough for Peruvian ice giants (though if you run really warm these might do) - truly outstanding boot that is not getting enough attention
What crampons fit these boots?
What crampons fit these boots?
nearly any crampon will fit these; BD and Petzl pro and combi will both work
I'm planning to climb some mountains in...
I'm planning to climb some mountains in the white range. Most of them are over 6,000 mts. For 2 of them it's a pretty long approach.

Are this boots warm enough for this task ?
no; these are close, but not quite warm enough for Cordillera Blanca snow/ice climbs. These are good on anything up to 5000m in most latitudes
I am looking to buy my first pair of...
I am looking to buy my first pair of mountaineering boots ever. I have tried on both options of the Mammut Mamook (GTX and Thermo). Both fit me well.

Now which one should I get? Most people posting questions and reviews here on backcountry seem to be concerned about how warm mountaineering boots are. So spending the extra $25 for better insulation sounds like a good idea.

Then again I wonder if they could be too hot? I need the boots for an alpine climbing class in the Mont Blanc, France (4,800m) area. I probably won't climb a higher mountain anytime soon... How is it going to be if I want to climb a 3,000m peak in summer with the Mamook Thermos?
Best Answer
I have the Mamook, and with a warm sock I've never had cold feet. Ice climbing and splitboarding up Rainier
Thank you Reid!

Does anyone have experience with the Thermo in lower altitudes?
i have some questions about these boots...
i have some questions about these boots how warm are they like would they be warm enough for 6000 meter peaks and how well do they walk on flat/ no snow ground?
No, I would not use these boots at 6000 meters. I would look at the Scarpa Phantom 6000, La Sportiva Spantik, or plastic boots like the Koflach Arctis or Scarpa Inverno. Also check out Dane Burns review of the Scarpa Phantom 6000 here:

http://coldthistle.blogspot.com/2010/08/its-back-scarpa-6000-dbl-boot-and-2.html
Unanswered Question
Hi, perhaps someone can answer this: I am...
Hi, perhaps someone can answer this:
I am hesitating between the Mamook GTX (the red one) and the Mamook Termo (blue, with integrated mini-gaiter).
My questions:
1. If I understand Mammut's web page correctly, the Termo has no GoreTex. Does this mean it is less waterproof? (perhaps in the idea that it's meant to be used in higher terrain)
2. Does the thinner insulation make the GTX version more precise for technical climbing?
I realize these questions are a bit abstract (who has tested both in the real world???) but am asking with hope. I must make a decision soon and buy...
I cant get any first hand info on how warm...
I cant get any first hand info on how warm these boot actually are. Could anyone enlighten me if these would be suitable for technical climbing at 6000m? Thanks
Best Answer
That depends. Aconcogua - probably work fine. Denali - probably not, not unless you want to lose some toes. Most of the 6000m peaks are pretty harsh so you need to look at the 8000 level boots.
these are NOT warm enough for Aconcogua or Denali
Well made. Very stiff and warm. But the heel cup is too shallow for me. I had pretty bad blisters every time I wore them... I gave up and went Sportiva's Nepal Evo which fit parfect.
I think Thermos are good for ice climbing with no approach.
Can I do a ski descent in these boots? Are...
Can I do a ski descent in these boots?
Are they ski binding compatible?
You could probably get a pair of silveretta 500s to fit with these boots, allowing you to do a ski descent. Other than those, I'm not aware of anything else. The whole set up will make for a more sloppy ski - just based on the type of bindings and the stiffness of the ski boot (as compared to a plastic boot specific to skiing), but it certainly can be done!
I have monolith gtx us9(uk8) and they fit...
I have monolith gtx us9(uk8) and they fit perfectly. I tested mormal mamook at local shop then those us9 fit great.
If I go for mamook thermo, should I take same size or bit larger?
Best Answer
I'd say go for the same size, if that is the fit you like. I tend to size my boots up a half size to allow for some toe wiggle room. My feet stay warmer and there is no toe bang on long descents. With this lacing system you can still get a good high performance fit even though the boot is a little large.
Hi Dave, Thank you for your info. I think you are right though I've already got us9. It's very tight... I tried to find comfortable way and found that there are two insoles in each boot, I took upper one out and after then they fit better like monolith. It was a bit cold when I stopped while hiking but better fit overall.
I'm not sure if they are installed for purpose or I got double insoles by accident though. The upper one seems same as monlith's, lower one seems with adiabator.
unbelivable heal retention. i have had a problem with Sportivas heel slip. the Thermos fit great, really warm and extremely efficient ice climbers.
how does this boot compare to the La...
how does this boot compare to the La Sportiva Nepal EVO GTX?
simalar warmth factor. The Thermos are slightly narrower at forefoot and heel.
Unanswered Question
Hi all, Is this a lower volume and/or...
Hi all,
Is this a lower volume and/or narrow boot or is it wide and/or high instep? I need low volume and narrow heel. Looks to be, but hard to tell from photos. I tend to be a La Sportiva rather than FiveTen fit, and Asolo for boots. Does that help? I also wear anywhere from 10-11, often 10.5, though my Asolo Powermatics are 10 US. How would you recommend sizing this one? Much Thanks~!
Great boot and awesome fit. Can't yet speak to the warmth but have been hiking in these to break them in for the season. Out of the box did a five mile steep hike and did not get a blister. Great rocker built in so it walks great, Same insulation as my old Nepals so expect them to be as warm Great fit and really light weight. Loved the Raichle fit and Mammut bought Railchle and call it Mammut now.
Very lightweight boot. Thinsulate lining adds warmth and built in gaiter keeps the snow out. The teton sole is pretty much the same as all the other high end boots out there, slightly rockered for easy walking and very stiff for use with step-in crampons. Great lacing system for dialing in the fit for the approach, climb and descent. When laced properly for steep ice, this is a very supportive boot yet maintains enough sensitivity for harder mixed climbs. Highly recommended. Used these for an ascent of the Eiger, straight out of the box, they felt good and no blisters.
Are these boots sized in UK or US?...
Are these boots sized in UK or US? Thanks!
I believe they are sized (sold here) in US. Awesome boot.