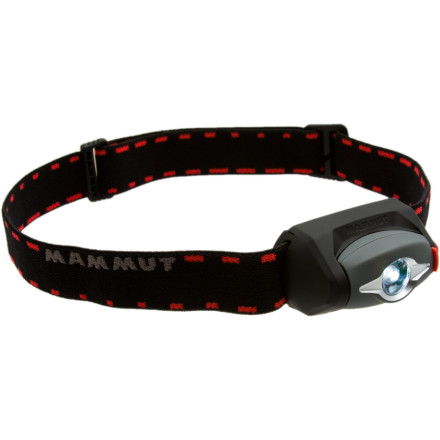 Detail Images
The lightweight Mammut Lucido TXLite Headlamp is so small that you won't notice it in the top of your pack until you're hung out on a large granite face building anchors in the dark. The single, superbright LED features three different brightness settings, a tiltable housing, and an easy-to-adjust headband that fits over a hat or helmet.
This would be a fine headlamp. It's decently bright and very light, but the button switch is terrible.

About a quarter of the times I've pressed it, the rubber has dislodged and shifted into the housing. This breaks the seal, allowing water in. It also makes it hard to press.
I can't say anything negative about this light ... especially for the price. It's got two settings and throws a fairly long beam, battery life is good, it's as comfortable as any other but ... every time I'm out there by myself, with the bears ... in the freakin pitch dark ... I always end up vowing to spend the money and get a brighter more high end light. I did the same thing with my cycling light. In my humble opinion ... there is no such thing as too much light.
Some trouble with a switch
I bought two of them. Unfortunately, when I needed most (inside a cave, by the way) one of them failed to turn on. Lucky I had the other.

This is a switch problem, because I was suceed afterwards (outside the cave) trying to switch it on.

The problem is recurrent and now seems to be completely broken.

At least, will not fail my expectations anymore.