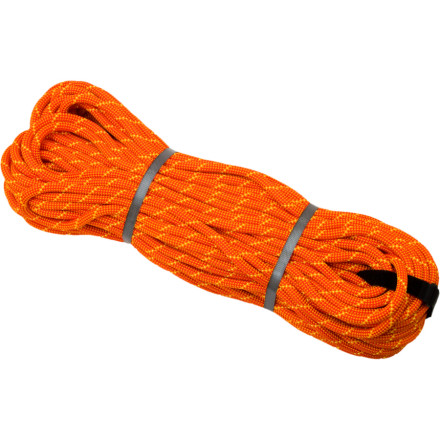 Detail Images

Videos

Community Images
If you want a light line but don't want to sacrifice durability, get yourself the 9.5mm Mammut Infinity. This rope weighs a scant 58g/m, making it a perfect pick for alpine routes and high-end sport climbs where every ounce really makes a difference. Unlike other ropes, the Infinity uses Mammut's Teflon coating process which covers each fiber individually to reduce internal friction and increase the line's life span.
Hi! Any idea when these will be coming back into stock?
Thanks!

Hi!



At this moment I don't see any on order, but that doesn't mean it won't happen in the future.



Feel free to contact me and I can help you find an alternative rope.



Ben

brabinowitz@backcountry.com

801-746-7564
Yep just what i wanted.
Familiarity:

I've put it through the wringer
Great light rope with all the capabilities i want, trad climbing harder sport, multi pitch and since i live in a wet climate, doesn't mold. It has a great catch, butter through a belay, fits a grip-gri 2 perfectly, is light for the long 120ft sport climbing i love up here on the redwood coast and surprisingly tough when taken care of properly. The mid marker fads rather quickly but that is by no means a deal breaker. If i "needed" a mid marker in high risk situations i would get doudess, but i'll save the money and mark it myself. My partner and i put some mileage on it this season and i am super please with mammut.
Will you be getting the 70m size of this rope in soon?
Hey Lexie! Thanks for your question.



It doesn't look like we currently have any of these on order in the 70m size.
Hi,



Any idea how long until these ropes will be back in stock?
Andrew,



It looks like we ended up ordering a bunch and should be getting them in any day now.



Shoot me an email anytime you have questions!



Jared D.

Expert Gearhead

801.736.4336

jdowns@backcountry.com
Will you be getting more of these in stock or are they discontinued?
Nate,



At the moment we don't have any on order.



Chances are we'll get this in the 2015 model which should be different colors.



Jared D.

Expert Gearhead

801.736.4336

jdowns@backcountry.com
Lookin Good
Familiarity:

I gave it as a gift but have feedback to share
This was a gift for my husband as we have started setting up our first climbing setup. This rope has great reviews and looks like it will be a great all around rope until we find any specific specializations in our climbing styles!
When Duodess version will be back-ordered for 2015?
Botao,

We do not have any ordered right now.
Standard
Familiarity:

I've put it through the wringer
I climbed on a variety of ropes before this one and this was my first mammut experience. It converted me. This rope is like butter right out of the package, it needs very little breaking in. It's also really durable. I think that this specific rope is the pinnacle for a sport rope.
I will only climb on Mammut
Familiarity:

I've put it through the wringer
What makes climbing (or any outdoor activity) better? When your gear works. This rope is incredibly light weight, has an iron hide, but is so soft and supple! Feeds effortlessly through crazy wandering lines and doesn't feel like it's paired up with gravity to drag you off the wall when you're off the deck 90'. And as everyone else has said, it is so soft and supple. Still pushes a gate easily though on those desperate clips. Despite the fact that I nearly had an aneurism paying for this thing, i brag about this rope to anyone who will listen. Only downside: center mark dye wears out pretty quick so you have to keep refreshing it on the 80 meter ocean color (please make an 80 meter bi-color!)
The part at the end where the ropes are tested for quality assurance is pretty rad!
I need a rope for glacier travel that I...
I need a rope for glacier travel that I can also use rock climbing if I ever decide to get into it. Is this the rope for me?
Best Answer
Possibly. It really depends on a few variables. How many people do you plan to travel with on the glacier? Teams generally consist of 3 but, sometimes you go with 2 or 4. With 2 people you would have the most rope between your partner and yourself and 60 m would leave you with a lot extra. Generally I would use a 50 m rope for this as its enough rope between climbers plus you have more than enough to perform the rescue if necessary. Could you get away with 60 m? Sure, it just might be unnecessarily heavy, which matters if your going on a big trip or trying to move fast. If you have a 4 person team the 60 m is a necessity to ensure the lead and caboose have enough rope to perform a rescue.



Personally I would get 2 ropes, something like a Beal 8.1 http://www.backcountry.com/beal-ice-line-8.1mm-rope?ti=UExQIENhdDpNb3VudGFpbmVlcmluZyBSb3BlczoxOjU6YmNzQ2F0ODExMDAwMjc0&skid=BEA0025-ANI-S60M it comes in 50 m and strong enough to hold a fall in most glacier environments. Realize the rating is half that of the Mammut, so maybe I would be worried taking a huge whipper on this. I own the Mammut Infinity and its great for climbing as its really durable, I also use it ice climbing as it's rated for single rope use. If you used the Infinity for glacier travel its too heavy, if you used something like the Beal Ice line its not durable enough for extended use and is kinda scary if your sport climbing and possibly going to take a big fall.
Hello,



I just wanted to let everyone know that the Ocean color variant is not a bicolor rope like the other one we offered but are now sold out of. Thanks.
Light weight but still durable. Amazing!
Familiarity:

I've used it once or twice and have initial impressions
I wanted a rope which I could use for both in rock climbing and mountaineering. So I wanted my rope to have dry treamtement/s on it and light weight as well as being tough. This rope was perfect for what I was needing for and I will definitely rate 5 out of 5!
Is this rope (70 meter/259.15$) is bipattern...
Is this rope (70 meter/259.15$) is bipattern or has a mark on the middle by default or do we have to ask for it?
To the best of my knowledge, it has a mark on the middlepoint automatically, from the manufacturer.
Best Answer
There is no mark with the bi-pattern. Just the bi-pattern to designate the middle point. I added a mark just so I could catch it easier in the dark of if I am moving the rope through my hand/ anchors fast.
Great Rope
Gender:

Male

Familiarity:

I've put it through the wringer
This was the first rope I have ever purchased for personal use. My friends who taught me how to climb have fatter ropes so I went with something skinnier that we could use on longer approaches or on ice. The rope has a great feel to it, supple, easy to knot and coil. Definitely feel secure, taken a few falls and the stretch is perfect, soft catches. I bought it this Fall and used it through various Sport/top rope/ and Ice Climbing, still looks really good. There is a little fraying for sure but, overall the rope looks in great condition. Definitely plan to get a few more years of use out of it.
Excellent Skinny Rope
Familiarity:

I've used it several times
I bought the 70m bi-pattern version to take outside. So far this rope hasn't disappointed. I was amazed at how much easier it was to work with a quality rope versus the inexpensive rope I bought first.



The Good:

--Excellent feel and feeding through all my belay devices; especially nice giving slack on lead belay from a Grigri.

--Skinny enough that it's light for long approachs/backcountry work, fat enough to still catch perfectly in a Grigri 2.

--Not kinky at all.

--Nice soft catch, and not any more extension than my cheap, 10.0mm gym rope

--Bi-pattern makes watching for center easy on long lowers and rappels.



The Bad:

--More expensive than some other offerings.



I winced a bit when I paid for this rope, but I'm glad I did. When my current gym rope dies, I may take that as an excuse to buy another one of these!


Hey, the description says it's a bi-pattern...
Hey, the description says it's a bi-pattern but the pictures appear otherwise. I want to confirm that its a bi-pattern rope.


Hello, I believe its an older photo, the photo "center" shows accurately what the rope pattern looks like. You can easily identify the different ends at the center.

Hope this helps
Best Answer
The Ocean variant is a single color while the Yellow Duodess is indeed a bi-pattern. Duodess is the Mammut designation for bi-patterned weaves.