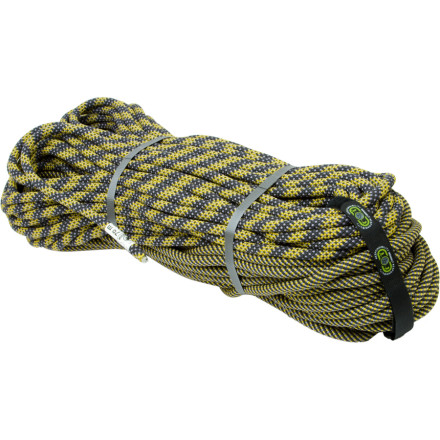 Detail Images

Videos

Community Images
The Mammut Galaxy Climbing Rope gives you the essentials of any cord worth a whipper—smooth handling, low weight, and big-time durability. The perfect balance between old school fat ropes and the newer generation of skinny lines, the Galaxy excels at everything from single-pitch sport cragging to harsh alpine expeditions.
With this rope you can send your hardest projects knowing you have a reliable catch if you fall.



PC: Colton Marsala.
Mammut Galaxy Superdry Climbing Rope
Great for beginners, toproping
Familiarity:

I've put it through the wringer
My first rope, and I'm happy with my decision. I sport climb, and its certainly not too heavy for leading. It handles well and is tough enough to trust on constant top ropes. It handles well during rappels and stays pretty clean. I havent noticed any abrasion anywhere on my rope after a year of climbing on sometimes course rock. I have cleaned it 4 times, and it always looks like new after! I will be purchasing a thinner rope for lead climbing only, and will continue to use this bad boy as my go-to top rope line.
I love this rope! I have had none of the below problems with it. It's smooth, has good stretch, and it hasn't begun to fray at all. The one thing that I can say is that it does get mildly twisted if not flaked regularly. I've used it for both indoor and outdoor TR and lead climbing for about 5 months regularly and it's definitely not as pretty as when I first got it, but it is a solid rope. If you have any doubts, don't. This rope is ill!
I love the bi-pattern and the fact that it's 60meters (which isn't as easy to find as it sounds) but it is SO stiff . I also felt like the sheath began to look tattered too quickly.
VERY heavy and VERY stiff
I was disappointed with this rope. I would only use this as repeated TR rope only...and maybe not even that. It is very very heavy, has a lot of stretch, and so stiff I can barely get it into a standard belay device.
I've been climbing on this rope for a little over a year now. This rope has worked for regular sportclimbing and trad expeditions, but over the year it has gotten very stiff. My Beal rope got more supple with time but this one is getting stiffer all the time, even after washing it. The bipattern is nice, and the price is good, but I'm not sure I would get another one.
i would like to know how long does the...
i would like to know how long does the shift take to get to bishop Ca.

my friend is leaving in three days so i dont know if i have time to do the order

thanks
Use the chat now feature in the upper right hand corner to get a specific answer to this question.
Used this rope for the first time at Red Rock National Conservation Area spring break this year. It was my third time rock climbing, (I do a lot of ice), and my first time sport climbing and I decided after doing some research that this rope would fit pretty well for the sport climbing that I want to do. I am very happy with it, the rope did very well on the trip after four days of 6-10 hour use. I was very attracted to the superDRY feature, which will be nice when ice season rolls around. Overall the rope is nice and seems to have good build quality. I recommend using a rope bag, or a piece or Tyvex if you want to stay cheap, it will help the rope last a lot longer.
Frays easily; poor quality
Purchased this rope in May, for sport climbing in Boulder Canyon. It's now October and there's significant fraying in several places. We climb maybe once a week, so I'd guess about 16-20 days so far, but switch back and forth with another rope, a BlueWater rope, that's two years older and shows none of the same wear. I'm actually going to have to retire this rope in one season, and I've never had to do that before. Haven't climbed any harder or sharper (generally rap down, and always keep an eye on sharp edges). I babied this rope, but it didn't help. No more Mammut ropes for me. I recommend you look elsewhere!
This rope is a great rope for sport climbs at the crag. Nothing bad to say about it.
I really like this rope: bi-pattern, kinda thin but not too much, coated, and so far durable. just came back from a trip to Maple Canyon, and we lead and toproped a lot with it and it seems to last. it doesn't get dirtier than other ropes I've climbed with (mine or friends).
Not as Durable As I Would Like
The hand of this rope is great. It knots easily and securely and is soft and supple without feeling limp in your hand while clipping. It feels a bit slippery when brand new, but quickly breaks into a great feel. The only downside is the durability. The sheath starts to fray very quickly and the rope seems to attract dirt more than others, even with the Dry coating. Overall, a great all-around rope, but keep it in a rope bag and leave it at home when toproping.