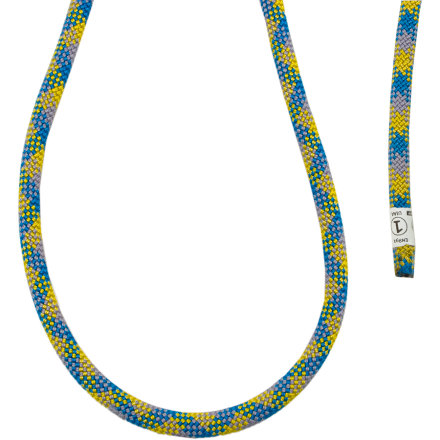 Detail Images

Community Images
I've been a Mammut rope fan for years, with this being the 6th purchased for personal use (bought several for guiding). It seems well made and is durable, which is a plus. However, the Flash is unlike the others. It is super-stiff, doesn't knot or handle well, kinks like crazy, and has picked up more dirt and black aluminum that wouldn't wash out. Maybe it was a batch thing, because I can't believe it's from the same company. Hoped that it would soften, but after about 20-30 pitches it is still like a cable. Always loved how Mammuts handled. CAN NOT WAIT TO RETIRE THIS ONE. I don't think I've ever been as unhappy w/ a piece of gear. It ranks up there with climbing shoes that don't fit. The fact that I bought a 10.5 proves I'm old school, but I wanted something bomber, which it is.
I bought the yellow/gray super dry a year ago. In short, I would not recommend it.

The rope is super stiff, perhaps due to the super dry coating. When rapping off multi pitches, it coils, and on multiple occasions, I have had to descend and untangle in mid air: a real hassle.

I washed it with rope safe detergents, and the whole thing fluffed up.

I have another friend who bought the rope and had the same experience.
This rope is a great buy. It takes serious whips, has a durable sheath, and it doesn't coil
Bought the 60mts superdry version and really loved it. It handles really smooth and as it certainly doesn't feel like a 10.5. In fact I've been climbing with a Beal Flyer 10.2 and it feels the same (or maybe even better). As for its weight I don't mind carrying a few extra grams (I didn´t even notice the difference with the 10.2 Flyer) if that will get my mind focused just on the route and not on whether the rope will catch me or not...
This is a great rope for people getting started climbing on their own gear. At 10.5 it's very durable as far as climbing ropes go. It can take the abuse you're bound to give when learning to lead climb. It will last for a long time if you're just using it as a toprope (assuming you're avoiding bad karma by using 'biners, and not doing laps through the chains).

It feeds nicely through belay devices and I haven't had any problems with it getting tangled up. Really, the only con I've found with it is the weight. When you're 60 feet up a lead route, you can feel the difference from a skinny line when pulling up line to clip, but I'll take the extra weight and not have to worry if my rope will catch me or not.
All the twists are out within 2 uses. great all around rope., and it DOES have a center mark.
What's the difference between the DuraFlex...
What's the difference between the DuraFlex and SuperDry versions?
DuraFlex is a Mammut trademark, the SuperDry is the same as the DuraFlex but with an addition water-repellent coating to make it a "dry" rope. A dry rope is heavier when it's dry than a non-dry rope, but significantly lighter when wet. It's a judgment call as to whether your rope is likely to get wet or not.
Do any of the versions have a center mark?...
Do any of the versions have a center mark? Specs say no, but one pic looks like it has one.
Best Answer
I'm fairly certain that for this particular make of rope there is no center mark. The various "versions" offered for the Flash vary strictly in length and color (with superdry option). Otherwise they are all the same.
Mine has a center mark. Two black sections about 6in long mark the midpoint.
It ain't flashy, but it certainly gets the job done. Bought this guy a while back and probably used it over 50x before seeing wear. This is what I grab for trad at the gunks (crazy roof edges = like 10.5mm) and for taking out newbies you hang and fall a ton. Recommend it for your beater rope or for taking out your new girl/boyfriend who's learning to climb.
I've put 18 days in on my Flash so far, and have beat up on it trad and sport at the Red and the New. After many falls, plenty of dirt despite working out of a rope bag, and the usual topping and hanging it's dirty, but hardly fuzzed at all. It handles better now than out of the box, though it was great then. This is my workhorse and I expect to get another season or two out of it easy. I have another manufacturer's 10.3 with a 'Mammut-like' thick sheath. It's a sweet cord and a bit lighter, but though I've got only 5 days on it with the same sort of use and a couple falls, one end is already more fuzzed. You want a rope to use hard and keep on ticking, go Mammut.