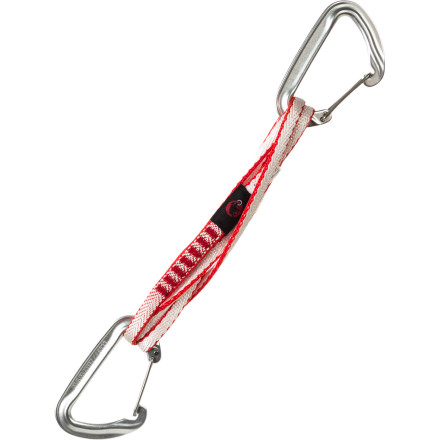 Detail Images
Attention trad climbers—the Mammut Express Set Moses Quickdraw includes two wire gate carabiners and an ultralight Dyneema sling for versatile pro on burly routes. Select the 10-centimeter quickdraw for straightforward cracks and grab the 60–centimeter, over-the-shoulder slings for more wandering pitches on granite and in the alpine. This versatile trad-specific Mammut quickdraw weighs barely over three ounces to keep your rack light. Grab a handful of the Express Set Moses Quickdraws on any route where cams cover your harness and you see no bolts in sight.
bought ten of these, super light and easily weighs half the weight and takes up half the space of my old Spirits with normal slings. Will buy more when I can afford it. Well made and strong gear.
As long draws, these rock. They're lighter than my solid-gate sport draws -almost feel like "toy" draws. Both the webbing and biners have held up very well- I couldn't hope for any improvements on this set.

-Chritine Balaz (Team Mammut USA)
Are these prices for one ? Does the gray...
Are these prices for one ? Does the gray just have a regular Sport Quickdraw dogbone ? Or is it a sling sling ?
, ☃bcs_badge_alumni_label☃
Yes, these are sold individually and that is the price for one.

Secondly, all the 10cm draws do include a dogbone, where the 60cm draws actually include a wrapped sewn runner.
I highly recommend this setup for any trad climber or just for some longer draws at anchors and where rope drag may be an issue. The moses is light, but big enough for my big paws to use and the dyneema runners are, as usual, sick!
These are the only draws I own,...being from a more traditional mindset. I have used these on sport routes and they do the job, but can be bulky...but that's not the intended use! When i climb any longer trad routes or those that require moving through roofs or around larger features, EVERY draw on my rack can be extended! durable and the lightest extendable draws that I have come across. These will continue to have a home on my rack and accompany me on all future ascents. Get some...Period.
Can't beat this package - two Moses beiners on an ultra-light dyneema sling. Ready for your next 5.6 alpine ascent! It's cheaper to buy this set than to buy the parts individually so grab a half-dozen and save some cash. Too bad they aren't selling these in the 120cm length as well.